I've been dreaming of Trolls party ideas all night long. It was about time I wrote them all down on my blog. DreamWorks' Trolls Party Edition is coming to Blu-ray and DVD on February 7th, and you know what that means — family movie night!! The kids are impatiently waiting for the opportunity to bring the movie home.
So, to make the night special, I thought of a few simple ideas for my little ones to enjoy. In case you want to host a family movie night of your own, check out these colorful Trolls ideas so you can bring home a little happy to your family.
This post is sponsored by DreamWorks. All opinions are my own.
Trolls Party Ideas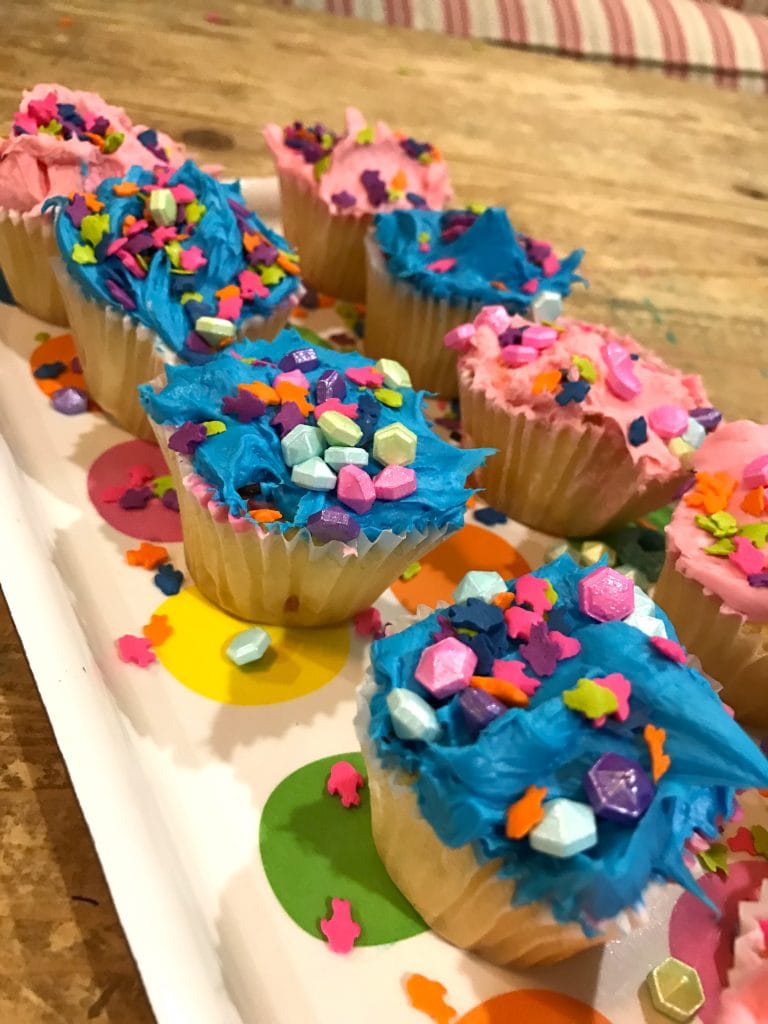 First up, consider making some colorful cupcakes and having the kids decorate them. I chose pink and blue because those were the colors I found at the supermarket. How lucky, because they just happen to be perfect for Poppy and Branch! However, if you want to get crafty, make your own colors with the help of food coloring! Go crazy (or not). Up to you!
I purchased a variety of edible gems and decorations and allowed the kids to get a little creative. They just loved this part. They had to get each cupcake just right.
Related: 10 Family Movie Night Gift Basket Ideas – Must-Have Items
Have Colorful Snack Ideas For The Kids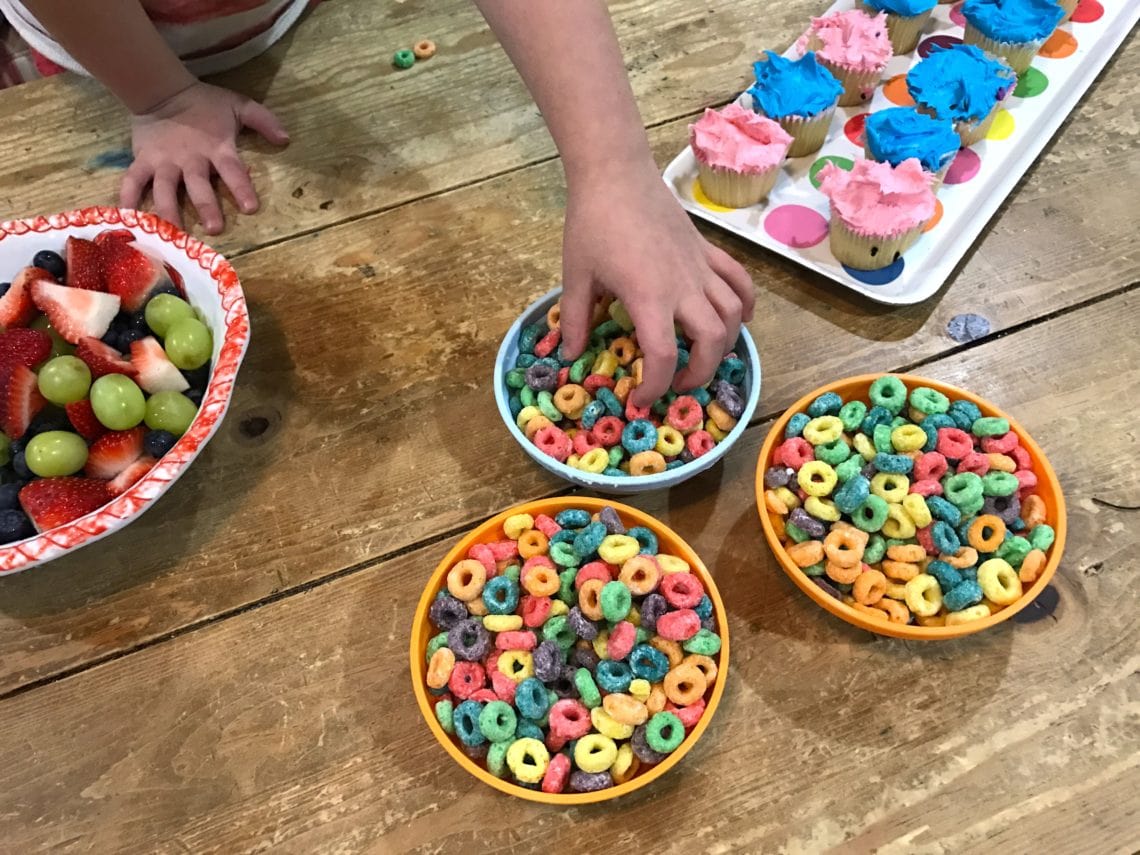 As far as snacks were concerned, we opted for Fruit Loops and fruit salad. Again, my main focus revolved around COLOR because I really felt that the Trolls movie was a burst of energy and sunshine. It was so vibrant to watch – each troll was borderline electric and their color related to their personality in some way.
Snacks that had powerful colors were a MUST HAVE. We did not make popcorn for our Trolls movie night because we needed snacks that were much bolder. Don't like Fruit Loops? How about Fruity Pebbles? Really anything that offers up that rainbow feel would work! Customize these Trolls Party ideas and make them work for you!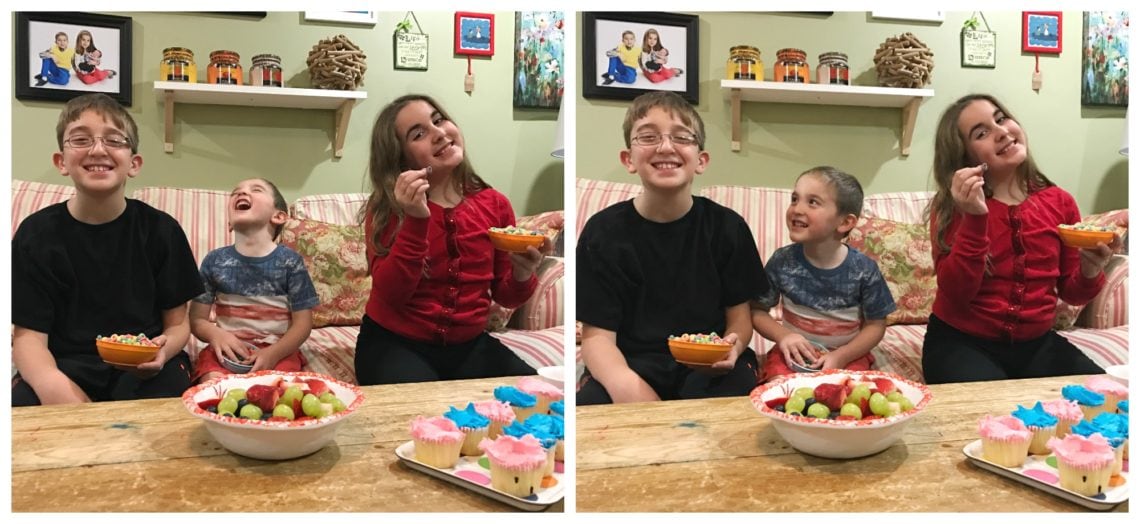 Trolls Coloring Pages – Trolls Party Ideas
Want to spark some creativity? Get their artistic juices flowing? Some ideas that can work for your bash could be drawing and design.
After the movie, we went straight to the dining room table and grabbed our crayons and colored pencils. I bought a bag of feathers and a glue stick and thought it would be fun for the kids to make their very own colorful Trolls. Caleb had a B-A-L-L!!!! Talk about a mega win in the Trolls party ideas department.
Check out some of their designs. We ended up making about a dozen of these! You only need a few feathers for each page. This is a great party idea in case you are considering hosting a Trolls-themed birthday bash. Super cost-efficient and loads of fun.
Looking For Trolls Free Printables?
Free Trolls Printables: Connect The Dots
Free Trolls Printable: Find the Cloud Guy
Free Trolls Printable: Word Search
You can also right-click on each of the images below and save them to your computer. Print as many as you need – whenever you need it! Such a great part of this Trolls party ideas post. I used these images to create the feather craft above. FUN!
The kids were super happy with their snack selection and the movie! If you are looking for a feel good, fun-loving musical – this is the one for you.
Here's the official synopsis:
Bring home happy with DreamWorks TROLLS—musical adventure critics are calling "terrifically funny"*. When their village is invaded by the grumpy Bergens, two mismatched friends must work together in perfect harmony to save the day. Featuring hit songs performed by Justin Timberlake, Anna Kendrick and more, DreamWorks TROLLS is the critically-acclaimed, feel-great movie of the year!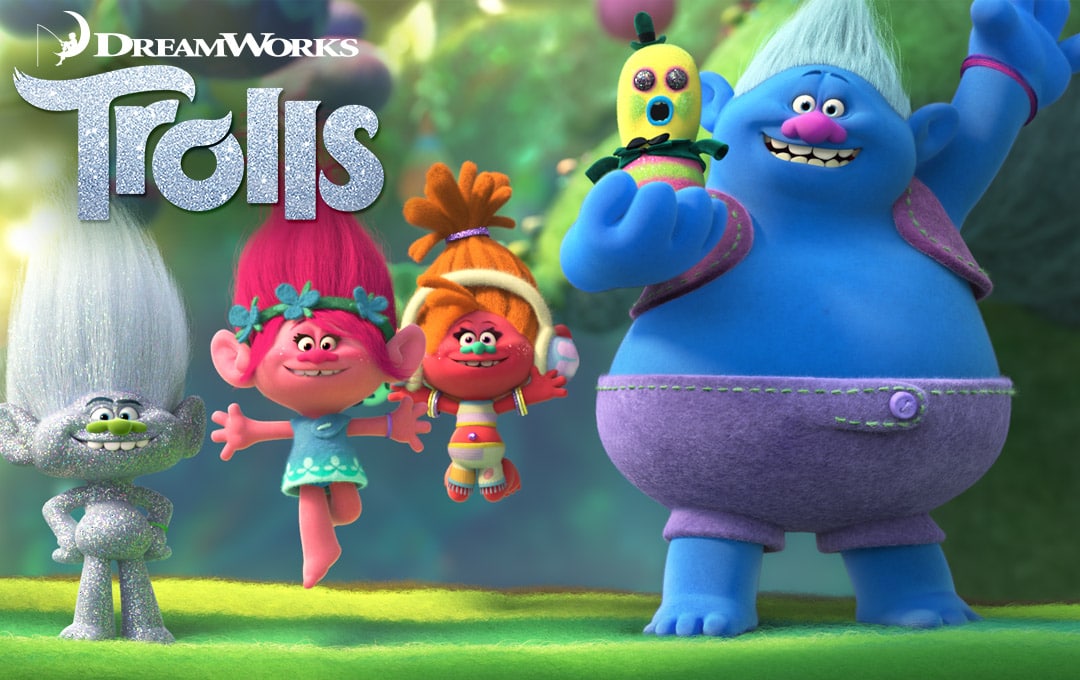 Are you planning on seeing DreamWorks Trolls during one of your family movie nights at home? Are you going to incorporate any rainbow fun into the mix? Would love to hear how you are going to use these ideas.
Related Posts:
*this is a sponsored post