Natalie, Liam, and Bill were lucky enough to go into Williamsburg, Brooklyn (hipster land) and get a sneak peek of the super cool Minecraft: Story Mode from Telltale Games. The venue was in a very rustic, industrial space called Villain. The event space and the area was WAY too cool for my husband, but the game itself was just right for everyone!!! LOL. The space was awesome…they basically had their own gaming theater with a huge screen and couches to lounge and play the entire game. They loved it…I think they wanted our basement to pretty much look just like that, down to the chips, donuts, and Minecraft t-shirts, game cards, and stuffed creatures. It was Minecraft heaven I tell ya!!
Sure, a pic is worth 1,000 word, but how about some live-action video? I though so. Here's a little video from the day and the event with Bill and the kids:
Ok, I think it's time for a little background on the game. In this five part episodic series, you'll embark on a perilous adventure across the Overworld, through the Nether, to the End, and beyond. You and your friends revere the legendary Order of the Stone: Warrior, Redstone Engineer, Griefer, and Architect; slayers of the Ender Dragon. While at EnderCon in hopes of meeting Gabriel the Warrior, you and your friends discover that something is wrong… something dreadful. Terror is unleashed, and you must set out on a quest to find The Order of the Stone if you are to save your world from oblivion.
Yes, I said there are 5 parts. That's the beauty of this series. Telltale will release a new episode every few months, 5 in all, over the next year or so. It's a wonderful feature that keeps the game so fresh and exciting. For one purchase, it's really like you're getting 5 games! It's a great deal and a great way to get the family together. Forget movie night, make it Minecraft: Story Mode night!!
I know you really want to see what the game is like. Words sometimes can't do it justice. Check out the amazing trailer right here! We love it!!
The gameplay was so much fun, Natalie and Liam were captivated. It's very much Minecraft, but in such a different way. It was really like a movie. The game can be completed in under 2 hours, which is just about perfect!! It was the perfect blend of "real" Minecraft" and this great new movie-like game play style.
Here are some great quotes from Telltale ad Mojang:
"Developed in partnership with our friends at Mojang, this all-ages adventure series kicks off a thrilling story full of many elements essential to the world of Minecraft, combined with Telltale's trademark choice-based gameplay," said Kevin Bruner, CEO and co-founder of Telltale Games. "There are plenty of exciting details we've been keeping under wraps, and we're thrilled that players will soon be starting their own adventure through the Nether to the Farlands and beyond with Jesse and The Order of the Stone."

"One of the greatest things about this project is that it gives the community a chance to interact with the world of Minecraft in a new and different way. It also marks the beginning of some exciting narrative-form content based on our game," said Lydia Winters, Brand Director at Mojang. "We worked directly with Telltale on every step of the process. Together we've created a blend of the amazing narratives that Telltale creates with all the fun and adventure you know and love from Minecraft. It's got everything: creepers, crafting, an incredible cast of characters, and even an adorable pig. How awesome does that sound?"
That pretty much says it all. What it doesn't say was how much my kids, 10 and 8 years old, were crazy for this game, literally badgering me to find out when it was going to be released and where.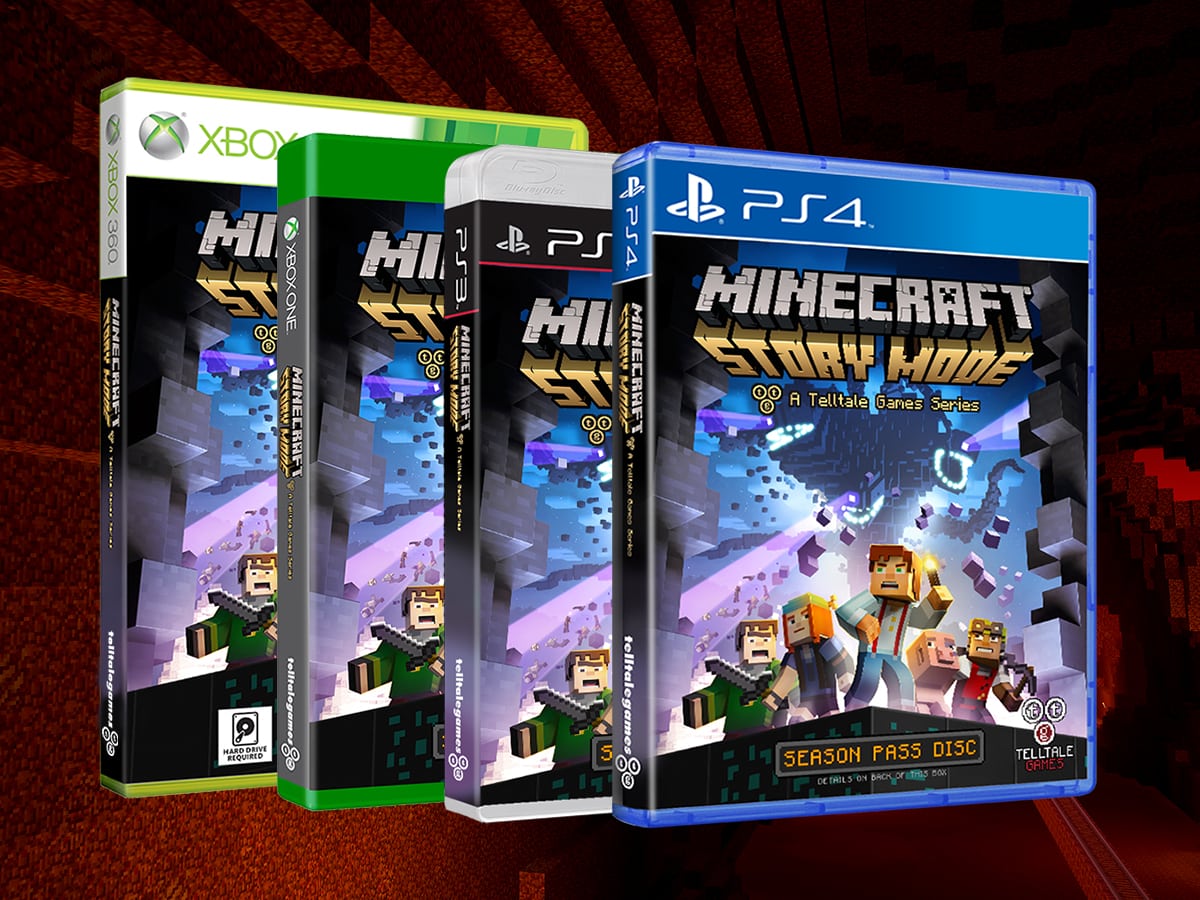 Well, Episode 1: 'The Order of the Stone,' the first of five episodes in the season, recently premiered digitally worldwide, available for compatible iOS devices via the App Store and for compatible Android-based devices via Google Play and the Amazon Appstore. Minecraft: Story Mode – A Telltale Games Series season pass disc will be available at retail in North America on Tuesday, October 27th, and in Europe on Friday, October 30th. Retail platforms at launch will include Xbox One, Xbox 360, PlayStation 4, PlayStation 3 in North America; and PC, PlayStation 4, PlayStation 3, Xbox One and Xbox 360 in Europe. The retail edition of Minecraft: Story Mode will ship with the premiere episode on the disc, and will grant access to the subsequent four episodes in the season as they become available to download via online updates.
What do you think? This isn't the Minecraft you and your kids know, but it's the differences that make it awesome. For all you "old school" gamers, this will call to you, too. The story lines and game play are great. It's just so easy to get the hang of, you really can just pick up the controller and start running with it and having fun. There are also a number of choices you can make in the game (like those old pick your path books) that make each time you play different. It's really cool and much more my speed to be honest.
What do you think?? I'd love to hear your and your kid's thoughts on it!!
For more information on Telltale Games:
For more information on Mojang:
Minecraft: Story Mode – A Telltale Games Series – Episode 1: 'The Order of the Stone' is rated 'E10+' (Everyone 10+) for Fantasy Violence and Mild Language by the ESRB. Future content in the season is yet to be rated by the ESRB. The series is published by Telltale Games in partnership with Mojang.