Looking for Dirty Santa rules? I'm 33 years old and last week was the first time I ever played 'Dirty Santa'. Both my husband and my mother have been playing this game for years at work, but I never had the opportunity until this month.
Well, during my Bunko meet up, we got down to business – and I practically had an anxiety attack! LOL! Have you ever played Dirty Santa before? Basically, everyone in the room picks a number and you each open up a present following a particular order.
BUT if someone doesn't want to open up a new present, they can STEAL one that's opened already. That's way too high level… let me explain the official Dirty Santa Rules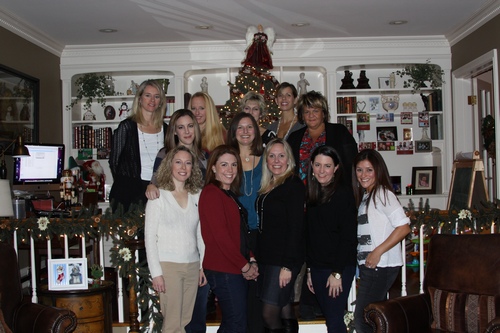 Dirty Santa Rules – How To Play
Here's the rundown of 'Dirty Santa' rules in case you want to give it a try this holiday season.
Everyone brings a gift valued at X. My Bunk group likes to say $25. We also have a secondary rule that is "no frames and no flames". This ensures that everyone brings in something somewhat exciting. It lessens the chance that everyone brings in a vanilla candle. Although, honestly, I like vanilla candles.
Let's pretend we had 12 people in our group. We would then write the numbers 1-12 on 12 pieces of paper and fold them up. Concealing the numbers. One at a time, everyone in the room goes around and picks a number. That number determines the order.
Have I mentioned that the Dirty Santa gifts should come in wrapped? With no tags on them? It's like Secret Santa but with stealing. Stay with me.
Dirty Santa Order
Number 1 goes first and cannot steal anything. They open up a gift and wait.
Number 2 goes and can either steal number 1's gift OR open up a new one.
Number 3 goes and can steal from 1 or 2 if they like. Or they can choose a new one.
Continue the sequence until everyone has a gift.
A gift cannot be stolen more than 3 times. So if a pair of earrings is stolen 3 times, that item then becomes safe and remains with the last thief.
If you have an item stolen you just pick a new one as soon as your item is stolen. If your gift is stolen, then it immediately becomes your turn.
Number 1, at the end of the game, can either steal a gift that hasn't be stolen 3 times or keep their own gift.
Dirty Santa Rules Issue
Here's the thing… if the gift you brought to the party doesn't get stolen, then you end up feeling kind of funny. If you get a gift stolen from you, it can be upsetting. Maybe I'm just sensitive since it was my first time playing. But I was sweating the whole time – I'm serious! LOL!
I felt bad for people who had gifts that weren't being stolen and then I felt bad for people who had the gifts being ripped out of their bare hands.
Literally – let me give you an example. One of my friends put on a pair of earrings she got because she loved them so much. And then someone stole them from her – as legally allowed as per the Dirty Santa rules – and my friend had to take the freaking earrings OFF HER EARS AND HAND THEM TO THE OTHER LADY. WHAT? I was dying. It was so awkward. Everyone was looking at the ceiling.
But it is what it is – that's the name of the game, right? LOL! Do you play 'Dirty Santa'? What do you think about the game?
Related: