Where are my American Housewife and Katy Mixon fans? I have a great interview to share with you and a little peek at what it's like to spend some time with the soon-to-be mom.
While visiting LA for the Guardians of the Galaxy Vol 2 premiere, ABC slotted some time for my group to preview several episodes of American Housewife – including the one of Katy Mixon in a bathing suit. We also sat down and chatted with Katy, the matriarch of the comedic family.

Now, while I was born and raised in NYC, I will say that I am currently residing on Long Island and can COMPLETELY relate to this fictitious town's dynamic. Connecticut and Long Island aren't that far off from one another! So, the jokes that we were hearing were S-P-O-T on comparatively speaking.
I mean, the country clubs, the Jones – we have it all. So, maybe I laughed a little bit harder than the rest because the content was so flipping relatable to me and my family! Oh… and how could I NOT laugh with Katy Mixon dishing out the lines?
She is comedic gold! But that's not the only thing that is gold on that girl. After spending some time with her at the ABC offices, the group could instantly feel that this woman also has a heart of gold as well. Such a wonderfully beautiful and genuine person.
She was just so sweet and kind. I mean – she felt very Southern if that means anything to you. As a Yankee, I felt rather miserable next to her. Katy was downright charming!
When I hugged her, I was hoping that some of it might rub off on me. It didn't in case you were wondering. LOL! Anyway, I wanted to give you a few quotes from our Exclusive Interview! WOOT!
I think the most surprising thing for me to learn was that Katy and Katie are really two different people. I know what you are thinking – HOW COULD YOU NOT KNOW THAT? Maybe it's because Katy plays Katie so perfectly. But … in real life… Katy Mixon just isn't like Katie at all.
I rock n' roll in a different way. I always have. I've always been quite fearless. I've never really let anxiety take a toll on me. And I march to the beat of my own drum. I get back up on that horse and if I don't get it right… I'm gonna do it again the next day. That's kinda my M.O., that's kinda how I've always rocked n' rolled. Sarah Dunn's quite different from me. Which is a beautiful thing too.

So that's what's been really interesting. When I took on this role right after Mike & Molly, I ended it really last year. And four days later I walked into this AMERICAN HOUSEWIFE room. And so I think what was wild was, I'm not like her. I'm not Katie Otto. I'm just, I don't get mad at a green juice. If you're going to do yoga, I think that's awesome! You're bettering yourself, do you know what, I love people. I love people.

I love, I'm real spontaneous. I love celebrating people, what makes them happy. I'm just so opposite of what Katie Otto is. So it's just fun to play. I wanted to do a role that I've never done before. I don't wear hardly any makeup in it, in that show. We cover up head to toe. I wear real baggy clothes. It just couldn't be more opposite of what I've done in the past. And I couldn't be more grateful.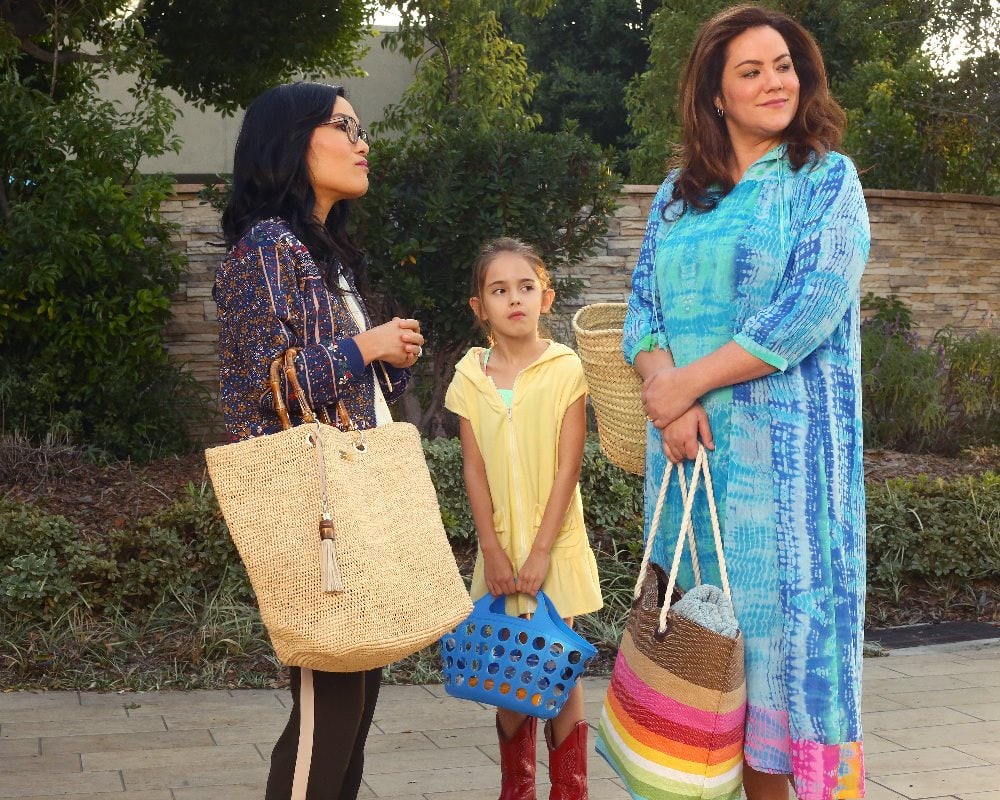 As a joke, someone asked if "Katie" had a favorite child actress because on the show she clearly has a favorite child. Of course, the actress did NOT, but the conversation turned into a lovely story about one of her first meetings while on set. I love these inside views.
Favorite child actor? No. [GROUP LAUGHTER] They're all quite special. They're all really really lovely. I'm such a person of divine appointment, I believe in that. And the moment I met each one of them, I knew I was a part of something quite special. And I'll never forget, I met sweet Julia, we were doing costume fittings, it was before the pilot. And it was all crazy, nobody really knew what was gonna happen. And she rounded the corner and I was like, "Are you my TV daughter?"

And she was like, "Yes!" She came in and like gave me the biggest hug. So she's – yeah, it's been wonderful. All three of them.
Katy is pregnant – in her third trimester, in fact! Is acting something she hopes her child will pursue?
I want him to do whatever he wants to do. I'm gonna be such a big fan of like, what – I just want to introduce him to the world. Like introduce him to like, any avenue. Whether it's a mathematician or a rock band. I just want to encourage – you know, me & my fiancé, we just want to encourage him to be who he's meant to be.
Spoken like a true mom. And even though Katy Mixon wasn't quite finished with popping out baby number one, someone asked about baby number two. LOL! Don't you just love that?
Luckily, Katy was a good sport and said she welcomes more children in the near future… just not exactly how she originally planned.
Yes! I want to try. Do you know, in my mind, I have it. I'm not a real planner, I'm real spontaneous. But with the children, I'm just like, I'm gonna handle this for the next four years. We're gonna go one, two, three, four. Nobody tells you that when you're pregnant, it's a year.

You are literally pregnant for like an entire year! You can't do anything. Like, it's of another nature.

It's incredible. God bless, but it's – no hot tub?
Katy Mixon And Her Love For Music
Katy Mixon originally came from a musical theatre background. In fact, it started way before school! Her family was her musical inspiration. Everyone was involved.
Such a great story. When asked whether or not she would want to try musical theatre again, Katy said – absolutely!
I would adore it, honey. I would love it. It's such my passion. It is such where I, where I began and everything. One day, yeah.

I grew up – my mom and dad are from Louisiana. And my dad is a doctor, but he was in a band. He played football for LSU, like real well rounded. You feel me? So they – I grew up like in the Von Trapp Family singers. Basically. The Brady Bunch. At any given point there's 5-part harmony going on and Mommy's telling me that you're flat, like it's a whole situation. But they're really precious, they're really amazing. A lot of my sisters, they went to Carnegie Mellon also.

I went to Boston Conservatory, we all grew up in it. For whatever reason, I'm the only one handling it, doing this, doing this, and the other ones have found their own journey. And everything, which has been wonderful for them,

Most of them are in the South. They've been in New York, and then I had another one, another sister here in LA. But now I'm an auntie. But all of them are like in Birmingham, Alabama, and Pensacola, Florida. And I'm the only one out here. That's how I've done it. It's always been.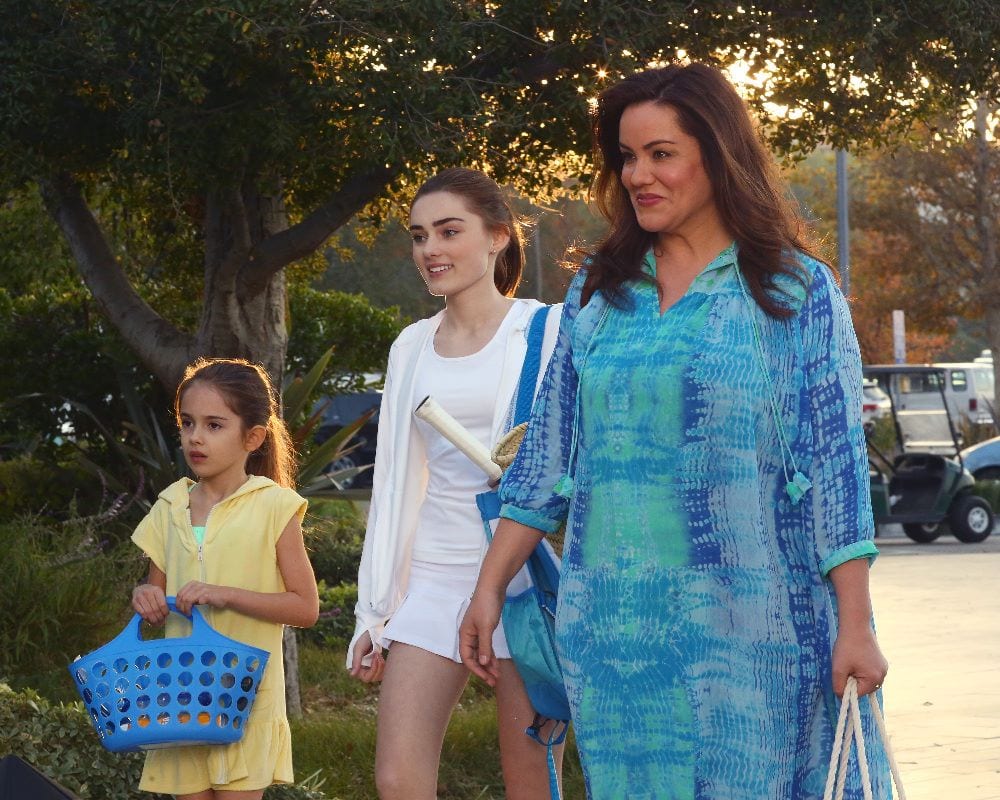 SUCH A JOY! I wished her all the luck in love and life after the interview was over because she really just beamed with positive energy. I don't know – you don't feel that so much anymore.
Maybe I yearned for it? But I had to thank her for allowing me to feel it – even just for those few moments.
I didn't know much about Katy Mixon prior to this interview, but after getting to meet her in real life, I am a huge supporter and will be with whatever she does.
I encourage you to do the same – and start with the next American Housewife episode!! The Club (Tuesdays at 8:30/7:30c on ABC)
Katy Mixon Bathing Suit Episode: The Club Synopsis
KATIE PANICS AT THE IDEA OF APPEARING IN A BATHING SUIT IN PUBLIC, ON 'AMERICAN HOUSEWIFE'
"The Club" – When Anna-Kat develops a fear of water and stops bathing, her therapist suggests the Ottos get her to go swimming.
But can Katie get over own her fear of wearing a bathing suit in public at the Westport Country Club so she can help her kid out? Meanwhile, Oliver gives his dad a style makeover after students at the college give Greg a low "jalapeño" score, on "American Housewife," airing TUESDAY, MAY 2 (8:30-9:00 p.m. EDT), on The ABC Television Network.
"American Housewife" stars Katy Mixon as Katie Otto, Diedrich Bader as Greg Otto, Meg Donnelly as Taylor, Daniel DiMaggio as Oliver, Julia Butters as Anna-Kat, Carly Hughes as Angela and Ali Wong as Doris.
Let me tell you something – I totally related to this episode. Katy Mixon in a bathing suit was every mom. And I mean EVERY MOM! Haven't we all been there? The dreaded unrevealing? I was cracking up!
Let's Get Social
AMERICAN HOUSEWIFE (Tuesdays at 8:30/7:30c on ABC)
KATY MIXON ("Katie Otto") If you'd like to follow Katy on Instagram or Twitter, be sure to use below links. Katy posts a lot about her personal life on her Instagram account which makes me love her more!!
ABC invited me out to LA to preview American Housewife and to interview Katy Mixon. All opinions are my own.
Related Posts: