This is such a fun DIY Incredibles 2 shirt and I can't wait for you to check it out. It's nearly time for Incredibles 2 to hit theaters (June 15th) and we cannot wait to see it. Recently, Vera posted a whole lot of free Incredibles 2 activity and coloring pages for you to download for the kids … perfect to keep them occupied this summer.
Let's use those coloring pages to create fun t-shirts the whole family can make together and wear to see the movie.
These are not only fun for a movie night, but would also make a great craft and take-home project for an Incredibles themed birthday party, or just a fun wearable summer craft for kids.
Incredibles 2 T-shirts – what you need:
Plain white t-shirts
T-shirt transfer paper
Printer
Iron
Fabric markers
Cardboard
The first thing you need to do is download the free printable Incredibles 2 coloring pages – download the Incredibles 2 shirt jpg's (images), not the PDF's for this project.
Next, you need to flip your images (to create a mirror image). You may be able to do this directly on your printer, but if you can't, you can use a service like PicMonkey to flip them, it's as easy as the touch of a button.
Print your Incredibles 2 Shirt image on t-shirt transfer paper. If you want to trim the words off, or just use the image of 'Dash', then use scissors to cut out the section you want, otherwise, just go with the whole page like I did.
Follow the directions on the package of t-shirt transfer paper to iron your image onto a plain t-shirt, and then place a piece of cardboard (or a small cutting board) inside the t-shirt to prevent the fabric markers from bleeding through.
Using fabric markers color in your shirt, set aside to dry, and you are ready to see the movie.
Do a different t-shirt for each member of the family.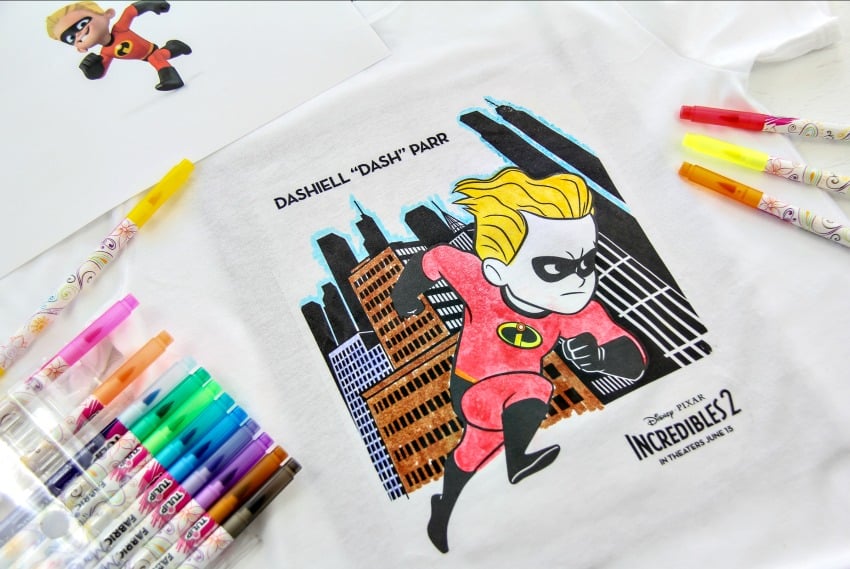 Will we see you in the theatres on June 15th so see Incredibles 2? Hope so!!! Be sure to rock your brand new Incredibles 2 shirt design and show off your DIY skills.
Think about all the endless possibilities with this Incredibles 2 shirt DIY tutorial! I've had my eye on the new Adventures by Disney Egypt tour that just released. I could seriously make a number of Disney themed shirts for the entire family and have all our outfits planned in no time.
I love it! Matching vacation family shirts are the best! I always recommend this as one of my Disney tips and tricks to families visiting for the very first time.
Related: