Recently, I got to take a sneak peek at the upcoming Fall collection for Coldwater Creek and all I can say is, bring on the Fall!
Coldwater Creek's Fall Collection was a dazzling array of rich colors and fashion forward pieces that interpreted the Fall trends without being so trendy that they can't become staple pieces in your wardrobe. The rich blues, greens and raspberry pinks pictured above are all colors that work well for any skin tone and mix well with classic black pieces you already own, so with a few select purchase you can give your wardrobe a colorful and chic update for Fall. The brocade jackets (above left) were particularly eye catching turning black pants and a cream blouse into a smashing ensemble.
In addition to their fabulous fashions, Coldwater Creek is a standout brand because they deliver fashionable, well-made garments at a truly amazing price point. Believe it or not, the majority of pieces in the Coldwater Creek collections retail for less than $100!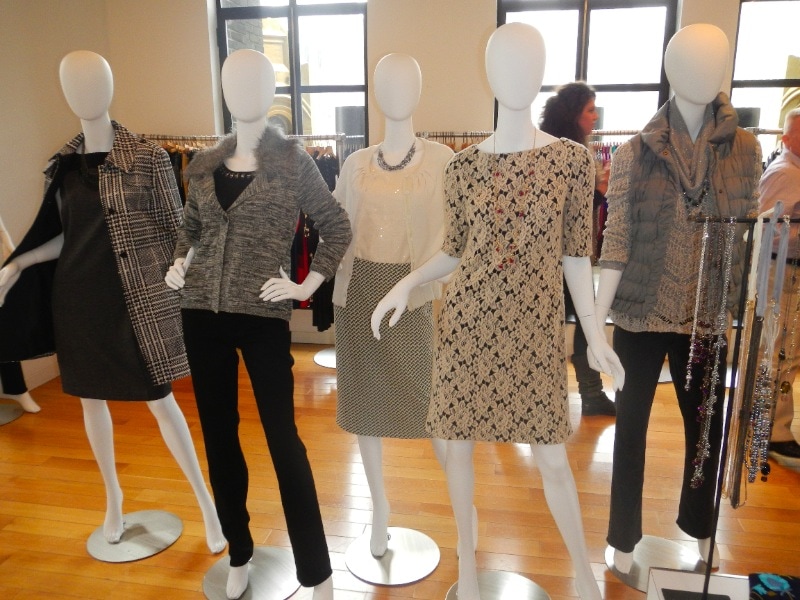 Another great thing about the Coldwater Creek Fall collection is that the pieces showcase a lot of different textures, like lace and brocade, but it is done with lightweight fabric so the textures of the material don't add a lot of bulk to your frame. The lace dress (pictured above) in particular, has gorgeous detailing but the fabric still feels soft and lightweight creating a textured detail dress that moves with you rather than making you look bulky and constrained. Genius!
Pictured above are two of the standout pieces from the Coldwater Creek Fall collection. The trench jacket (above left) is a simple casual jacket that could pair with almost any outfit to take you through the crisp days of Fall. What makes this jacket a standout, however, is the cinched waist detail that turns what could be a boxy jacket into a slimming, tailored silhouette that's indispensable in your Fall wardrobe. The stunning black and red dress (above right) has amazing pleating detail and fabulous color blocking. This dress is a must for anyone who regularly dashes from work to an evening engagement and needs to look smashing and appropriate at both.
Another exciting development for Fall is Coldwater Creek's line of jackets. Pictured above, you can see that the jackets range from the lightweight Fall trenches and blanket jackets to the heavier Winter jackets like the gorgeous quilted purple one in the center. I love the attention to detail that Coldwater Creek has paid to the quilting on both their lighter and heavier weight jackets. Instead of the traditional square quilting lines, the Coldwater Creek jackets feature tailored quilting designs that have a fabulous slimming effect which is something important to consider when layering up under a puffy jacket. The Fall collection also includes several blanket jackets that are the perfect thing to slip on to add a little flair to jeans or leggings when the weather gets crisp. My favorite is the black, cream and tan blanket jacket in the center that looks like it wandered out of the wardrobe department from the Mary Tyler Moore Show and needs to keep wandering until it hits my closet!
Overall, the Fall Collection from Coldwater Creek showcased some fabulous, very wearable fashion that is a great quality and amazingly easy on the wallet. What's not to love? To see more of the fabulous fashions from Coldwater Creek, visit them online on Twitter or on Facebook.