Water Country USA was FUN – but was waaaayyyyy too stressful for me to handle. The kids were zipping and zapping all over the place. I could barely keep up. If you blinked they were racing to another slide and lost amongst the sea of kids. I do NOT like that feeling – so we really didn't stay long. I think we packed up about 3PM.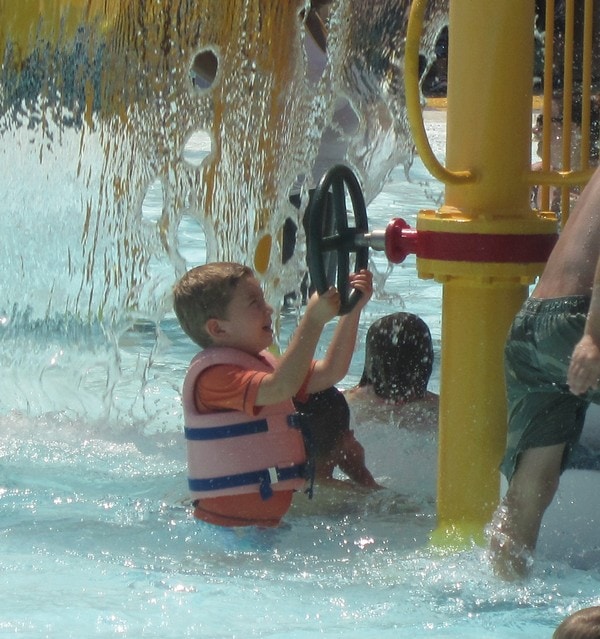 But while we were there – the kids really enjoyed themselves. Bill and I even went on a few slides which was so much fun! Liam was screaming!! It was hilarious.
Natalie's favorite word was "AWESOME". That ride was AWESOME. That slide was AWESOME. That lemonade was AWESOME. Wonder if she enjoyed herself? LOL!!
Within minutes Natalie made a best friend – which is typical for her WHEREVER we go. She played with her new friend for at least an hour.
Meanwhile Liam got busy on the mini slides. I couldn't take pictures of us on the real rides because my camera wasn't waterproof.
Then we left… and the meltdowns began. I KNEW this was going to happen but it only lasted until we reached our car. Then they passed out.
We went home and showered and then searched for a place to eat which isn't hard around here. The entire town is BRAND NEW. I mean every restaurant, coffee house, drug store, gas station – you name it – it's brand new. It's all so beautiful.
We opted for Bonefish Grill and I just HAVE to give them props because for ONCE IN MY LIFE I was able to order grilled chicken and vegetables for the kids off the kids menu. I am so SICK of fried chicken fingers! When I saw they had the healthier alternative available I almost kissed the waiter. The kids weren't as happy as I was – but whatever – they ate it.
More restaurants should start to do this. Parents will order it if it's available! Hopefully this health kick the nation is on will start to trickle down to the kiddie menu in more establishments.
Today we have one thing planned that I am super excited about. Tonight Bill wants to explore the neighboring areas a bit which means lots of driving for me and the kids. I'm charging up my phone as we speak. This is one thing that Bill and I are complete opposites over – I HATE driving around and he LOVES it. So we compromise and I give him a day or two to get it out of his system and he lets me be on my emails the entire time. I am dreading it – but it's something he absolutely LOVES.
Even at home he makes us drive around Long Island looking for Main Streets and new restaurants etc. I would be perfectly content not venturing out of my neck of the woods. LOL! It's not the worst thing to disagree on, right? That's what marriage is all about I suppose.
Do you have something that you and your husband / wife can't agree on? What's the compromise?