First of all – how COOL is Intel's booth at BlogHer 2011? They had a sand sculptor – I mean, does it get better than that?! It just furthers my proof that I have no talent…. WHATSOEVER. If someone put me in front of a heap of sand, I would make… a heap of sand.
So, yesterday was the opening of the conference / expo and we ran into several friends – new and old.
We openly admitted that this conference can get a bit… exhausting (to say the least), but laughed about how we all secretly enjoy the mania.
Naturally, we spent some time at the CVS booth because a) I am completely obsessed with them and b) they sponsored my trip. I think Audrey pulled me away when I started to smell and hug the coupon center uncontrollably. 🙂
Then it was off to the CVS luncheon hosted by the ALWAYS FABULOUS Nichelle from StyleMom. Nichelle and I go waaaayyyyy back and I love her to death. She's one of the bloggers part of the beauty club team.
Now, let me get to Kathryn Finney – The Budget Fashionista. I used to see her ALL the time when I first started blogging. We basically have watched each other grow throughout the years. She has completely skyrocketed into stardom and it LITERALLY couldn't have happened to a better person. I simply ADORE her and cannot wait to see what the universe has in store for her.
We also had a little chat that reaffirmed a few things I was doing with my life and THAT is the TRUE reason why I came to BlogHer I believe. Meeting her and having that conversation. You know when you make decisions that seem to go against the grain but your GUT says you are doing the right thing? Well, she reassured me that I am right to follow my heart. Needed it and love her for it.
And of course my day wouldn't be complete without seeking out some NYers and beauty bloggers. Loving catching up with old friends. It's also nice to see a new market of bloggers attending BlogHer!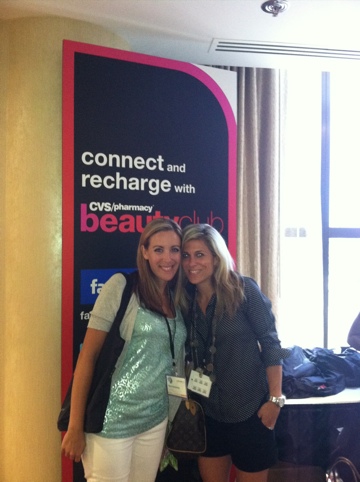 Once the luncheon was over, Audrey had a meeting and I went back to the room (only to see I didn't have a key). So, I hung out in the lobby and practically accosted the sunshine guy from 'Jimmy Dean'. He walked out of the elevator and I literally attacked for a photo. I love those commercials.
Don't mind the she-devil eyes that are coming out of my face, but this was the best part of the night. Audrey, Erika and I manned the Sears Cabana at the Cheap Sally Party this year and we really had a great time. I actually LOVED hosting with the brand. It was SO MUCH FUN to talk to all the bloggers and give them the deets on what's new and exciting with Sears.I mean – at one point I grabbed a bunch of mascaras (we were giving them away) and danced around the floor handing them out to party goers. LOL!  I might try to do more of these next year.
Oh and my dress is actually from Sears – I believe it was $30 or so and it has POCKETS! I was putting everyone's business cards in there along with my iPhone. Who needs a purse when you have a pocket dress? I actually now know what it feels like to be a guy in pants. 🙂 So FREEEEEEEEE!
And the end of the night was simply the cherry on top of the cake. We went to one last party and just had a blast with our girls. I also had the chance to meet the ladies behind Moms And The City.
Cabbed it home and then slept like BABIES until this AM. Today is thankfully a bit less CRAZY and tomorrow is a 6 hour plane ride home to NY where I will be DROOLING on the plane window. I cannot wait to sleep!! 🙂