The best drugstore self tanner was put to the test and I am so happy with the results. Sunless tanning is possible, folks. And yes, I'm even talking to all of us pale skinned girls!! I did it! And if I can do it, then you can do it, too. A week of using Suave Professionals Visible Glow Self Tanning Lotion and am so happy with the results.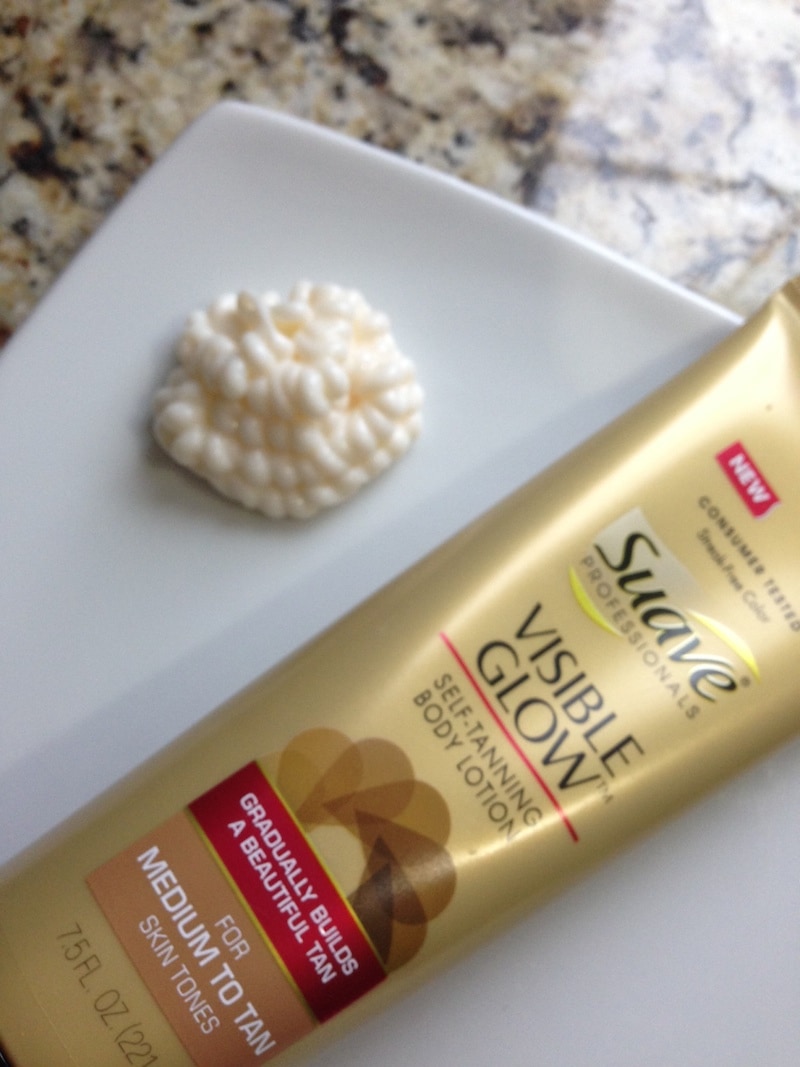 My skin looks great and I can't believe it's all thanks to a self tanner! I mean… what? I no longer look like I've just lived through an endless winter. Dare I say it, but I actually look… healthy. For someone who can usually see every vein in her body, I'd call this a win.
Best Drugstore Self Tanner
Just in case you are new to the self tanner world, I want to give you a few sunless tanning tips. First of all, be sure to exfoliate your skin all throughout your usage. It's best to keep your skin a fresh as possible.
You Need To Stay Hydrated And Moisturized For Sunless Tanning
You should also remain hydrated and moisturized. The point is, you don't want your skin to dry for any reason. The product will not cause any drying, but if you don't drink enough water during the week, your skin will react and your self-tan will suffer. So, if you want to commit to this self-tanner thing, grab a glass of water and thank me in the morning.
I used this Suave Visible Glow product twice a day – both morning and night – for about a week and watched a slow, natural build up. I think that's my favorite part of this process. It's not an immediate, "OH WOW YOU WENT TANNING" reaction. It's slow and steady and really looks like it's naturally growing.
Perfect To Prep For Getaways
I'm constantly on the go – always running around, always trying to catch up. This really works with my schedule. I went on a little getaway this weekend and am so happy I had a bit of a tan because on Sunday I was in my bathing suit all day long at the spa. No one had to look at my veins popping out of my winter white skin during that trip. 🙂
Be sure to wash your hands once you are done applying the tanning lotion. I've tried so many different options and I really do think this is the best self tanner for pale skin. I love the build-up and the slow climb. I feel like it's just better that way!
The Best Drugstore Self Tanner Are Affordable
The best drugstore self tanners are affordable AND do what they promise. You won't be disappointed by Suave's latest option! You know I am a drugstore beauty kind of girl. So, I don't want to spend an arm and a leg for a sunless glow. The price is right and it works – what more can a pale girl ask for?
How To Deal With Dry Skin
One last tip before I let you go – the most common cause of a patchy tan is dry skin. I've mentioned this before but you really need to moisturize your problem areas (wrists and hands, elbows, knees, ankles and feet) right before you begin your self tan application. Take special note of those areas. Sunless tanning is a great option … as long as you follow the rules. An absolute summer fun must have pick.
Related Posts: