Recently, I attended the Origami Owl Build Something Beautiful party where I got to play amongst all the glittering baubles and whimsical charms that have made Origami Owl such a runway success. I totally understood the hype. I simply fell in love with each and every piece I put my hands on. Origami Owl is simply magic!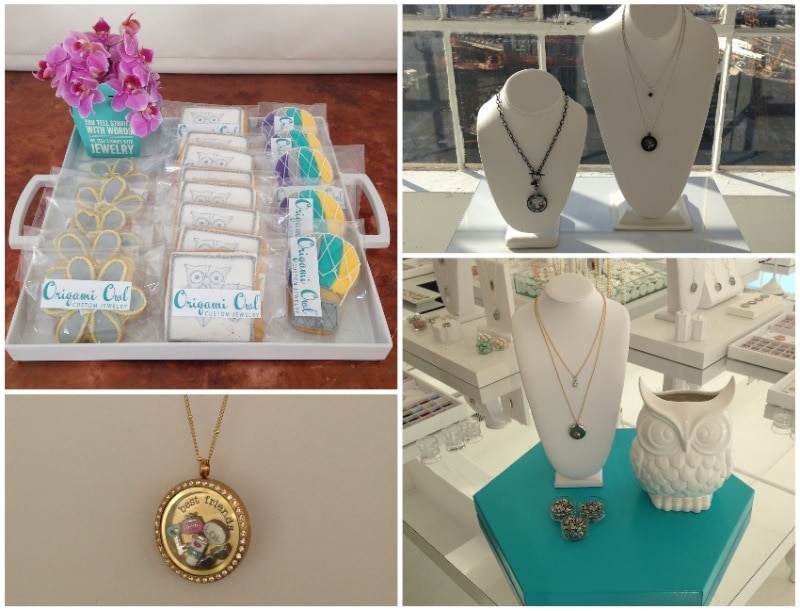 Build Something Beautiful with Origami Owl Custom Jewelry
I was first introduced to Origami Owl when my amazing best friend made me an awesome mommy-to-be necklace (pictured above) to help me celebrate being pregnant with my first baby. Not only is this necklace gorgeous, it's extra special to me because every detail of it was designed by my best friend just for me and it was made to commemorate a very special moment in my life. At the core of it, that's what makes Origami Owl such a fun and unique company. Origami Owl gives you the opportunity to build something beautiful whether it's memorializing a special event, or just creating the perfect fashion accessory that can change as quickly as trends do.
What Is Origami Owl?
Origami Owl is custom jewelry that you truly get to design yourself, with the added twist that you can KEEP designing it for the life of the jewelry. The design process begins by selecting charms and jewels to put into your pendant. From there, you select a pendant from a variety of sizes and styles and then you can add plates to the back of your pendant to give the necklace more detail and depth. Once you've made those selections, simply pop your pendant open and load in your charms, jewels and plates. Next, select the chain and decide if you would like to add on some dangles for extra bling and voila! Your creation is complete. Notice I said "complete" and not done? That's because your Origami Owl creation is never done. Because the jewelry is completely customizable, you can keep customizing and changing your jewelry to your heart's content. Add more charms, change the length of the chain to compliment your outfit, toss on some extra dangles for the evening when you need a little extra bling, the sky's the limit.
Customize Your Own Jewelry
One of the most impressive things about Origami Owl, however, isn't the amazing jewelry that you create, it's the fact that the company was founded by Bella when she was 16 years old! From a modest $350 startup, she has build Origami Owl into a successful (and incredibly fun!) multimillion dollar company. Wow!
Pictured above, three different examples of Origami Owl necklaces that have been created and a selection of their travel charms that I went gaga over.
Pictured below, a fraction of the charm options from the brand including letters and hearts commemorate the special people in your like "mom" "sister" etcetera. Also shown, some of the necklace options and plate options that further customize your own creation.
Pictured below, more of the hundreds and hundreds of jewels and charm options that range from the whimsical to the sentimental, but always reflect great quality and detail work.
With Origami Owl, the sky truly is the limit. Even better, with so many different necklaces, charm, plate, and dangle options, your necklace can be a constantly evolving work of art that can change to fit your mood- – or your outfit — every day.
To build your own fabulous Origami Owl pendant, visit them online and build yourself, or a special someone, something beautiful.
Sample provided for review.
Written by Jessica