April Fool's Prank ideas for kids are simple and easy to replicate. Have a little fun pulling these jokes on the people you love during the craziest holiday of the year.
So much fun! I know April Fools' Day just came out of nowhere. It always happens to me too. I don't know why I am never prepared with my pranks, but I usually find myself running around like a crazy person looking for easy things to do to make my children laugh.
Ok, I try to pull a few April Fools' Day jokes on my husband too. Why not? I went on a HUNT and found 185+ funny April Fools' Day jokes and pranks you can play on your family. Get all the inspiration you need right here!!
185 Easy April Fools' Jokes And Pranks To Play On Your Family: The Ultimate List
Here is a round-up of all the great jokes I found online. I went through each of these with my kids and they are so ready to prank their father on April Fools' Day.
What? You didn't think I was going to let this opportunity pass me by? Did you? In fact, I think I am going to help them. HA! Some of these April Fool's pranks are pretty simple. They don't even really need your HELP. But if i am being really honest with you…. others are a bit more intense.
So, you might need to step in and lend a helping hand. Either way, it's all about having a laugh and making lasting memories. Just keep the krazy glue out of reach. 🙂
April Fool's Day Prank and Joke List
Which one of these April Fools' pranks do you like best? Have you tried any of these on your kids? Did they get a kick out of them?! If you know of any that I didn't list here, please be sure to leave a comment below so we can add them to the fun.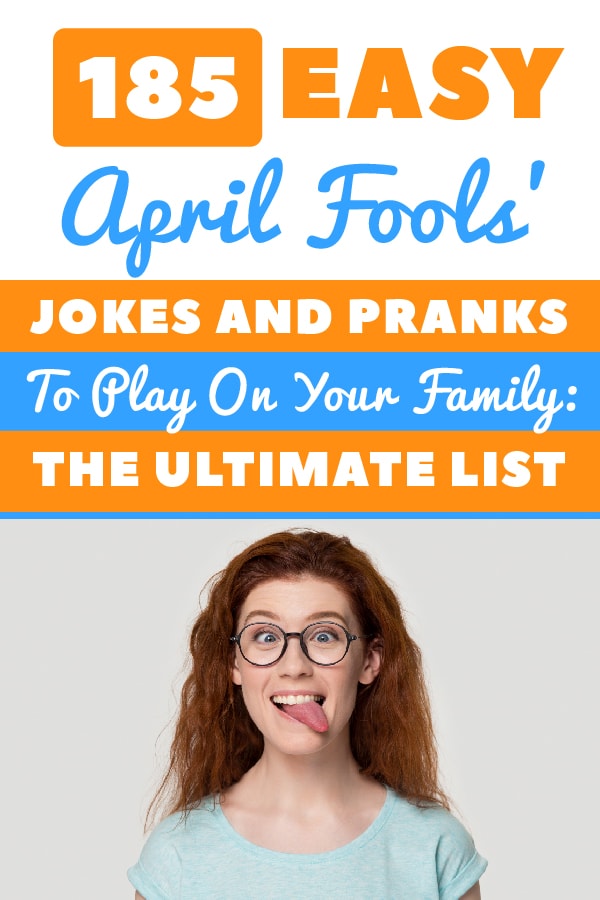 Related Posts: