When we moved to Long Island, we found that one of our favorite places to spend time together was in our backyard deck. Nothing beats an outdoor BBQ! Grilled meat and veggies plus a little fresh air equals total bliss! But we all know that a hearty meal isn't complete without a sweet treat for a summer dessert.
My children are such huge fans of S'mores and so am I because they are just so easy to make and bring the whole family together. A little messy fun never hurt anyone, right?
Summer desserts are just the BEST because most of them don't require turning on the oven. Whether you want to opt for something frozen or something toasted over an open fire – it's always a win.
The quintessential S'mores brand trio, HONEY MAID Grahams, HERSHEY'S Milk Chocolate and JET-PUFFED Marshmallows, have joined together to make sure the easiest – and tastiest – part of your backyard gathering is the grand finale. I mean… nothing says summer more than a backyard BBQ, right?
And nothing ends a BBQ like the magic of S'mores! That's why adding S'mores to the menu is a no-brainer. They are delicious and easy-to-make, titling them the perfect finale to the BBQ that people will want to experience over and over again.
Just keep the ingredients you need on hand – HONEY MAID Grahams, HERSHEY'S Milk Chocolate and JET-PUFFED Marshmallows. Nothing needs to be refrigerated so you can stock up ahead of time and always be prepared. Another perk for this summer dessert!
While it can be super easy to prep your S'mores over the grill, I wanted to show you our special little way of making S'mores! We set up mini terra cotta fire pits outside for our guests and let everyone have their own little station to enjoy. Super easy to recreate! Here's how you can get started:
Summer Dessert Idea: Individual S'mores Toasting Pots
3-4 Mini Terra Cotta Planting Pots
5 Tin Foil Squares to completely cover the inside of the planting pot
Lighter Fluid
We made individual mini terra cotta fire pits and placed them on the table instead of using the BBQ because we felt it was a more creative way to get the whole family involved. Dad set up each of the pots with a few pieces of tin foil to help seal in the center and create a base for the charcoal.
Then he popped in a few pieces of charcoal and lightly added in some lighter fluid to get the flame started. Each child had an adult supervise their marshmallow roasting time and we began our session of FUN. After all, isn't S'mores the 'Official Dessert of the BBQ'? I'd say so!!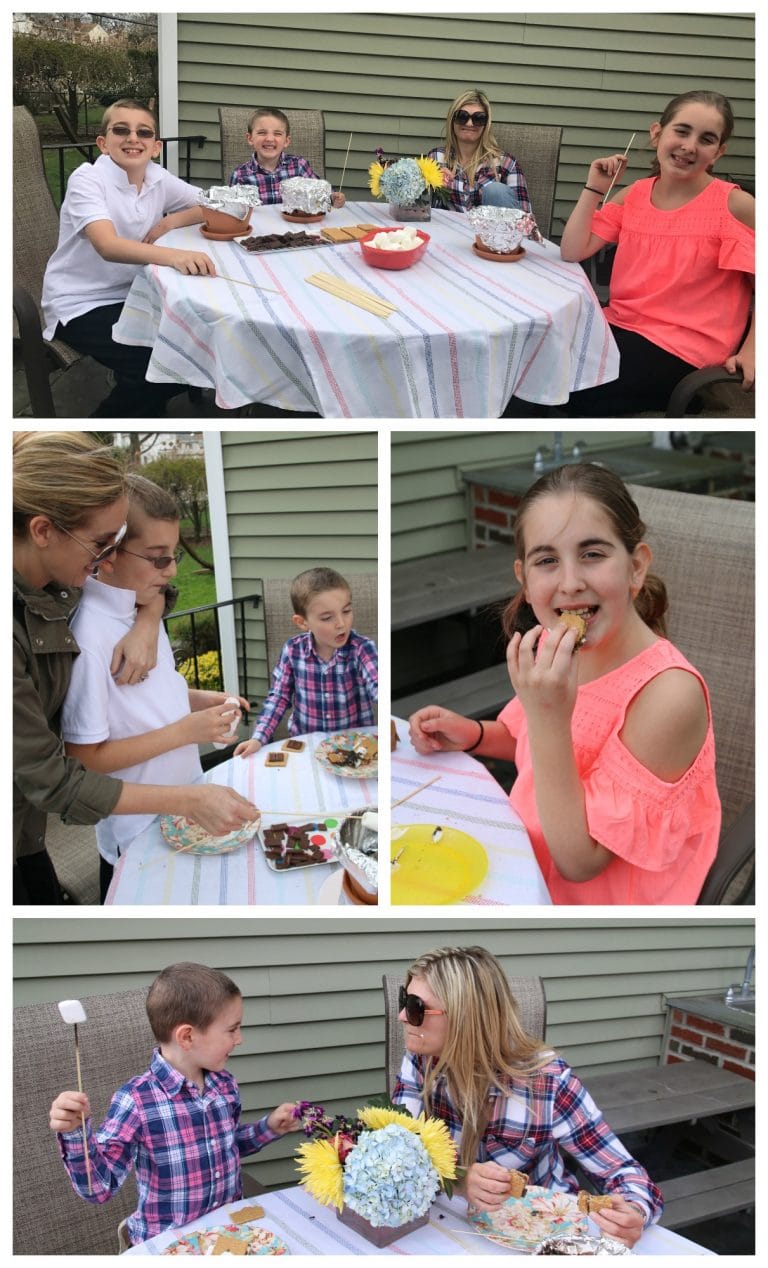 I always like to keep some wooden skewers on hand during BBQ season because a kebob is such a simple choice for dinner. They worked well for our private cookout over Memorial Day weekend as well!
Everyone grabbed a wooden skewer and began to assemble their personal S'mores. In my town, you aren't allowed to have fire pits in your backyard, so using the grill or these mini pots works out perfectly. We were able to craft the perfect S'mores right from our tabletop!
Memorial Day is all about celebrating with family and friends and honoring those that served this country. I can't think of a better way to spend the weekend than with the people I love.
So, we were so happy when a few more neighbors heard our music and decided to pop over. We live in such a social town that everyone knows our gates are always open!
The few extra families meant that we had to whip open the grill. I mean, with all those kids, we needed a larger flame to handle all those marshmallows. Summer desserts for all! Not a problem!!! Even the parents jumped in.
S'mores making is a very personal thing. Some like their marshmallows extra toasty while others want to double up on chocolate. As long as you have the right ingredients – HONEY MAID Grahams, HERSHEY'S Milk Chocolate and JET-PUFFED Marshmallows – anything goes!
The anticipation while you WAIT for your S'mores to cook is part of the fun, right? Those few seconds as you watch the marshmallow melt into that gooey goodness always makes me feel like a kid again. Truly!
Ready For My Secret?
Figure 1 [One serving size is 6 squares of HERSHEY'S Milk Chocolate]
When the weather isn't on our side and the kids still want S'mores, I still make them… but inside my broiler! We are "rain or shine" kind of family. One way or the other, we will get to enjoy our favorite tasty treat.
With Memorial Day and July 4th right around the corner, I am SURE you have plenty of BBQs in your future. Whether you are hosting or attending, be sure to bring the necessary ingredients to create some S'mores for the group.
Your friends and family will love making this summer dessert together. To learn more, visit Facebook.com/lovesmores and share the S'mores love using #ShareSmore.