My final secret revealed!! I met Chris Evans while I visited the Captain America: Winter Soldier set last May. Caleb was only three months old and I really had no intentions of taking any trips for the summer… but when Disney and Marvel invite you to something like this YOU PACK YOUR BAGS.
Related: My pic holding the official Captain America Shield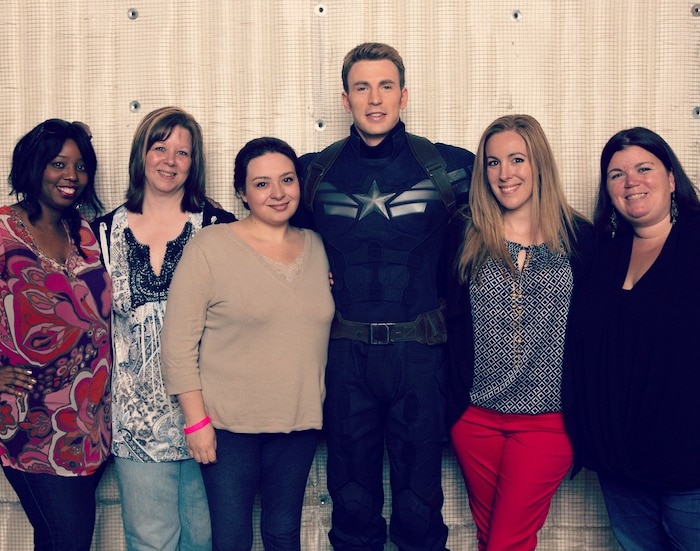 I am a movie fanatic. I love getting whisked away at the theatre but there is something really COOL about getting to see behind the curtain as well. When I had my daughter and became a stay at home mom, I actually started to do extra work in NYC because I quit my full-time job.
That put me on a lot of sets including 'Sex and the City' and 'The Sopranos'. Living in NYC has its perks – especially with Kaufman and SilverCup Studios a half mile from my house. 🙂
I LOVED being a part of it all – even if my part meant walking across the street 6oo times in a row. I enjoyed every second!
Disney trips sometimes include set visits. I flew out to LA to attend the Iron Man 3 premiere but was LUCKY enough to spend an afternoon on the Captain America: Winter Soldier set watching a few scenes shoot and meet some of the cast.
If you've never visited a set before, I'm going to let you in on a few secrets.
Captain America: Winter Soldier Set Secret #1: Filming takes place in a huge hanger / sound stage.
You know that fighting scene in the elevator where several men go at it for a few minutes? The scene where cameramen are able to get a variety of angles showing the punches and the kicks?
Well… that's not a real elevator. That's something that is built out in a soundstage. It's a mock elevator and has only 3 walls . BUT IT LOOKS SO REAL! I know, right?!!!
This way the cameramen can get in there with the actors and film all the shots the director needs. An actual elevator will be used to intro the scene. The actors will walk into a real elevator to set the fight scene up… but then the fighting will take place back at the sound stage.
Captain America: Winter Soldier Set Secret #2: There's a lot of down-time while filming for the main actors.
I never thought about how much time it takes to actually set up a scene. The cameras, the lighting, the microphones, the props. To switch out from one scene to the next — a lot of puzzle pieces need to fit together.
Because of this – the actors aren't constantly blurting out a few lines during a day of work. They do their scene and then they take a break while the team gets the next set ready.
Captain America: Winter Soldier Set Secret #3: A scene needs to be shot multiple times for safety and camera angles
This I didn't think of before. Let's say you NAIL a scene. You get everything right. Every word – perfect. BAM! You're done, right? WRONG! Now the cameraman needs to focus on the other person in the scene with you. OR they need to focus on your hands or your profile OR they need a wide angle.
Whatever they need… it means you have to do the scene over and over and over again. Oh my goodness !! I couldn't believe how many times we heard the same scene shoot.
But I completely understood!! It's just that I never THOUGHT ABOUT IT BEFORE. You don't realize what really goes into filming until you are on set for a day.

AND GUESS WHAT?! THIS IS THE EXACT SCENE WE SAW BEING FILMED!! HOW COOL IS THAT!!!
Captain America: Winter Soldier Set Secret #4: The actors are really friends
You spend so much time with the same people for months on end — of course these people end up becoming close friends. Everyone on set joked around with each other in between takes.
It was SO NICE TO SEE. There was really a great sense of community on set. You HOPE that's the case but I can tell you that I saw it with my own eyes. The Captain America: Winter Solider team was like family. Everyone got along – everyone.
Related: Free Printables! Captain America – Winter Soldier Coloring Pages
Captain America: Winter Soldier Set Secret #5: Chris Evans' suit is hard as a rock and Scarlett Johansson is smoking hot
You know when we were told to gather around Chris Evans for a photo… I BOOOOOOOKKKKKKKEEEEEEDDDDDD it so I could stand right next to him. In a few days, I will probably photoshop everyone else out and create a photo album of just the two of us together with a variety of backdrops. Hey… being honest here!
Even though this happened several months ago, I do remember how hard his suit was. Felt like plastic armor. It wouldn't have dented if I pushed on it. The Captain America suit keeps form at all times.
I know this is to give the illusion that he is that muscular but I hadn't thought about it before. I'm not saying that Chris Evans isn't muscular… I'm just saying the suit creates a more defined body.
And little Miss Scarlett – who is probably 5 foot 1 on a good day – was just unbelievably gorgeous. Stunning. She was all in leather and a true beauty.
We were able to watch them in between takes and she was so down to Earth and funny which I think made her that much prettier! The complete package for sure!
I had SO MUCH FUN! Are you planning on watching Captain America when it hits the theatres?
Related Posts: