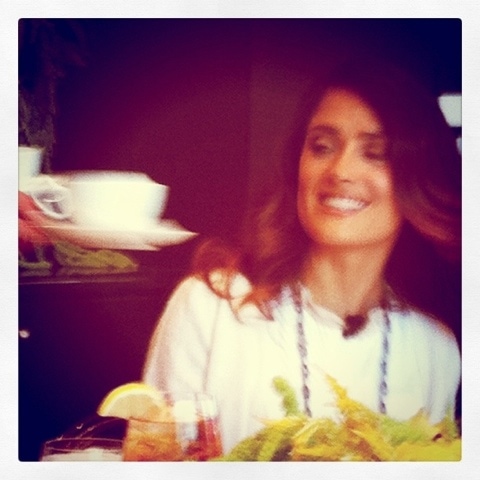 This is the best picture of the bunch. You can see how happy Salma Hayek was when she finally got her cup of coffee. These celebrities have to travel SO MUCH while doing press for upcoming movies / shows / product endorsements. But all this running around certainly didn't slow down Miss Salma. Her energy was literally contagious. After lunching with her at the Mandarin Hotel – along with about 15 other bloggers – I came home and cleaned out my bathroom shelf to make room for her Nuance Line.
It all started with some fabulous mint lemonade. I think I had about 3 of these before putting down my bag.
We each had the opportunity to learn more about the line – this particular makeup trio was my favorite. I will do a video on this. I NEVER KNEW how to use it!!!! And NOW I DO thanks to Salma. I thought you just were supposed to brush all the colors together. Boy – was I wrong!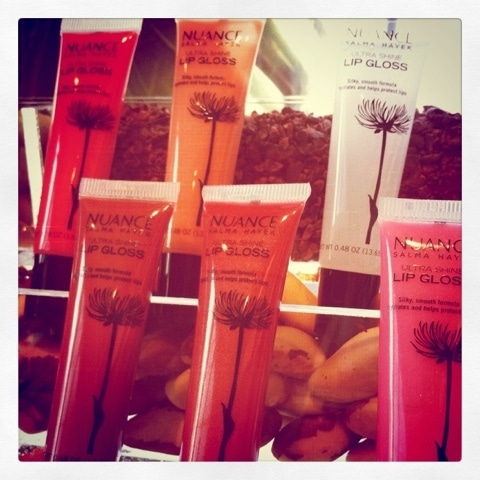 I adore lip gloss and the Nuance line offers a great variety of shades.
Now this is where her passion came into play. Salma was LITERALLY part of the entire process. She handpicked special ingredients that her grandmother used to use while living in Mexico. Ingredients that work – not just fillers. Her passion for the line was oozing through her pours. And there wasn't a question she couldn't answer!! Believe me, this really is important to her.
"My line is inspired by my grandmother, who dedicated her life to keeping women beautiful. I worked with renowned chemists to combine her secrets with unique botanicals from around the world. My products are designed to help every woman enhance the nuances that define her individual beauty, and make my grandmother proud."
Salma talking about why she decided to partner with CVS and keep her price points low.
Another reason why I love Nuance is there are several different creams to choose from. Why use SPF when you don't need it (going out at night or going to sleep?) Salma says never to put something on your pores unless you HAVE to. Brilliant!!
Nuance Treatments:
Correcting Spot Treatment 10% Sulfur Acne Treatment: Oil-free formula made with natural clays helps extract impurities and control acne to soothe and firm skin, improving tone and texture and helping prevent future breakouts. $16.99
Green Tea Cooling Eye Gel: This antioxidant-rich formula, enhanced with Green Tea, soothes and smoothes the delicate area around the eyes, reducing fatigue and puffiness. $16.99
Anti-Aging Wrinkle Filler Eye Serum: This vitamin-rich formula instantly helps firm the delicate skin around the eyes and diminish the appearance of fine lines and wrinkles. $19.99
Renewing & Brightening Facial Serum: Natural Licorice Extract and Macadamia Oil even skin tone and help reduce the signs of aging for a brighter, more radiant-looking skin. $19.99
Nuance Moisturizers:
Renewed Radiance SPF 30 Moisturizing Day Cream: Sun protection formula with Shea Butter and Vitamin E help brighten, hydrate and balance skin tone for age-defying results. $16.99
Renewed Radiance Nutrifying Night Cream: Age-defying formula with Lavender and Buriti Oils hydrates, firms and tones, increasing skin's vitality and radiance. $16.99
Smoothing Anti-Aging Eye Cream: Avocado and Sweet Almond Oils brighten dark circles and help smooth the appearance of fine lines and wrinkles in the delicate eye area. $16.99
AM/PM Anti-Aging Super Cream: Antioxidant, vitamin-rich blend with Tepezcohuite and Borage Oil helps replace lost nutrients and hydrates skin to help reverse the signs of aging, and improve radiance. $19.99
Nuance Cleansers:
Oxygen Activated Foaming Face Wash: This deep-cleansing mousse firms and hydrates for perfectly balanced skin. Natural botanical complexes invigorate for a healthy-looking glow. 3 fl. oz. $12.99
Chamomile Facial Cream Cleanser: 100% soap-free formula gently cleanses, soothes and tones all skin types with ultra-rich hydration and a non-greasy feel. 4 fl. oz. $7.99
Detoxifying Facial Cleansing & Toning Towelettes: Cleanse and soothe the skin in one step with a gentle blend of Quillaja Extract, Chamomile and Citric Acid, balanced to remove impurities, soften and moisturize. 25 count $7.99
Cucumber & Rosewater Dual Phase Makeup Remover: Floral extracts condition and moisturize, lifting away impurities and waterproof makeup from delicate skin. 4.3 fl. oz. $7.99
Walnut Facial Scrub: Finely crushed Walnut Shells gently exfoliate and clean, leaving skin soft, smooth and revitalized. $7.99
Wild Lime Exfoliating Facial Gel: A rich blend of vitamins and natural fruit enzymes gently exfoliates for a smooth, radiant complexion. Green Tea helps retain skin's youthful glow. $7.99
Nuance Face Products:
Smooth Start Skin Primer: This makeup-enhancing primer helps diminish the appearance of pores and fine lines while nourishing the skin for a healthy-looking glow. $11.99
Flawless Coverage Mineral Foundation: Demi-matte powder with Mineral Clays helps hide imperfections and prevent shine for a velvety-smooth finish. Available in 5 shades, $13.99 each
Flawless Wear Tinted Moisturizer: Oil-free, sheer coverage moisturizer helps minimize the appearance of fine lines and wrinkles while delivering a healthy, radiance. Available in 5 shades, $13.99 each
Front & Center Concealer & Brightener: Dual-ended, creamy, high-coverage concealer and skin brightener visibly diminish imperfections and help enhance skin tone. Available in 4 shades, $10.99 each
Flawless Mineral Cheek Trio: Triple-milled pigments in this three-in-one conditioning blush shape, highlight and define for an extra smooth, velvety finish and endless, customized looks. Available in 4 shades, $12.99 each
Translucent Finishing Powder: Worn alone or over foundation, this matte-finish powder visibly diminishes pores and fine lines for an all-day, flawlessly set finish. Available in 2 shades, $11.99 each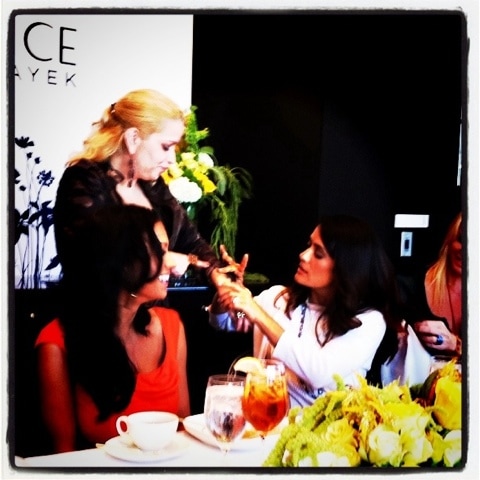 She even gave us a sneak peek at a product that is coming out in Phase 2 of Nuance. The foundation literally covered up this blogger's tattoo. She just used a DAB. I can't wait to get my hands on that puppy!!!
All products are available at CVS and start at $2.99. Salma Hayek's Nuance also includes a full hair care line. I mean LITERALLY that woman covered all our bases!! Unreal!
Oh and what a treat to see Audrey and Nichelle!! 🙂 Love catching up with friends.
Videos coming up!!!