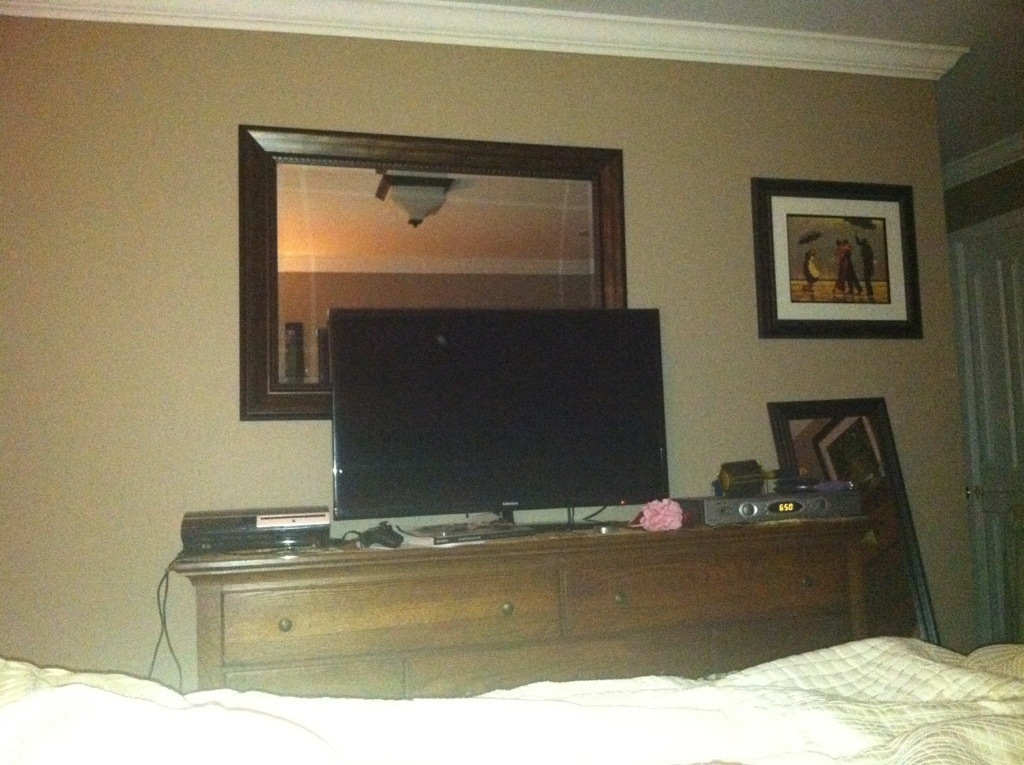 I knew this was going to happen. Truly. This is not a surprise. From the day I found out I was pregnant, I lived with this panic – counting down the days until **** hit the fan.
And Thursday was that day.
I have to go to the doctor once a week for a cervical check. It's not even really a bother for me because I like to be aware of exactly where I am PLUS I get to see the baby OFTEN. I have about 60 sonogram pictures all over my house. It's a blessing that blooms from the madness. You have to find joy in the little things, right?
Well, last week my cervix was 3cmm long which is the last point of acceptability. Mind you – it's too early to be 3cmm as it is. But by the doctor's standards, we were fine as long as we were in the 3 range.
Yesterday, during my doctor's visit, my cervix went down from a 3 to a 2.3. That is a HUGE JUMP. As soon as the nurse called it, I started to cry. I was alone. My husband was in San Francisco all week and my mother didn't want to come in the room with me. In a way it was good, because I got a hold of myself quicker since I had no one to lean on in there. They left me to change and called in the doctor.
When she came in, she said… "It's short. But you know that." And I did know that because this is my third time on bedrest.
I knew everything she was going to say. I knew exactly what it meant. Bedrest is just the start. I have another appointment on Monday and that's when we will see what else we are going to do. Will it be surgery? Will it be progesterone? Will it be hospitalization? I don't know yet.
For now – it's been confirmed. Absolute bedrest. So this is my new view.
Last week, Bill and I went out and bought a big TV for my bedroom. We had a 19 inch television in there and I stopped being able to read the TV guide a few years ago. But I never really USED that TV, so it didn't really bother me. However, I knew that I would be spending at least 4 months on bedrest. So, for $399 we bought this 40 inch MONSTER. PC Richards was having a huge Columbus Day sale and we jumped. I'm glad we were being proactive about the whole situation… because now I'm in for good.
(Bill sent me flowers before he got on the plane.)
Like I said, Bill was in San Francisco this week. I called him as soon as I left the doctor's office bawling my eyes out in the car. I felt so bad reaching out to him because I knew he was about to get on a plane to fly home. That would be at least 6 hours of him sitting there and marinading in the news. But I had to tell him. And I cried for about 20 minutes while talking with him. He kept trying to calm me down – but it's just so early. I just started my 20th week. This means that I need to bake this baby for at least 8 more weeks… without question. I cannot go into labor before that.
This cannot happen.
The next 2 months are the hardest to handle because I know if something happens… it's over. I really don't care so much once I pass 30 weeks. I know the baby will be fine at that point. But now… this moment… the moments that will fill the next 8 weeks… it's impossible to reconcile.
I can't believe this is happening. Even though I knew it would. Does that make any sense? I've done this twice before and was able to carry to full term TWICE. So, I know that even though the ride is hard, the results are worth it. I'm blessed to have my two children with me. My life is complete because of my kids. I will hang upside down if that's what it takes to have another healthy delivery. I am the best patient in the world because I don't cheat. I take it very seriously… because it is very serious.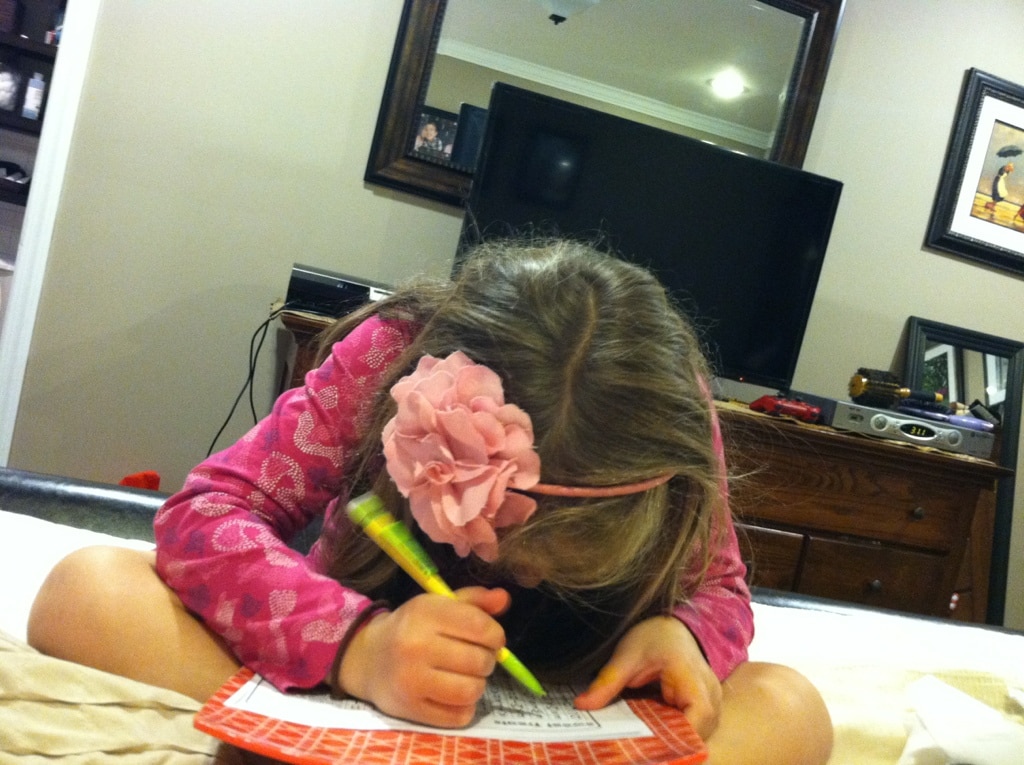 Natalie came home from school and I tried to do her homework with her on the bed, but it didn't work out. She was too distracted. So, my mother had to do it with her in the kitchen. Again, I cried. This is another very hard part to accept – your uselessness.
I can't help my kids with their homework anymore.
I can't eat dinner with my family anymore.
I am going to miss every holiday / party / dinner that's coming up during this holiday season.
I am going to miss my kids' school plays and classroom parties.
My birthday and anniversary (coming up in a few weeks) will be spent in bed.
I am going to miss every soccer game my son plays this year.
It's too much to process all at once. I can't begin to think about Thanksgiving and Christmas right now – even though I know it's going to happen.
I will get out of this slump in a few days. It's still too new for me. I cried all day yesterday – and I mean all day. When the kids came home, I controlled myself when they were around me. But every second I was alone, I mourned the upcoming year and how I wouldn't be apart of any of it. It's a hard truth… but one that I understand all too well.
The only difference is, when I was on bedrest the last two times – my children weren't really aware. The first time I had NO children – so that worked out. The second time, Natalie was not even 2 years old. She really didn't understand what was happening.
My kids are much older now. They get it. They are already asking why I'm not having breakfast with them.
It's day 2 folks.
Day 2.
I have at least 100 to go. I can't handle this. This is really going to be a test for me.
Even this morning, when I woke up. I was hungry and thirsty. But Bill was getting the kids ready for school. So, I was sitting in bed just waiting for him to check on me. And I was thinking… should I just go and get it? I'm not supposed to. And he didn't check on me because he has stuff to do for the kids. I get it. But it's already frustrating because I'm at the complete mercy of others.
You don't feel sick. You don't feel weak. You don't feel like you need anyone to help you. But you do… and it's that struggle that drives me crazy. I'm a very independent person. And now I have to lean HARD on my husband and friends and family.
I don't want to be burden – and this can't be done any other way.
So…I need the day off. I need to cry some more. I need to accept it a little more. Hopefully, after the weekend, I will be in a better place.
If you are my friend in real life… I am not going to pick up my phone / check emails for a while. So, please don't take offense to that. I just can't talk about this without bawling. And I need to get passed that stage.
Thank you for all your kind wishes during the first few months of my pregnancy. I appreciated all the emails / facebook checks etc. My family will get through this. I have to believe that. I just need some time to wrap my head around this situation.