Admittedly, this soup doesn't LOOK as good as it TASTES. I should have garnished it … but that time has passed. Trust me – this potato leek soup recipe was easy to do and worth every step.
Ingredients
* 6 potatoes, peeled and cut into large pieces
* 8 leeks, whites only, thoroughly washed
* 3 stalks celery, roughly chopped
* 1 medium onion, peeled and quartered
* 1 bay leaf
* 2 quarts chicken stock
* 1/2 cup all-purpose flour
* 4 ounces (1 stick) melted butter
* 1 cup heavy cream
* 1 1/2 teaspoons finely chopped fresh thyme leaves
* Salt and pepper
Rough chop the potatoes, 4 of the leeks (reserving the rest), celery, and onion.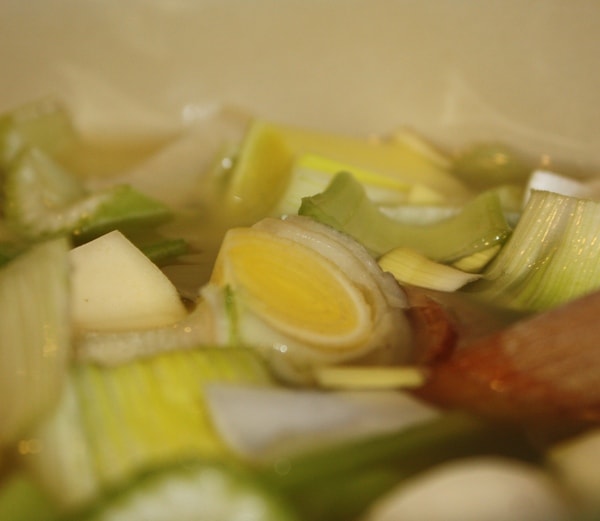 Place them in a large pot with the chicken stock and bay leaf. Bring to a boil – about 15 minutes.  Cook until potatoes are soft.
Chop the remaining 4 leeks.
Mix flour and butter in small bowl to make a roux for thickening the soup.
Add the remaining leeks, roux, cream, fresh thyme, and salt and pepper. Remove bay leaf.
Using an immersion blender (or in batches in a blender or food processor), blend soup until smooth. Pour into a medium pot and simmer for 20 more minutes until soup has thickened and serve.
YUMMMMYYYY! Thanks to the Food Network for the recipe.
Want to see what else I've made? Check out my 'Inside the Kitchen' series.