While in Orlando for the Zootopia press junket, the group had the opportunity to spend the day at Hollywood Studios and we had such a blast! It's an entirely different experience when you are at a theme park without children – and I wanted to give you a little taste of how awesome it can be. Hollywood Studios without the kids can certainly be a blast!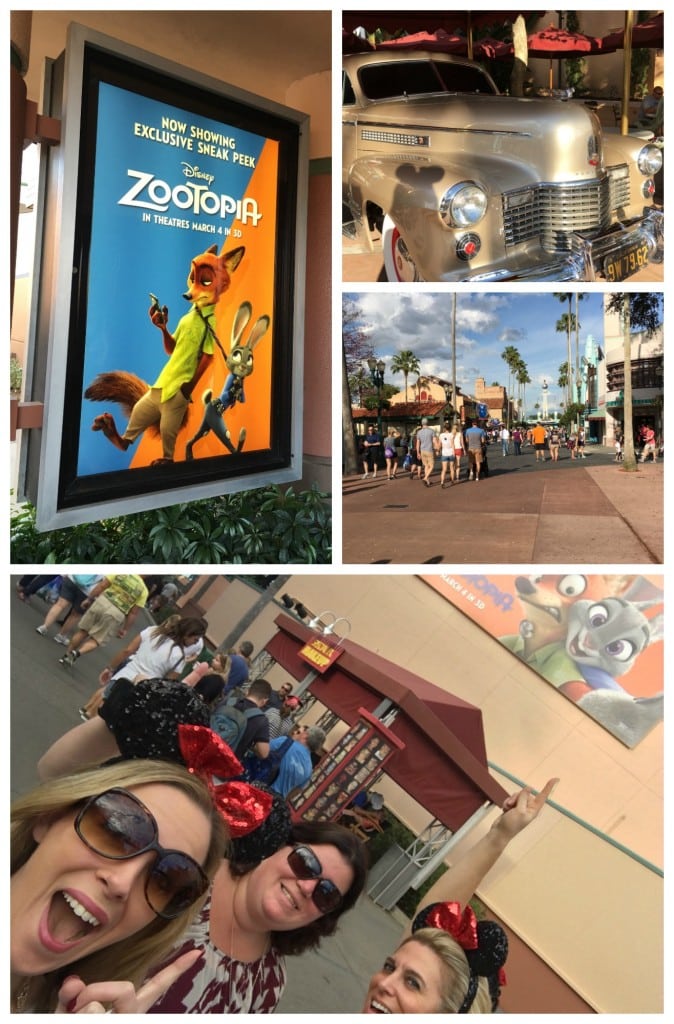 Hollywood Studios Without Kids: Who Knew It Would Be So Fun!?
First of all, if you go to Hollywood Studios without the kids you will notice things that you've never seen before… like antique cars and big billboard signs. There's so much happening at eye level and above when you aren't pushing a stroller. It's amazing! Hollywood Studios is filled with film artifacts and memorabilia – it was a real treat to explore the parks searching for it all.
I was lucky enough to have a meal inside of the Hollywood PropShop. This area is closed off to the public BUT you can rent it for special events (think meetings or weddings). The room was FILLED with items from past Disney Park shows, parades and features and even had some props from movies as well. SUPER FUN to walk around and check out. Every item had a story! The lighting was a bit dim – so I didn't have the best photos… but here are some of my favorite.
Then it was off to Star Wars Launch Bay. As a Star Wars lover, this was a real treat! First, you get to watch a 10-minute movie about the creation of some of the concepts behind the newer films.
Watch a behind-the-scenes video and see how a new generation of filmmakers is crafting the future of the Star Wars saga.
And then, when you are let out of the movie, you get to walk through an archive of sorts and get up close and personal with some iconic pieces from past movies! This is available all year long!!
Selfie With A Stormtrooper At Hollywood Studios!
Oh and right out front… Stormtroopers! They don't really stop and aren't super receptive to the thought of a selfie, but you know I got one. 🙂

For the rest of the day, my friends and I walked around at leisure and enjoyed some of our favorite rides (the higher score is mine in case you were wondering), rode some upside down coasters, chilled out and people watched and "oohed and aaahheed" at the little people enjoying the character meet and greets. But we didn't have to wait on any of the lines. Such joy! 🙂
We skipped the Tower because I wanted to keep my Prop Shop meal all inside. I thought that would be best for everyone.
Star Wars And Starbucks At Hollywood Studios
And because I am someone who likes to live life on the edge, I helped save the galaxy holding two of my favorite drinks in my hands while all the little children waited on line behind me for their turn. I think I heard someone say, "Mommy, why is that lady so thirsty?"
She's not thirsty dear… she's efficient and thinking ahead. That's all.
I'm just kidding – that was Audrey's drink. I was just being funny for the picture.
In the end, we shopped until our little hearts were content, we ate when we wanted to, rode all the scary rides, took breaks to people watch when we needed to charge our phones and paid attention to details that I have never seen in all the DOZEN times I've visited Disney World. Yes, there's something to be said about visiting a park without children. I'm not saying I won't come again without my little ones – in fact we are planning our next trip this WEEK. But, there was some MAJOR magic happening at Hollywood Studios. I completely understand those couples I see on vacation without kids at Disney now. I get it! It was awesome!
One more thing that I cannot forget to talk about because it was probably my favorite part of the night — the Symphony in the Stars Dessert Party. I LOVED IT! Guests pay a fee to enter this VIP area where desserts and drinks (yes, alcoholic ones) are offered. Everyone has front row access to a wonderful firework display and it's just magic – magic – magic. A cupcake never tasted better. There really is something to their pixie dust.
Remember – Zootopia is in theatres RIGHT NOW. It's hilarious. You don't want to miss it!
Want To Read Other Posts Related To ZooTopia?
Like I said, it was so much fun with friends — but being with the kids is a blast too. Can't wait to take them again!! 🙂
*Disney invited me to attend the Zootopia press junket. All opinions are my own.