This free freezer inventory printable will help you save money at the grocery store and shave time off your meal-planning sessions every week. Once you figure out what you have on hand, updating your food inventory will become a breeze.
Meal planning is much easier when you know what items you have in your deep freezer and are on top of each expiration date. Another great perk? You will limit your household's weekly food waste.
Once you incorporate these free printable inventory sheets into your routine, grocery shopping will become a breeze. No more purchasing items you already have at home. After a few days, you won't remember what life was like before inventorying your food at home.
What does a freezer inventory printable track? Using this printable will help you track the type of food you have stored in your freezer, the quantity of each item as well as the expiration dates.
Download link – for personal use only: Download your copy here.
It doesn't matter if you have a large family or are living alone. Nobody likes to eat food with freezer burn. You don't have to update this printable on a daily basis if you don't have the time. Personally, I like to update all my trackable sheets at the end of day, but you can do so every few days to save yourself some time.
Just be sure to clean out your freezer the first time you start getting organized and get rid of any expired foods. Every time you purchase new groceries, place the newest food towards the back of the inside of your freezer. Keep the older items on top. This is a good system for people who just open up their fridge and grab the first thing they see when trying to come up with homemade meals.
For example, if you bring home a fresh package of chicken breasts, be sure to use that pack at the bottom of your freezer first! First in – First Out. This is the easiest way to manage your food.
Storage Ideas
If you'd like to try to get your groceries organized, consider placing small bins and using them to categorize your freezer food. This will make creating freezer meals that much easier because you can see exactly what you have on hand. In the end, you will find yourself buying less food because you will be using what you have. You might even save some money on your next shopping trip!
Quick Tips For Using This Kitchen Organization Printable
Work on just your proteins – meats, chicken, fish – and lump like items together
If you have multiple freezers, you can use the expiration column to note which freezer has what item. That is up to you.
Consider using this tool to help you meal plan. Have too much pork in your freezer (like me if you check the above YouTube video) then make sure you look up easy pork recipes to cook for the week.
Don't go food shopping without consulting your home management binder. I keep this freezer printable in my personal binder and always reference it before I place an order for food.
Your freezer inventory sheet should be the first thing you check before cooking. It only works if you keep it updated, though! Make sure that you cross off any protein that is no longer available because you've used it.
When printing, make sure you print a double-sided copy. Might as well make the most of the paper you print!
If you have a large enough space in your freezer, you can take advantage of big sales in the circular. It's always good to know how much of each item you have on hand. This will help you spread out this purchase accordingly.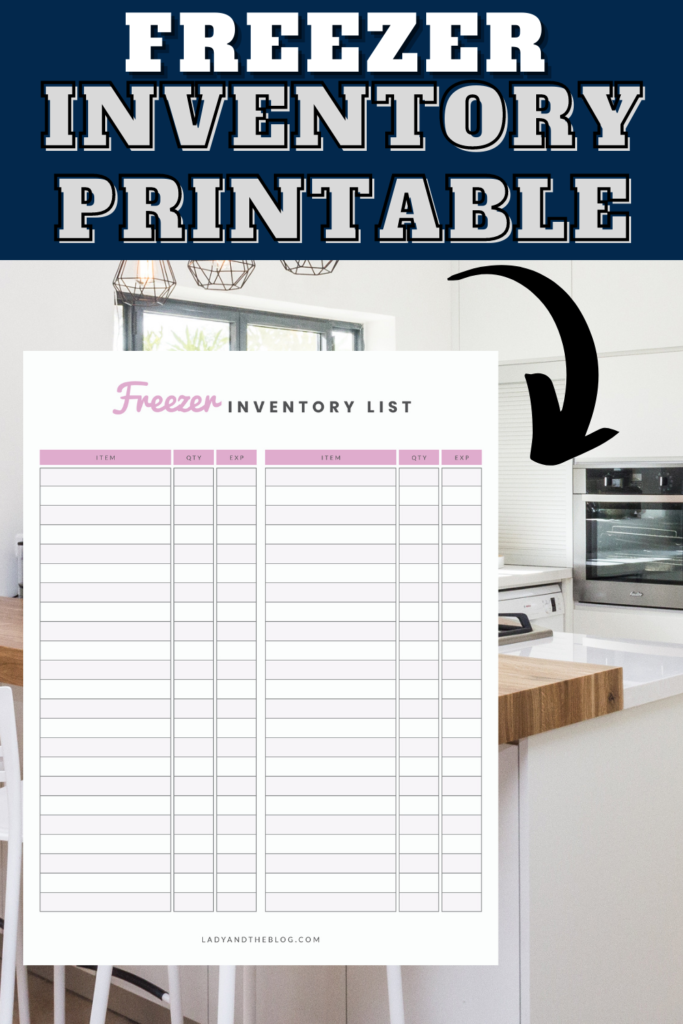 Keeping Your List Updated
When you first set up your food inventory list, it can feel overwhelming. It's not that it's hard, it's just that it will take a bit to get through everything in your house.
However, once you have it all set up, updating it is a breeze. Cross off any item you take out of the fridge and use for dinner. Add all the items you bring in from the grocery market.
Your list should look like one big mess by the end of the month – and that is OK! It means that you are working through your freezer as you SHOULD.
When you've run out of spaces, simply print a new copy and replace in your binder.
Managing your freezer pantry grocery inventory has never been easier!