A lot of women are curious if Olay cream works as good as it claims. And let's be honest – the better question is does it rank up next to expensive skin creams? Do those really work better? I've had these same beauty concerns a million times myself.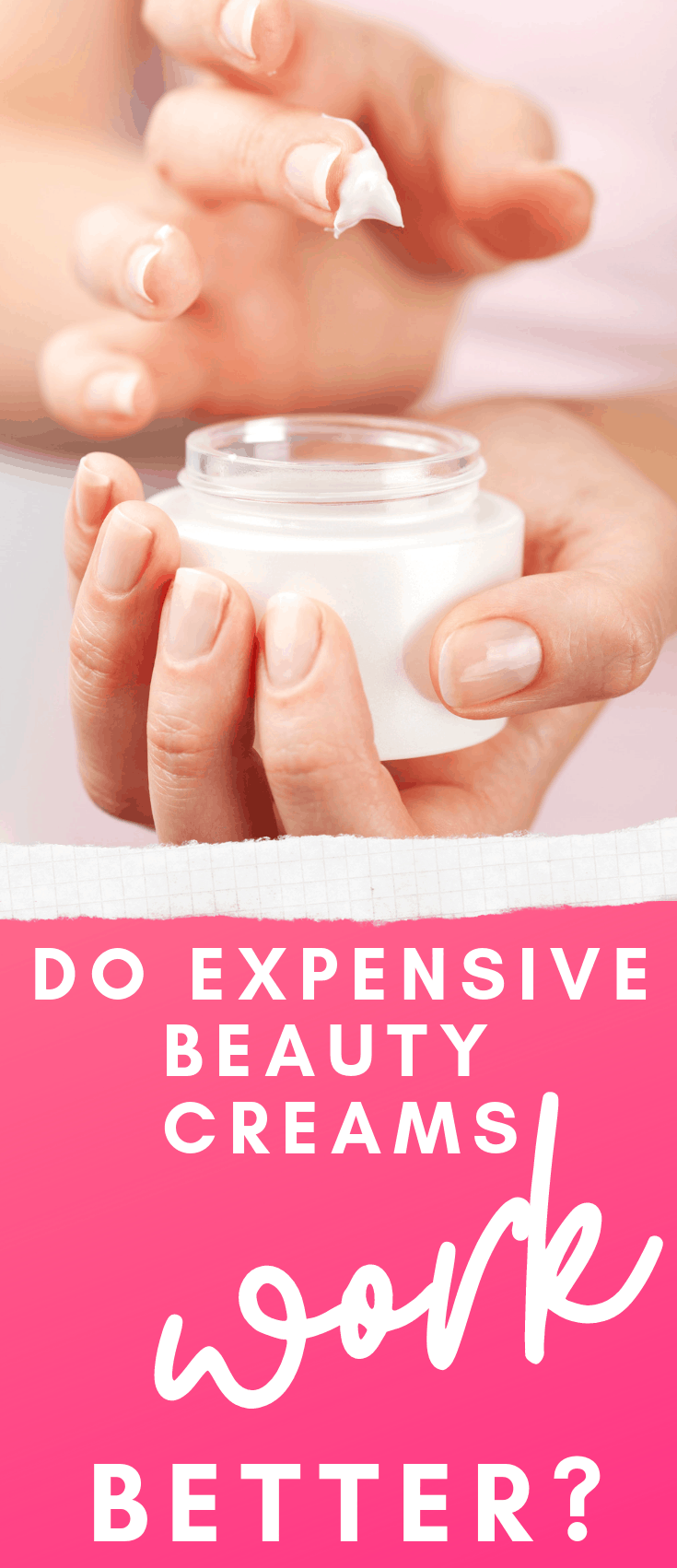 We buy the magazines. We watch the commercials. We fall prey to the mass marketing. Just because it costs more must mean that it works better, right? Wrong.
Beauty buffs are so lucky to be living in a time where they can find products in their local drugstore and see powerful results. Anti-aging results without the pricey department store price tag? SCORE!
Olay Cream – Olay Regenerist Micro-Sculpting Cream
Don't just take my word for it. An independent test led by the Good Housekeeping Institute showed that Olay Regenerist Micro-Sculpting Cream outperformed 10 top prestige creams, including one with a $440 price tag. YEOW!
Olay is a name that has been around for 80 years. If you haven't already added this to your routine, you need to give this beauty product a try. There's no need to spend top dollar to achieve beautiful skin.
And the Good Housekeeping Institute published their evaluations to prove it! I want to get right down to their findings because I LOVE reading about this sort of thing.
GHI tested the latest Micro-Sculpting Cream formula, a Good Housekeeping seal holder, found online for just $26.99, and conducted clinical and blinded consumer studies, where scientists collected more than 10,000 hydration measurements and Olay rose to the top. Here are some serious stats:
FAST-ACTING: At the three-hour mark, Olay moisturized 400% better than a cream nearly 18 times its price and beat all other products tested.
LONG-LASTING HYDRATION: Olay increased moisture by 50% on average over a 24-hour period.
LIGHTWEIGHT TEXTURE: In blind comparisons, consumers preferred Olay 80% of the time over expensive creams, reporting that it felt "rich" without being heavy.
FIRMING & PLUMPING INGREDIENTS: Formulated with powerhouse ingredients like niacinamide and hyaluronic acid, Olay improved skin's texture by 10% in four weeks.
Benefits Of Olay Cream
I'm turning 40 this year. It's a number that has been haunting me! Luckily, I've been thinking about my anti-aging routine for quite some time now. It's always better to start before you actually NEED to start.
Fine lines are better to manage than full on wrinkles. But do you know when the absolute best time to start is? Right now. Today. The minute you start to think about it. The second you realize that anti-aging products should be in your repertoire.
Olay Ageless – Olay Face Cream
Don't worry if you've missed out on some made up deadline. Starting today is as good as any! A recent Olay study with 155,000 women showed that 80% of skin's anti-aging destiny is within women's control and not related to genes. THAT IS SO POWERFUL!
We can no longer blame our skin issues on our mothers. Wait a minute… I blame everything else on her. What am I going to do? LOL I am going to take control back into my hands! That's what!
Olay Regenerist Micro-Sculpting Cream – a re-engineered formula and the #1 selling anti-aging moisturizer offers up exciting anti-aging results.
What Kind Of Results Are Typical For Olay Cream?
Visible wrinkle results start at day 1

1 day: reduces the appearance of lines, boosts hydration and brightness

2 weeks: skin is noticeably firmer and skin elasticity is improved

4 weeks: reduces the look of up to 10 years of wrinkles
Yes, you read that correctly. In just 4 weeks, you can reduce the look of up to 10 years of wrinkles. It sounds like magic, but it is actually science.
My Daily Routine With Olay Regenerist Micro-Sculpting Cream
Olay Regenerist Micro-Sculpting Cream is not only an anti-aging cream but is a moisturizing and plumping powerhouse! My morning routine is actually pretty simple. First, I wash my face, apply a simple serum – one like Vitamin C or E (depending on what I need) – and round it out with Olay Regenerist Micro-Sculpting Cream.
Face hydration is one of the key benefits for younger women seeking preventative anti-aging measures. You have to choose products that offer this benefit to your skin.
At night, I give myself a more thorough wash. Usually, I have to take all of my makeup off too. Because Olay Regenerist Micro-Sculpting Cream is so versatile, I apply it one more time.
Yes, you can use it both mornings and night! No need to clog up your sink with multiple potions and lotions. One bottle does it all. So, what are you waiting for? Head to your local drugstore or to here today and pick up a jar of Olay Regenerist Micro-Sculpting Cream.
This is a sponsored conversation written by me on behalf of OLAY. The opinions and text are all mine.
Related posts: