This spring, Toyota partnered with Food Bank For New York City to help them serve meals to more New Yorkers who were impacted – and still suffering – from Superstorm Sandy.

Learning About Toyota's Meals Per Hour Program In NY
The program – coined Meals Per Hour – leveraged the Toyota Production System Support Center (TSSC), which shares Toyota know-how with nonprofits and other organizations to help them do more with less. The program focused on improving operations at a mobile food unit and distribution program in a Sandy-affected area, with the goal of increasing the number of meals that are distributed per hour.
Through small, but powerful, changes, the team was able to increase the number of emergency meal boxes distributed from 25 per hour to an astounding 450 per hour!  
At Metro World Child's Distribution Warehouse, where volunteers pack boxes to distribute to families in need, along with you we were able to reduce the time to pack each box from 2.2 minutes to 11 seconds! 
At Metro World Child Truck Distribution, where volunteers hand out the boxes of emergency food, together we were able to reduce the time it took to distribute each box from 2.4 minutes to 8 seconds!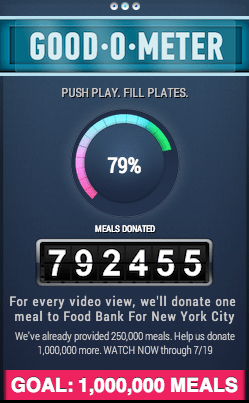 In addition to literally producing more meals per hour, this project also inspires a greater call to action: What small changes can we make in our own lives that would better ourselves, our community, and our world?
To share the journey, filmmakers Ariel Schulman and Henry Joost (of Supermarché) released a documentary. Toyota has already provided 250,000 meals – help us donate up to ONE MILLION more by watching the video by 7/19/13. Watch now to donate a meal to a family in need. To check out the video please see below: