Silverlicious & Pinkalicious Games & Puzzles are just perfect for kids. If you have a little girl, or even know somone that does, chances are fairly good that you have come across Pinkalicious. For a time, Natalie would read this book MULTIPLE times a day, EVERY day. Not exaggeration. She has since calmed down, but still reads all of the books in the series regularly and loves playing with all the merch that's now based on them. So, you can imagine how please we were to be sent all of these goodies…she went nuts. It's was "pinkeriffic." She loves playing with them and I don't see a letup in the foreseeable future! Take a look at all of these great products…you and your little one can get so much more from this great series now, and they are all very affordable to boot!
Silverlicious & Pinkalicious Games & Puzzles
Pinkalicious 24 piece floor puzzle – Double sided, 2 x 3 foot, 24 piece floor puzzle featuring your favorite scenes from "Pinkalicious" & "Goldilicious". 6.99 (image above)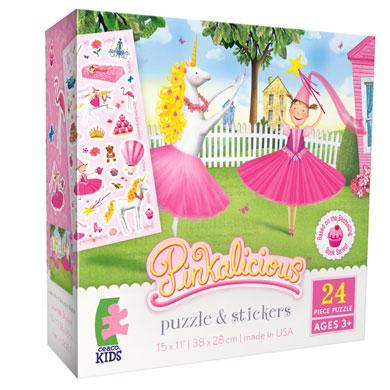 Pinkalicious 24 piece jigsaw puzzle – Inspired by scenes from the NY Times Bestselling title, "Goldilicious", this 15 x 11, 24 pc jigsaw puzzle includes iconic stickers from the book series, including Pinkalicious and her roller-skating, kite-flying, high jumping unicorn friend, Goldilicious. $6.99
Silverlicious Board Game – Help! Pinkalicious' sweet tooth is gone and you must help her get it back! All players work together on the quest by performing special tasks, completing fun challenges, and simply rewarding themselves for being sweet! Includes 1 Game Board, 100 Sweet Tooth Action Cards, 3 Movers, 12 Sweet Tooth Coins, 1 Pink Pad and Instructions. Based on the newest book in the pinktastic Pinkalicious series! Available at Amazon.com. 16.99
Silverlicious Card Game – The search for something sweet will have you taking chances on every turn! From a grid of 20 cards placed face down, flip over any card, then flip over another–if the second card is a higher value, you can collect those cards, or take a chance and flip over another card! You can keep going, but if you flip a card with a lower value, you'll "turn pink" and have to flip all of the cards back over. The player who collects the most cards by the end of the game is the winner! 7.99
Pinkalicious Games – Perfectly Pink Card Game – In this captivating Pinkalicious Perfectly Pink Premium Card Game, little fans can draw cards to collect fun items. Protect your cards with the special Wild Cards and Cupcake Cards because Peter is ready to steal them! Kids can invite their friends over for an afternoon of gaming fun. $8.99
Be sure to check out all the Pinkalicious Games online:
Do you have someone at home who is a fan of Pinkalicious games? Let me know in the comments below.