GoGo squeeZ – the official applesauce of the Walt Disney World Resort, the Disneyland Resort, and the presenting sponsor of the runDisney Kids Races – is sponsoring an amazing sweepstake this week and you NEED TO ENTER IT! The grand prize is simply amazing. Are you ready for this?
Entrants will have a chance to win a 4-night vacation for four to a runDisney race of their choice – complete with hotel accommodations, theme park tickets, two entries into a runDisney kids race and MORE. What a prize!! Mom, if you are listening – enter today!
When I think about GoGo squeeZ, a few words come to mind –
Healthy
Convenient
Delicious
Nutritious
It makes complete sense that they are the official sponsor for runDisney events. I absolutely love that I can find these snacks all around the Disney parks as well. When my kids are looking for something to munch on, I am always so thankful that there are nutritious and tasty snacks at arm's reach at any given time. Allows up to keep our healthy habits with us even while we are away.
How to Enter the GoGo squeeZ Disney Contest:
The sweepstakes will run from January 8th to January 15th. Simply visit the GoGo squeeZ website for your chance to win. You can also enter through their official Facebook page. Winner will be chosen at random.
Looking for a Coupon?
On January 8th, be sure to check your local newspaper for a $1 off coupon! I always love to search for easy ways to save. Newspaper inserts are a budget conscious mom's dream come true.
GoGo SqueeZ is a true staple in our home because as a family who is constantly on the go, we need options that are good for us and that won't make a mess. Listen, the truth is I am a "grab-and-go" eater. I sometimes choose convenience over health and I know it's not a great quality of mine. That's why my house has to be stocked with the right items – for me and for my children. That way, when we open up the refrigerator or the pantry, there is always something healthy in there waiting for us that tastes great and does not disappoint.
Why Choose GoGo squeeZ?
GoGo SqueeZ applesauce is made with nothing but real, fresh fruit and a splash of juice. It's been certified as GMO-free and you can always expect to NEVER find any added sugars or other added colors or flavors. I mean, even the pouch is BPA free. Feel good eating this snack and giving it to your kids. Truly!
Remember – be sure to enter between January 8th and the 15th. Best of luck!!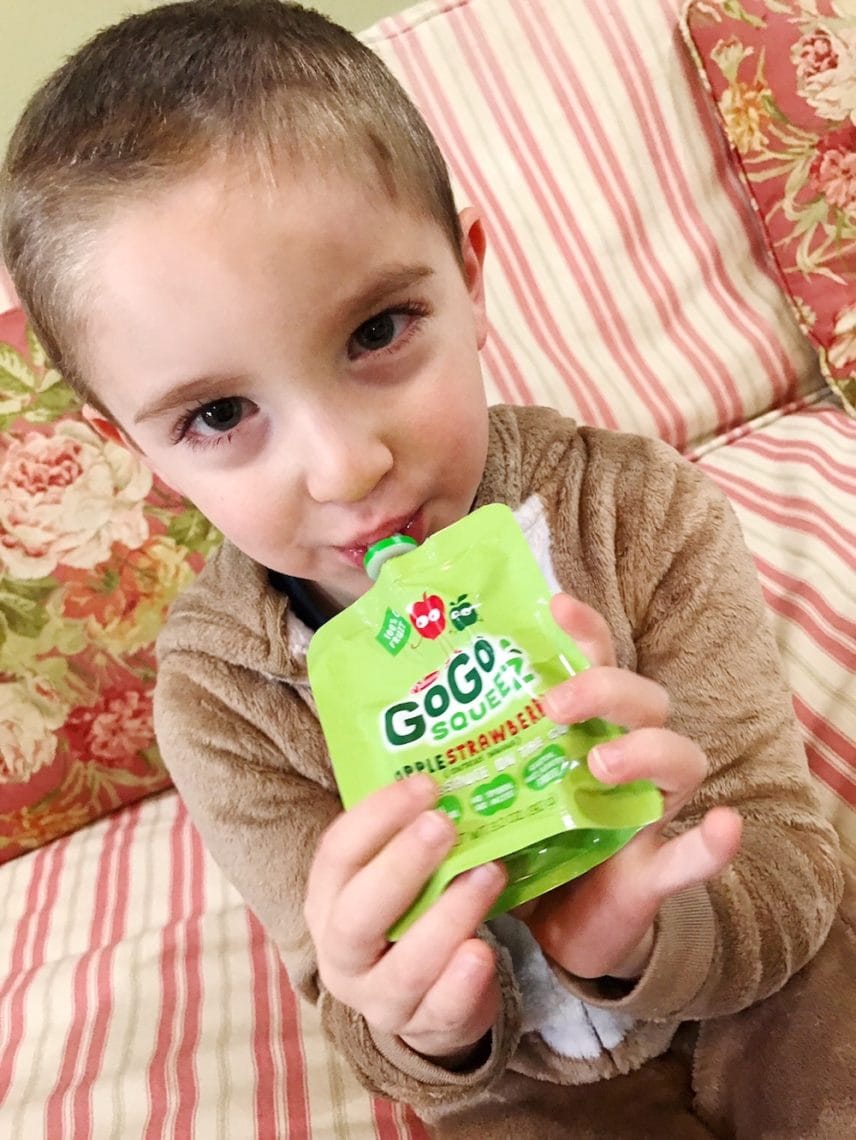 Is your family a GoGo squeeZ family? Are you looking forward to entering their new contest? Who would you bring if you won?!  I would love to hear!
Follow GoGo SqueeZ on Twitter and Facebook for coupons, news and more!
*This is a sponsored post