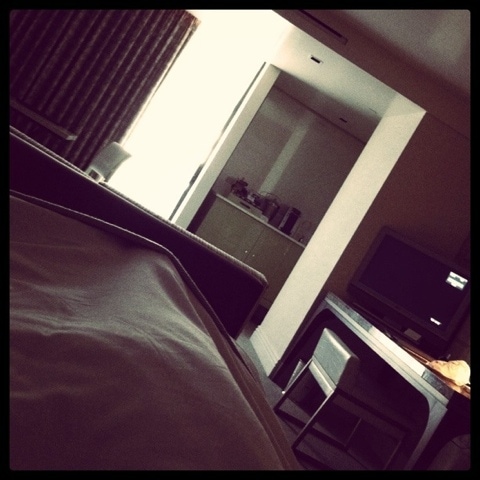 I am in LA for the next few days staying in a BEAUTIFUL hotel… in an amazing suite. I took a TON of pictures and will post them when I get back. As I was flying in, I had ever intention of exploring and shopping. Naturally, though – that did NOT happen. I saw this King sized bed and hopped right in.
I'm here to join a group of bloggers and film a segment with Jennifer Garner. I'm not quite solid on the details as of yet. I will let you know what exactly is going on as soon as I know. I promise lots and lots of pics. 😉
AND even though I've written about Salma Hayek a MILLION TIMES – I have to do it one more. Here we all are after our lunch at the Mandarin Hotel with CVS. It was a TIGHT squeeze!! There were more people in the pic – but I just cropped in a bit so you can really see Salma. So So SO beautiful.