Over the weekend, we saw the show of a lifetime – Natalie's Dance Recital. It was a WHOPPING 4+ HOURS LONG and we brought Caleb. WHAT?! I fed him until I ran out of food. Literally. At one point, Bill left and walked him around town for over two hours, came back and there was STILL time to spare before Natalie got on the stage. Amazing.
We had NO CLUE a dance recital would last that long. When our family asked for the time frame, we said "maybe two hours at most". Well, that was a bold face LIE.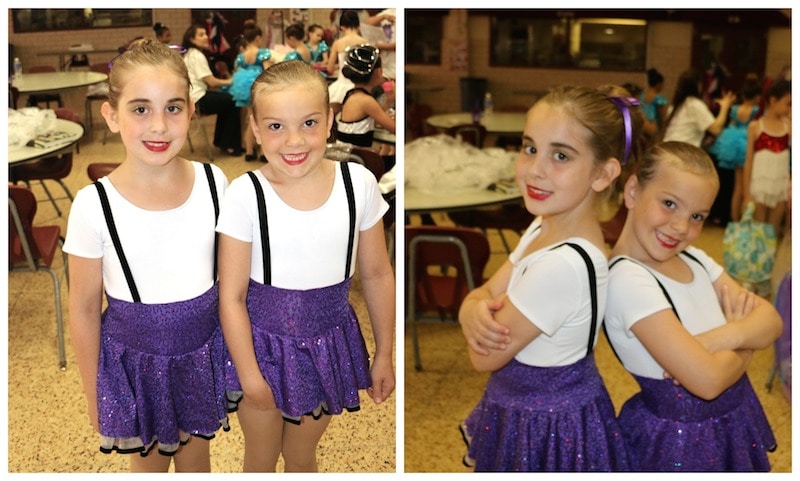 But the girls were excited and nervous behind the stage. Here Natalie is with her friend Lauryn. They were TROOPERS waiting for their turns to shine. Unfortunately, I have no photos to share because you weren't allowed to take photos or video during the performance. They wanted to get you for an extra $50 for the footage. UGH. This was one expensive after school activity. Let me tell you!
We brought along our immediate family to see Natalie's moves. Everyone cheered her on and gave her big kisses when she came off the stage.
I really had such a great feeling when she was up there performing. My nerves got the best of me for about 10 seconds and then I became filled with pride and joy. My baby girl!!!!!
Here's the before and after! She was WIPED OUT when we got home. We didn't have dinner until about 9:30PM. That's how long it took us to get HOME. The recital was SO FAR AWAY (with traffic). I took two bites and then collapsed.
Natalie the dancer… I love it.