Yesterday, Bill and I dropped off the kids at school and had some time to kill. So, we headed to…. wait for it… Starbucks! But of course! We ran into the usual suspects and sat down like the mayors we all are of that location and caught up on life. One couple that we know (who have similar work situations as we do) decided to join a local gym together. I loved the notion of that – me and Bill taking yoga together etc. However, I just can't justify $55 a MONTH for something I'm not so sure I'm going to use.
I told them I would join and at least partner up with my girlfriend to take some classes… but deep down inside I know I will lose interest eventually. Instead, I decided to start running for a while. Or walking really fast… as it turns out I can't really handle running right now.
I ended up walking / running 1.5 miles. I know this because the Type A crazy inside of me wanted to map out the route I made up with my car. I can't just do something for the joy of it. I have to overanalyze it and log it in my internal file.
I started out with a run – not a FULL SPEED RUN. But a run nevertheless. After 2 blocks I was GASPING FOR AIR. I am SO OUT OF SHAPE. So I varied between briskly walking and jogging the rest of the route. I had my iPod in my sports bra which isn't the best place for it. But what do you do with that thing??? I have to do some research.
Anyway – the running was recommended by my neurologist. He said I have to get more active because whatever the body releases during a workout is like medicine for the imbalance that produces my headaches. If that isn't a good enough reason to start being active – I don't know what is.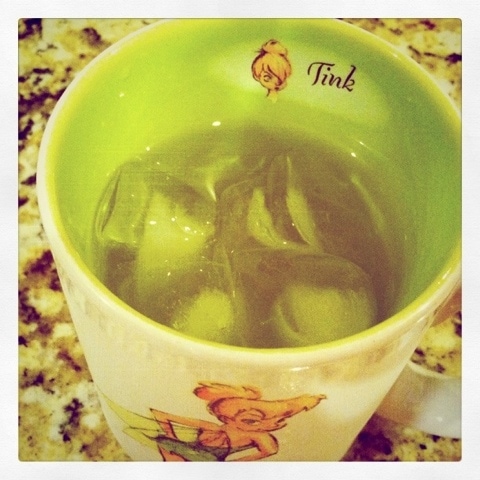 I also started to be insane with water. And I think those two things finally cured my flipping migraine. I woke up this morning HUMAN again. Thank goodness!
I also have to do a video on this face cleaner. I did a write up for the Oprah magazine with P&G and they sent me a BOX filled with a TON OF PRODUCTS to review. This Olay Professional Pro-X Advanced Cleansing System
is AMAZING. I combine it with the Nuance facial cleanser (which I also have to do a video on because it's sick) and my face gets as clean as it can get.  I even made Bill use it and we were hysterical because there's a TON of lather.
That evening I helped Natalie decorate a shoe box for school. I kept telling her to not look at the camera but she couldn't help it. We tried 600 times to take the shot and she kept giving Bill eye contact. We were laughing like crazy! It's like she HAD to POSE.
Oh and did I mention that my son decided to draw all over the bottom of his feet? With permanent marker? I've scrubbed and scrubbed. It ain't coming off. He wouldn't let me take a good pic. Those were the best I could do.
Bill had some sports thing last night – not sure if it was baseball or paddle tennis. I wasn't feeling so hot yesterday so when he said where he was going, I sort of waved him out. You really don't appreciate what healthy is until it's taken away from you.
As I was putting the kids to sleep, I found Natalie dressing her babies. She was talking to them. It was just so innocent. I love these years.