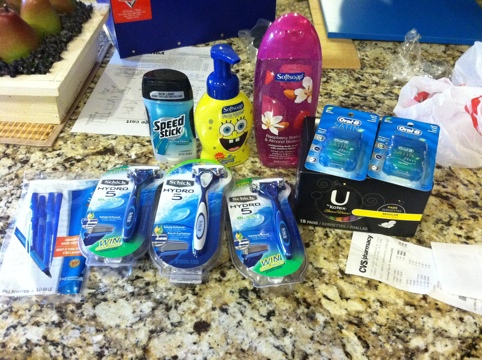 I did a pretty good job this week, but it was only because I had $19 in ERB to play with yesterday morning at CVS.
I did 2 transactions because I needed the ERB from this first one to pay for the second.
Transaction 1:
OK I bought 3 Shick Hydro 5 razors. They were part of a "Spend $20 and get $10 in ERB" deal.
Each razor was $7.99 BUT I had a $4 off, $3 off and a $3 off coupon so after my ERB from last week I ended up paying $2.04 out of pocket BUT got $10 in ERB for my next purchase.  The coupons I used were from previous papers.
Transaction 2:
Pens: $1.99 – received $1.99 in ERB
Speed Stick / Soft Soap (buy three items and get $3 in ERB)

Speed Stick was $2.79 (had $1 off coupon) (from sunday's paper)
Softsoap SpongeBob $2 – had $.50 off coupon (from sunday's paper)
Softsoap body wash $3 – had $1 off coupon (from sunday's paper)

Kotex Pads – $3.49 (had $1 off coupon from sunday's paper ) – received $2.00 in ERB
Oral B Floss – $2.99 (had $1 off coupon from last week's paper) – received $2.00 in ERB – the limit was 2 so I bought 2. 🙂
All in the grand total:
Received $63+ worth of goods
Spent $2.26 out of pocket
Received $11 in ERB