So, I had a pretty amazing morning…
I was invited to attend the 'Women at NBCU Power of the Purse' Breakfast with Andy Cohen and Miss Sarah Jessica Parker. I woke up BRIGHT AND EARLY to get into the city on time to make the function and am so happy I did.
First of all, Gotham Hall is… stunning. It really was set up beautifully which was an added bonus. We arrived nice and early and were all able to sit at the table right next to Sarah Jessica Parker.
This shot is grainy but this pic is of when she was being announced. The host was giving her an amazing introduction and Sarah Jessica looked like she was getting a little shy over all the attention. Love her more because of it!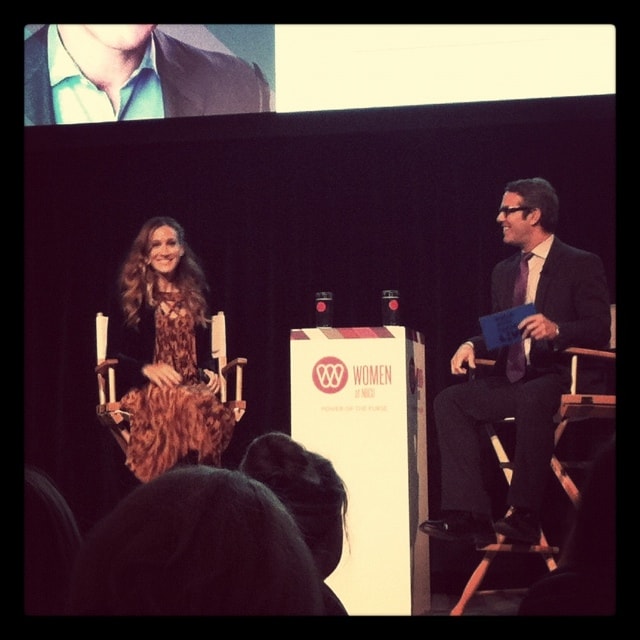 Andy Cohen – king of Bravo – interviewed Sarah Jessica Parker about motherhood, her husband Matthew Broderick, social media and 'Sex and the City'.
On the three best qualities Matthew offers her: "a good laugh, intellectual sword play, real genuine love and romance with their children"
And here's a video of Sarah Jessica talking about Carrie – you know, the girl we all wanted to BE from 'Sex and the City' :).
Then we got down to business. A recent NBC study revealed that:
12% of moms feel properly portrayed in advertising
77% of moms wants kids with good manners over good grades
1/4 moms say housework is evenly shared
Fastest growing demo of moms : 40+
Interesting numbers right? What do you think about some of the bullets? Would you rather have your kids have good manners over good grades?
Other noteworthy findings from Women at NBCU's new family study include:
60% of moms believe that in 10-20 years there will be as many stay-at-home dads as there are stay-at-home moms.
Moms reported that the "breakdown of the traditional family" was the second most serious issue facing children today, right after drug abuse.
31% of moms reveal that they tend to linger longer in the shower, while running errands, on appointments or during a commute, just to find a little more alone time during the day.
30% of moms believe that in order to keep up with today's competitiveness, a child's education begins at or even before birth.
Moms chose Reese Witherspoon as the celebrity mom they most identified with.
I can so relate!!