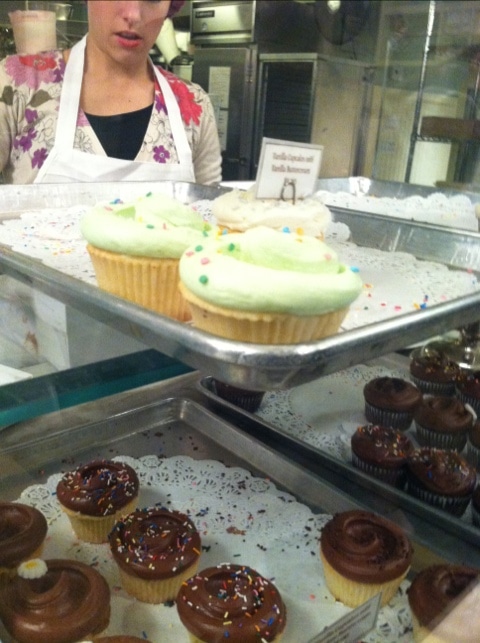 I'm the city for a few days with Audrey taking meetings and making plans for 2012. Last night, after a very heavy (but relaxing) dinner, Audrey said that we needed to go for a walk to burn off some calories. However, that leisurely walk put us right in front of Magnolia Bakery.
And… that just isn't fair.
OF COURSE I HAD TO HAVE A CUPCAKE. These puppies are my FAVORITE.  If I was any more addicted to these cupcakes I would have to check myself in here, they are seriously that delicious. I just can't seem to get enough."!!!
The place was PACKED – lines practically out the door – but everything went fairly quickly. I'm pretty boring and always opt for the vanilla cupcake with either colored or vanilla frosting.
There she is – my beauty. We barely made it back to the hotel room before inhaling her whole. I literally cannot resist Magnolia Bakery. There's something about 8 sticks of butter in an icing batch that speaks to me. LOL!
I know there's a cupcake war going on right now – are you a Magnolia Bakery fan? Or some other competitor like Crumbs or Sprinkles?