Yesterday, I had so MUCH FUN thanks to Nissan and 'Cash Cab'. I was invited to check out the Taxi of Tomorrow with several other bloggers and am REALLY excited about what's to come for NYC. I have a few words to say that will simply rock your world… USB port. HELLO!!! You can now charge your phone / computer while riding around! I cannot STAND IT!!!!
I will get more into that in a minute. Let me tell you about my 'Cash Cab' FAIL with Ben Bailey.
Here's the story. My adventure will not be aired on television. It was for charity – so I don't want anyone to think that Cash Cab is fake. Ben really does pick up random people hailing cabs. It's not staged. This was a special event put on by Nissan to promote the Taxi of Tomorrow.
Here's my team! To the left is Jeff from my friend's Barbara's blog, 'Just Another Manic Mommy'. Cash Cab is his favorite show, so Jeff came instead of Barbara. So fun!! Right next to Ben is my friend Melissa from 'Married My Sugar Daddy'.  Yes, that's the best URL on the planet.
Check out our cool jackets! At first, we were all like… do we HAVE to wear the jackets? THEN we actually SAW the jackets and we whipped them right on! They were SOOOO warm. And I'm a sucker for grey. 🙂
Anyway, Ben is like 8 feet tall. I couldn't believe it! You can't really tell on TV because he's always sitting down, but he's at LEAST 6 foot 6.
We were the second team to go. They put the microphones on and sat us down. We were READY……or we absolutely were not.
I don't know who took this picture, but I LOVE it because you can see I have NO IDEA what is going on. I didn't know a damn thing. Complete FAILURE as a teammate. We were 2 for 6. SO embarrassing!! Though I will say Jeff and I misunderstood one of the questions which completely messed up our answer. So, if I counted that mistake, it would have been 3 for 6. Am I stretching? Maybe just a bit.
Either way – Nissan donated $1,000 to the Boys and Girls Club of America in my team's name!! So thankful!!
It was nice to catch up with some of my blogging buddies too!
Now let's get to Nissan's Taxi of Tomorrow. In case you can't read the image above, I'm going to list the cool specs here:
Features of the NV200 Taxi:
A transparent roof panel to provide unique views of the city
USB charging access for passengers
Upright cargo space to accomodate luggage for 4 passengers
Flat floor with no hump
Passenger controlled independent read-seat heat / air conditioning
Enhanced interior materials intended to help reduce airborne odors
Breathable, anti-microbial, easy to clean and environmentally friendly seat upholstery
When the NV200 Taxi is deployed across the entire taxi fleet, the equivalent of 4 square acres of space will be freed up on City streets.
Rollout begins October 2013!! Nissan is also testing out some ELECTRIC cars too! Will this be the test we need to make a stronger push away from gas? Interested to see how the LEAF does!!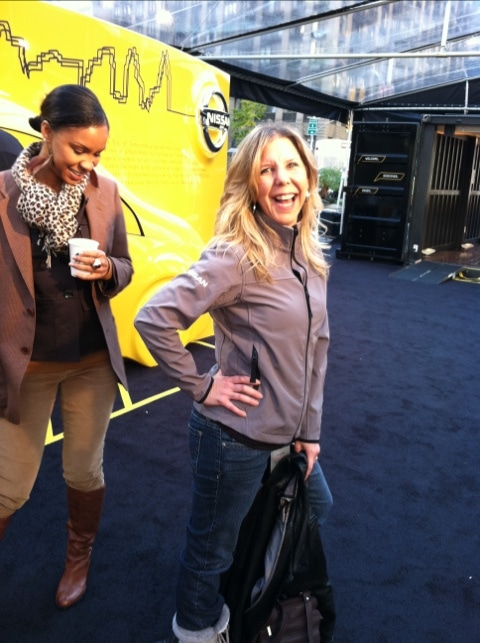 Seriously, check out the ROOM in the backseat!! INSANE!!
Nissan provided me with a jacket and signed Cash Cab board game by Ben Bailey, host of Discovery Network's Cash Cab. On my behalf, Nissan also made a $1,000 donation to the Boys and Girls Club of America.