I finally sat down with my grandmother and got her to show me how to make her Maltese Torta recipe. Maltese food is such a part of my life. I grew up on it and I love to serve it to my children. I know this recipe looks like it's a lot of steps… but it really isn't. I just took a TON of pictures so you can see exactly what needs to be done. The Malta Torta is absolutely worth the effort. I remember as a child running home to see if my Nanna had one ready for me after school. Hopefully, if you are reading this post, you have some heritage running through your blood. Maybe we're related! 🙂 Share this one with your children and enjoy the traditions that your ancestors once did.
Maltese Food: Maltese Torta Recipe (Traditional Meat Pie)
Now, I do want to say that my family has been in America for over 60 years. So, I am sure that my grandmother doesn't quite make it the same way that her sisters do back home on Malta. Who knows? Maybe they all do it the same exact way? I've never asked. This is the only way that I've known the Maltese Torta. And now I'm sharing it with you. The reason why I say this is because my grandmother makes pastizzi differently than I've had them in Malta. The ricotta ones are exactly the same, but the pizelli ones are COMPLETELY DIFFERENT. And you know what? I like the way my grandmother does her's better. COME AT ME! 🙂
Ok! Onto The Maltese Food: Maltese Torta Recipe (Traditional Meat Pie)
Maltese Torta Recipe Ingredients:
Basic Pie Dough (I posted this recipe yesterday)
1 small onion
1 teaspoon curry
2 tablespoons olive oil
1 can sweet peas drained
1 can corned beef
pepper (no salt)
Maltese Torta Recipe Directions
Preheat oven to 400 degrees
Step 1: Chop up an onion and cook over medium heat with 2 tablespoons of oil until translucent. Pretty easy so far, right? We are still together on this one.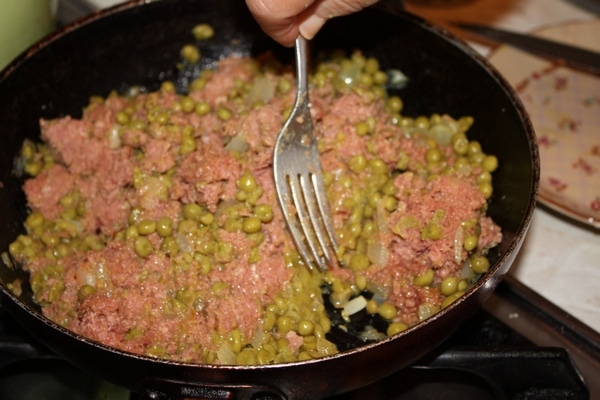 Step 2: Add the drained peas and the corned beef to the pan and mix. By the way – this is the same exact mixture that my grandmother uses in her pastizzis. So, if you were wondering, we go much heavier on the meat. As opposed to Malta's much more traditional way of going super heavy on the pea. Like I said, I really like more meat over pea. But that's because I was raised this way. I didn't know any different.
Step 3: Cut your dough mixture in half. This pie has a top and a bottom half. So, try to make them even. Roll out each half as flat as you possibly can. I am sure there are places that you can purchase premade dough these days… but my Nanna always makes her own for her Maltese Torta recipe. It's all part of the fun.
Step 4: Place the bottom part of the dough in the pie pan and fill with meat mixture. Press down. You can see that she has left some of the dough to roll over the edges of the pan. You will need this to close up the pie mixture. There are no exact measurements at this point. I can't tell you have an inch or a half an inch. Just eyeball it.
Step 5: Roll out last half of dough mixture and cover pie. Pinch the edges to seal the pie all the way around.
Step 6: Cut off the excess edges of the pie.
Step 7: Punch fork holes all around the center of the pie to allow steam to release. This is important. Press down with your fork around the rim to close up the two halves of the dough and then press down with your finger for decoration. This will give you that pie crust look. Cook 35 to 40 minutes to brown the bottom of the pan. Keep an eye on the color of your crust.
And enjoy! What do you think of this Maltese Torta Recipe? Thinking about giving Maltese Food a shot? I really hope you do!! If you'd like to try another traditional recipe, check out my Maltese Baked Rice Recipe.
Print This Maltese Torta Recipe
Ingredients
Maltese Torta Recipe Ingredients:
Basic Pie Dough

I posted this recipe yesterday

1

small onion

1

teaspoon

curry

2

tablespoons

olive oil

1

can sweet peas drained

1

can corned beef

pepper

no salt
Instructions
Maltese Torta Recipe Directions
Preheat oven to 400 degrees

Step 1: Chop up an onion and cook over medium heat with 2 tablespoons of oil until translucent. Pretty easy so far, right? We are still together on this one.

Step 2: Add the drained peas and the corned beef to the pan and mix.

Step 3: Cut your dough mixture in half. This pie has a top and a bottom half. So, try to make them even. Roll out each half as flat as you possibly can.

Step 4: Place the bottom part of the dough in the pie pan and fill with meat mixture. Press down. You can see that she has left some of the dough to roll over the edges of the pan. You will need this to close up the pie mixture.

Step 5: Roll out last half of dough mixture and cover pie. Pinch the edges to seal the pie all the way around.

Step 6: Cut off the excess edges of the pie. Punch fork holes all around the center of the pie to allow steam to release. This is important.  Press down with your fork around the rim to close up the two halves of the dough and then press down with your finger for decoration. This will give you that pie crust look.

Cook 35 to 40 minutes to brown the bottom of the pan. Keep an eye on the color of your crust.

Enjoy