Today, we are talking about Square Foot Gardening!! Last week, I mentioned that we were working on adding a backyard vegetable gardening. Well, it happened! I'm not going to lie – it took a little while. But it's only because I wanted a cage built around my plot to keep the squirrels away. My backyard feels like an amusement park for my local town animals. I have rabbits, birds, squirrels and my dogs all racing around having fun.
Well, I was not about to let them get a hold of my tomatoes! 🙂

So, if you DON'T DO the cage (that I'm about to show you how to build), you can have your square foot garden built out and planted in a few hours. Truly. I took it a little further (because I'm psychotic).
Here we go! Square Foot Gardening 101.
What is Square Foot Gardening?
My friend Matt told me to buy this book called 'All New Square Foot Gardening'. For urban gardeners (I live in Long Island – right outside of NYC. Not a lot of land to work with – so this was appealing to me.), it's important to maximize the amount of product that comes out of each square foot you plant. The author – Mel Bartholomew – was an engineer and took a look at the traditional farming methodology and changed it to better serve the family gardener. No more long rows of cabbage! How much cabbage can one person eat anyway?
Mel's Square Foot Gardening technique reduces the amount of land you need to plant down to 20% of the typical plot because he tells you exactly how far away seeds actually need to be planted from one another. It's so SMART! This man forever changed backyard gardening. I read the entire book in one sitting and filled it with notes and highlights. So happy I started out using Mel's suggestions because I hardly took up any space in my backyard and I know that we will be set for LIFE with vegetables.
Setting Up Your Raised Bed Using Square Foot Gardening Methodology
There's one thing that Mel says will make your garden a "Square Foot Garden". The Grid. You have to lay out a 12×12-inch grid for your garden. It doesn't work unless you have this in place! Immediately, you're probably thinking string would be easier – and you are right. However, it's frowned upon. Consider getting several pieces of wood lath to securely create your grid. This is the foundation of your entire planting experience. You do this once – and it will be set for years to come. And believe me – this part didn't take too long. The book has step by step instructions.
Did I build out my raised bed? No. I bought 2 kits and set them up in about 3 minutes. You CAN build out the beds on your own… but I didn't have the time or energy to put into that project. If you are trying to save money, Mel will teach you how to build out your beds as well. Did I mention you absolutely need to buy this book?
It's important to lay out weed cloth underneath the raised beds. Your soil in the boxes will be rich and filled with nutrients. The rest of the garden will sense that and try to attach roots. The weed cloth will prevent this from happening.
Square Foot Gardening Soil: Mel's Mix
Sorry, Mel – I skipped this part of your book. I was trying to keep this planting experience as easy as possible and didn't think I was up for dealing with compost just yet. But in case you want to get down with Mel's Mix it's:
1/3 Blended Compost
1/3 Peet Moss
1/3 Coarse Vermiculite
Square Food Gardening has an entire chapter dedicated to working with these three products. What did I do? I bought a TON of Miracle-Gro Potting Mix. It was more money than if I created my own compost… but that wasn't going to happen. Hey! I'm just being honest.
Square Foot Gardening Planting
Here's where the magic is – this section. There are so many changes to traditional farming methodology. This is where Square Foot Gardening really stands out. The mature size of the plant determines how much space is needed between each seed hole. It could either be 1, 4, 9 or 16 per square foot.
So, you have 12 squares in each raised bed. Each of those squares will house a particular type of vegetable. Depending on how large the vegetable is determines how many holes you will put in your square. Here are some examples of how much space a vegetable might need:
In one square you can place:
1 Broccoli
4 Leaf Lettuce
9 Bush Beans
16 Carrots
16 Radishes
9 Beets
1 Red Pepper
16 Onions
With this consolidated method of planting, you will reap greater rewards each season!
How Many Seeds Should I Plant In Each Hole?
Here's another change to traditional farming. A pinch could be 20 seeds. You don't realize how many seeds you are grabbing at a time. And the more seeds you place, the more weeds you will have to manage. With Square Foot Gardening, the recommendation is just 3 seeds a hole. That way, after you determine which seed is the strongest, all you have to do is take a pair of scissors and snip the other two seedlings. Less work all around! That's the point of Square Foot Gardening – minimize your work, maximize your enjoyment. If we had to spend 2 hours a day weeding… gardening becomes a chore instead of a hobby.
Summer Planting
I didn't have enough seeds / herbs to fill my boxes – but I took this picture anyway so you can see that it's still possible to start planting in the summer. Your local Home Depot / Lowes will have vegetables/herbs already grown. All you have to do is buy them and plop them into the dirt. Nice and easy!
We put the following in our Square Foot Garden:
Red bell pepper
Cherry radishes
Onion
Cucumber
Beans
Beets
Carrots
Basil
Rosemary
Tomatoes
Oregano
But When Should I Plant What? Help!
There are a TON of sites available to help you out with this. Mother Earth News is AWESOME. I am ALL OVER the Fall right now! Getting ready. 🙂
Protecting Your Square Foot Garden
This is where we spent the most amount of time. We made a wire U-Frame cage to fit over our squares. Like I said, we have a ton of animals! I was freaking out about my tomatoes! Basically, you need the following to create your own protective barrier:
(4) 1 inch by two inch boards – 4 feet long
chicken wire
plastic ties
cutting sheers
power drill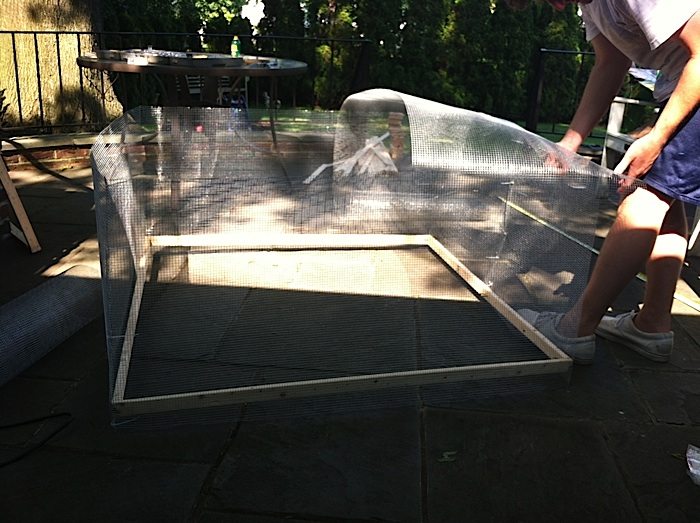 Create your square. Secure the chicken wire around the entire base.
Use the plastic ties to secure everything together.
Create the dome by manipulating the wire around the top edges of the original base. Secure again with ties.
And you are done! We need to make one more today to protect our second bed.
What do you think? Is Square Foot Gardening something you'd like to try out? I am really excited about the whole thing and promise to keep you informed about our progress. Let me know if you are a gardener?? Would love to hear some tips!
Pin This For What Is Square Foot Gardening?