Holy AWESOME! So, I might have mentioned that I started a samurai fighting club. It's just a silly name I made up to represent my desire for more adventure. We are only here once, right??? Well, here we go!!!
Groupon had this $50 certificate which entitled you to 2+ hours at a shooting range. Originally, the price was more like $220. 6 of us bought it and marked our calendars.
Of course my husband was making fun of the whole thing. Me? I was taking NOTES! LOL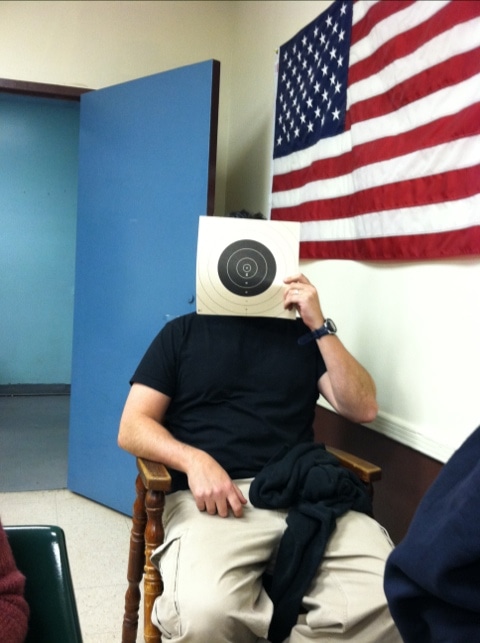 Here we are – all waiting to get into the range. Most of us didn't know WHAT we were doing. I was actually a little scared at this point because I didn't think we would all be in the same room. There were about 25 people in our group. So, all I kept thinking about was whether or not one of the strangers was going to go postal on us. I was really, really nervous here.
We went in and snuck a pic. Those freaking glasses messed with my vertigo or something. I was NOT liking the sensation, but it was safer to keep them on… so I did.
So, here's how it works. You push your paper out as far as you want. I started (as did the rest of the group) at 5 feet away. This was obviously pretty easy. But then you added between 5-10 more feet with each turn. 10 rounds each turn – 5 papers to target. It got PRETTY HARD towards the end. You can't even SEE the circle's center (or at least I couldn't).
But there was a prize at stake. Whoever shot the best during the last round (25 feet out) would get to use a really big gun. I'm talking a MONSTER. So, you know I wanted to win. I took my time, worked on my breathing in between shots (because your heart is PUMPING) and…
Got a bullseye! Shut the front door! Zombies better watch out because I am READY!!! 🙂 hahahahhah The instructor said that women typically always win the final round because we have more patience and are able to concentrate better at the task at hand. The men get too caught up in what they are doing wrong to actually correct anything. Seriously – I was PSYCHED.
So then I got to shoot… THE GUN.
Unfortunately, you can't see THE GUN because of the angle (and because no photos were allowed – but we cheated). I couldn't even hold it up. I was promised NO KICK… but I have a feeling I'm going to be bruised in the morning. And the BOOM that came from this puppy went through your BONES. Oh my goodness it was SO LOUD. I got to do 5 or 6 rounds off of THE GUN and gloat to my friends' husbands that I beat them. It was quite an experience!
Next up? Shark tank diving in Riverhead! Yeah, you heard me. I'm going to try to do something totally wild once a month that way by the time I'm 80, I'll have no bucket list to worry about. 🙂
UPDATE – I found out the name of the gun! It was an AR-15.