This month, I had the chance to fly out to Purina's headquarters and meet the Beneful team. It was such a wonderful experience! As a 15+ year dog mom (and proud of it), I was really curious to learn more about the ingredients that made up my furry baby's meals.
Sure, I read labels. Sure, I follow along with conversations online. But nothing beats information heard from the horse's mouth… err… the dog's mouth… err… the Beneful team. You know what I mean!
First of all, the Purina corporate office feels like anything BUT — pets are always welcomed. There's a wonderful park to enjoy which includes ample trails and resting spots for lunch. Heck – there's even a koi pond. When I worked in corporate America, I never experienced anything like that. Where were the koi ponds in Manhattan? I missed them! 😉
I loved seeing all the employees with their pets at work. What a wonderful feeling it must be to not have to leave your animal at home for 8+ hours alone. Such a perk! That's for sure.
And let's talk about the work culture. William H. Danforth's policies and beliefs still ring true today. He wasn't just about getting the job done. He was about inspiring others to do more with what they had. Did you know that William used to write inspirational quotes on the desks of all his workers to get them pumped up and excited for the day? Don't you LOVE THAT?
Today, the Purina team still continues on with the tradition… but in digital form. Emails are distributed and each member of the group is encouraged to submit their own sayings and quotes for consideration. I just love the way this office works and comes together.
When we had our official sit down to learn the Purina history, I was feverishly writing down these Tall Pillars. The first 4 are from William H. Danforth himself. The fifth was added later on through Purina's existence to help inspire and encourage all employees to think originally and take calculated risks. Take a minute to read all of the Tall principals. They are LITERALLY life changing. Live by these principles and change the world.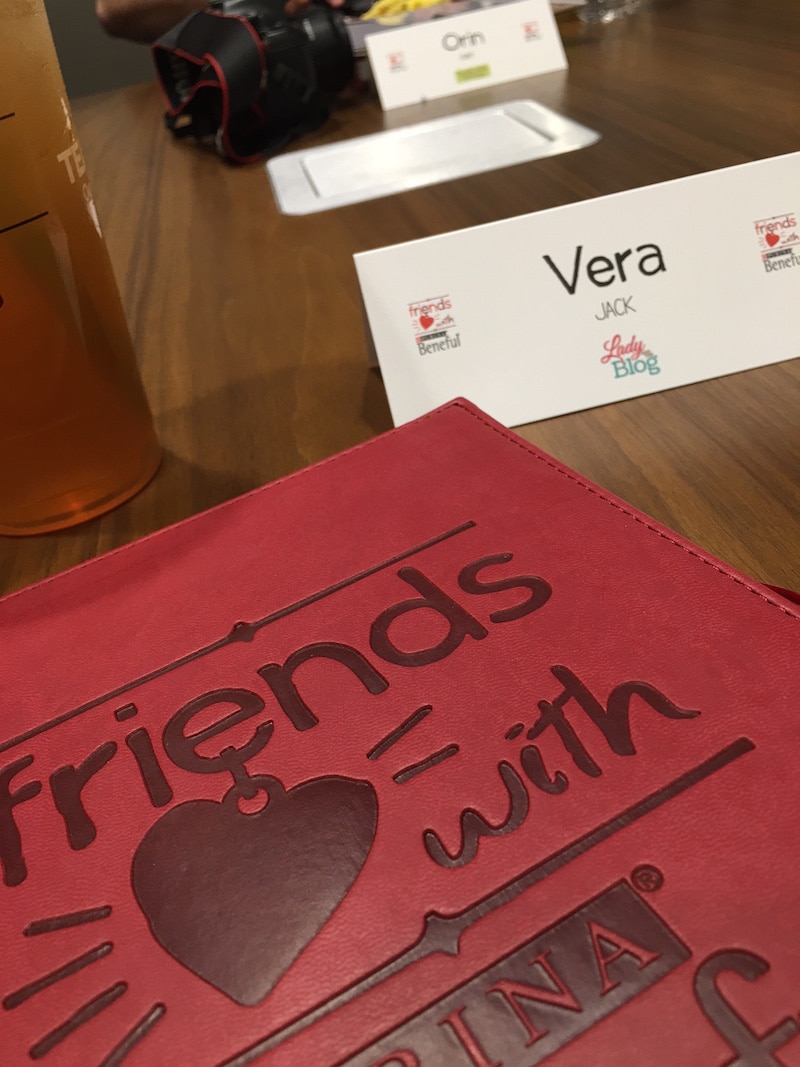 Now onto Beneful! A few months ago, I lost one of my two dogs – Jill. It was really hard on my entire family as she was such a huge part of our lives. The Beneful team gave me such a gift when I first entered the conference room. They gave me a drawing of Jack and Jill together again and little Jilly had a halo over her head. I seriously had to stop the tears from falling from my face. I'm a very emotional person as it is – and this picture put me right over the edge. But I didn't want to cry in front of a room of people I'd just met. So, I took a picture of this drawing and sent it to my husband. He texted me back and told me he was crying for the both of us. What a special gift. We framed this piece and have it in our house for our children to enjoy and see every single day. Our baby girl is with us once again. This is what it means to be understood and appreciated by a brand.
I will never forget it.
Our pets need variety and flavor and fresh ingredients  – just like we do. Our pets need nutrition and texture and aromas that are inviting – just like we do. Beneful offers up a full line that satisfies all these needs and more.
And check out their new commercial – Live Big! A motto everyone can certainly get behind.
Something that I don't do enough of — snacks and dental twists / ridges! My poor pooch! When I saw that there were so many fun items available for dogs that also benefit him, I felt bad. I've been depriving Jack! Dental ridges that clean his teeth and feel like a reward. BONUS!
We even had the chance to look through all the products and make sure that they looked exactly as they should. And every single package did! I love the consistency of it all.
So, What's New?
New Recipe
Real Beef or Chicken as the #1 Ingredient
Cleaner Labels making it easier for customers to read
What are the main changes to the product recipe?
The new Beneful beef and chicken dry dog food recipes now have real meat as the #1 ingredient. In all new Beneful dry dog food recipes, there's no added sugar. Beneful made these changes because they heard from their consumers that they're looking for more familiar ingredients – and their new recipes offer just that.
But my FAVORITE part of the trip was working of the Frenchtown Dog Park. Not only did Beneful donate $7500 to the park for future renovations, but they gave the team a chance to get our hands dirty and beautify the grounds.
Yes, I was wearing skinny jeans and alligator flats. These are my "get dirty" clothes. Don't judge me.

It was a wonderful opportunity. There's nothing I love more than actually doing something personally to help a community. This. Was. Everything.
Stay tuned for more information about my adventures with Beneful. I'm so excited to be working with them over the next few months.
*I've teamed up with Beneful.