Here's an exclusive interview with The Night at the Museum cast talking about the release of The Secret of the Tomb. This family comedy is set to release December 19th.
All good things must come to an end, well at least that's how the saying goes. But honestly, when something is just so amazingly good it's kind of disappointing to know it's all over.
If you're a fan of The Night at the Museum like my family is you are probably beyond excited to see this latest third installment coming out this Friday, December 19th in theaters.
Children of all ages have become intrigued by the idea of museums coming to life after sunset and because of the films museums have now implemented fun sleep-over parties but imagine what happens when the magic is lost and you have to let go of it all?
The Night At The Museum Cast Interview: Secret Of The Tomb
About the Film:
Get ready for the wildest and most adventure-filled Night at the Museum film ever as Larry (Ben Stiller) spans the globe, uniting favorite and new characters while embarking on an epic quest to save the magic before it's gone forever.

Starring Ben Stiller, Robin Williams, Owen Wilson, Dick Van Dyke, Dan Stevens, Ricky Gervais, Ben Kingsley, Rebel Wilson, Mickey Rooney, and Rami Malek
Lady and The Blog was invited by 20th Century Fox for a round table interview with the filmmaker Shawn Levy and the Night at the Museum cast (Ben Stiller, Owen Wilson, Rebel Wilson & Dan Stevens) after we screened the film.
Many fans and critics would agree that doing a third film in a series can really be a hit or miss, but Secret of the Tomb will not disappoint, it had all the classic elements of adventure and humor wrapped around great characters and themes (growing up, letting go and moving on and the dynamics within father/son relationships) that will make for a bitter-sweet farewell. Here is our full interview:
Blogger: Making the third movie in a franchise is always a tricky thing. What made you guys decide to come on board?
Mr. Ben Stiller: Owen, you want to take that?
Mr. Owen Wilson: Well, we had a story and I don't think any of us expected it to get the reception that it did and for people to enjoy it as much as they did. And so, then that obviously leads to, well you know, making another one. And we did. And I think we all enjoyed making both of them.
But I think it was important with this one, the third one, to kind of try to figure out a way to tell it in an interesting way that wouldn't just be, okay, now we're going to a new museum that's dealing with kind of letting go and some of the more poignant themes that are in the movie, but hopefully still entertaining people and people having a good time.
And, yes, I think we did it.
Blogger: So, my question is what's the secret in your sauce to cooking up three amazing movies?
Mr. Owen Wilson: The sauce to it is really Shawn's kind of energy. He just has like a great spirit that kind of encourages you to kind of come up with dialogue and come up with ideas.
Mr. Ben Stiller: I think also trying to learn from each movie. And I think after we did the second one, we were able to look at that and go, okay if we were to do a third one, what would we want to do better and try to change really.
I mean because the first one was so unique, and I like the second too, But there was a certain sense of mystery to the first one because it was the first time it was happening and discovering it all for the first time. So, that was I think the challenge in this, trying to figure out a way to get back to a little bit of that.
Mr. Shawn Levy: We also get back to centralizing the father/son story, which was at the heart of the first one. That movie was about a dad trying to be great in the eyes of his kid. The whole thing becomes about letting go of your kid who's going to make his own decisions, of a job that's defined you and of a de facto family bond with these exhibits.
Mr. Ben Stiller: And then allowing the story to go in a direction that would end it, you know? It actually gave it a reason to exist as a movie. So, it's something new. I think that was part of it too.
Ms. Rebel Wilson: I think as an outsider looking at the first two movies, what I loved is that– because it's got action, really good special effects, really good story-line, and world-class comedy, having like Ben [Kingsley] and Ricky [Gervais] and Owen and Steve Coogan.
And what other family movies that are live action really have that?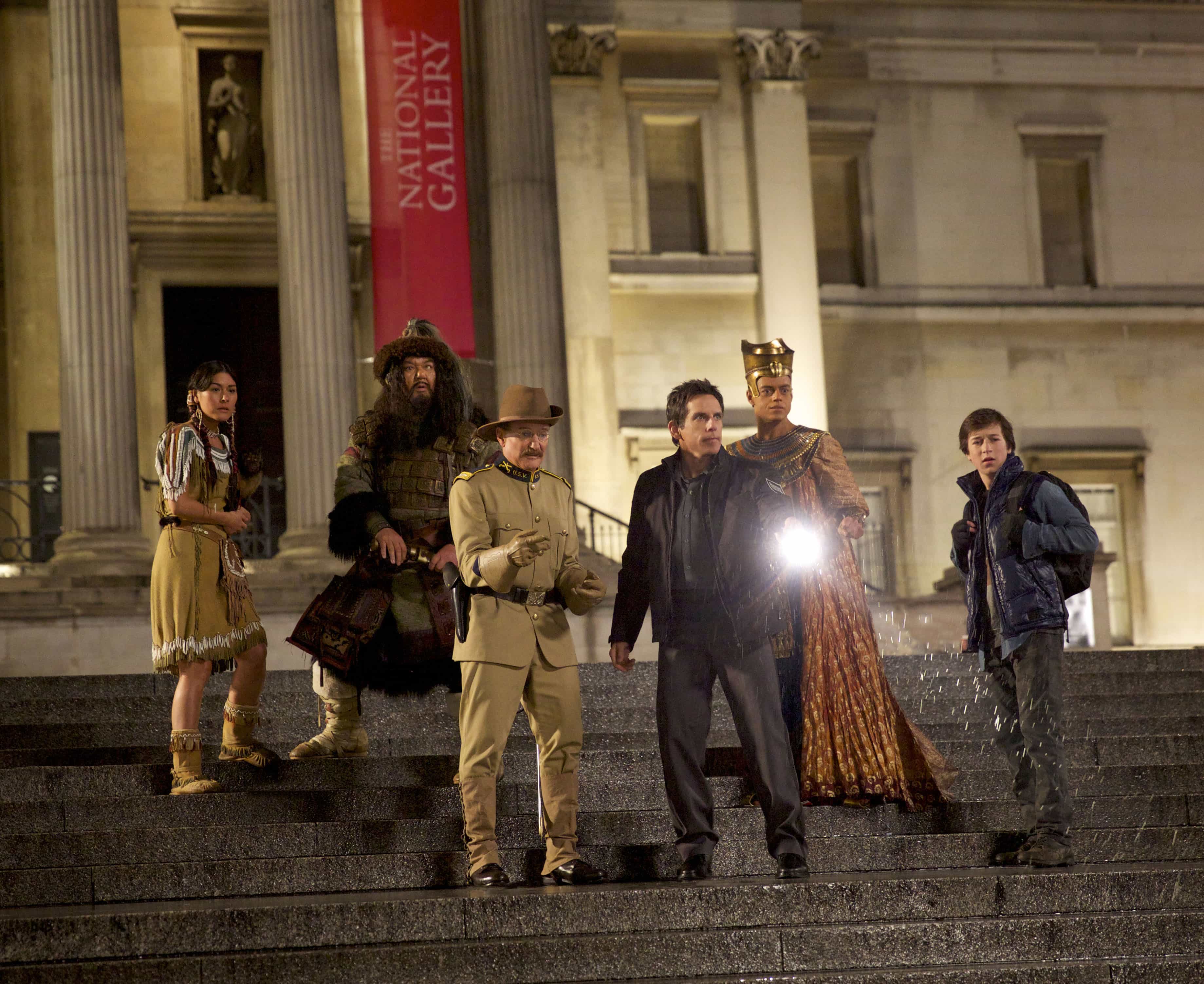 Like in the other two films, Robin Williams who plays Theodore Roosevelt who joins Larry the security guard on another adventure in attempts to uncover the tablet's secrets & to save the magic of the museum.
For many of us, it was surreal to see Robin Williams in this, his final film and not wonder how they all felt about his unexpected passing and how it all related to the film's theme of letting go.
Shawn Levy: The scene in particular where Ben says goodbye to Robin [Williams] for the last time, that was an emotional day on set. Obviously, that scene is even more emotional now.
But even when we were shooting it, I think Ben and Robin and I just felt there was just — it was just an emotional day. And it was a beautifully written scene. And the characters are saying goodbye. But also, it was the three of us kind of being grateful for this franchise that brought us together and saying goodbye.
Personally, I loved the ending and although saying goodbye can really be difficult, you'll laugh until the very end. I know that fans of the Night at the Museum franchise will keep the magic alive every time they watch, for years to come.
For more information about the film head to nightatthemuseum.com and follow along on Facebook, Twitter, and Instagram.
Related Posts: