A few weeks ago, I had the chance to see first hand what a Metro World Child food distribution drop off center looked like in the Far Rockaways. I'm lucky enough to be teaming up with Toyota on their "Meals Per Hour" initiative – a partnership between Toyota and Food Bank For New York City to improve operations and improve lives. Together, it is their mission to bring food, hope and dignity to thousands of New Yorkers by working through the processes of food distribution (from warehouse to shipment to drop off centers / soup kitchens and FINALLY to the hands of the families in need) and optimize each operation.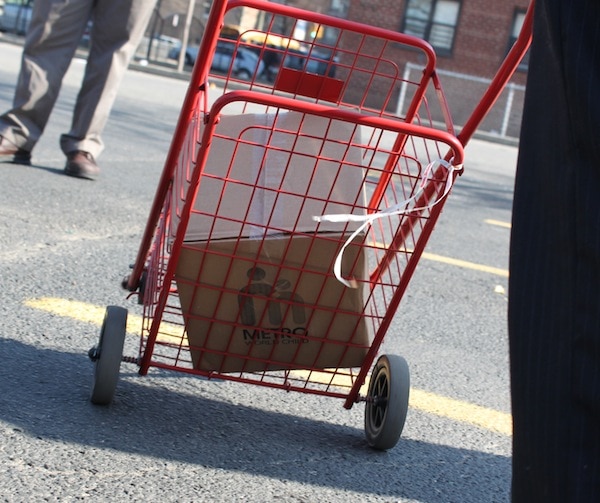 Right now, the way the Food Bank For New York City distributes food at drop off locations is pretty simple.
Boxes are placed in a truck.
One person unloads the truck (which requires a lot of bending and lifting on his part).
Community members line up – most bring carts to help bring the boxed goods back home.
The distribution group stays for several hours usually until the entire truck is empty.
A line is formed / loops around and is managed by a makeshift waiting area. There is no paper work to fill out. It is just a matter of getting the boxes off of the truck fast enough.
We were asked to brainstorm about how we could improve the lives of those involved. I'm talking about everyone involved — especially the volunteer that is on the truck. Imagine having to bend and lift hundreds of boxes filled with food each week? It must be a test on his body and the Toyota Production System Support Center believes that small changes can make a big difference. If we can make that volunteer's job as easy as possible – then we will be able to improve his work life which will – in turn – push out product faster.
Another problem the distribution centers were having revolved around the box SIZE. If the box was too big, then they waste truck space and can't serve as many community members as they'd like. HOWEVER, if the box space was too small, then they would crush in transportation. This is something that the Toyota team has been focusing on resolving during the past few weeks.
In the end, it is a wonderful initiative and I am so excited to see what improvements have been made. I'm heading down to the Food Band For New York City's warehouse today to see firsthand how these boxes are put together and stored. By the end of this project, the Toyota team will leave the Food Bank For New York City with sustainable changes that will improve / impact the lives of everyone associated with the cause. I'm actually really excited to hear about what small tweaks they've come up with!
Stay tuned — more information about the 'Meals Per Hour' program coming up. To learn more, please visit the 'Meals Per Hour' website.