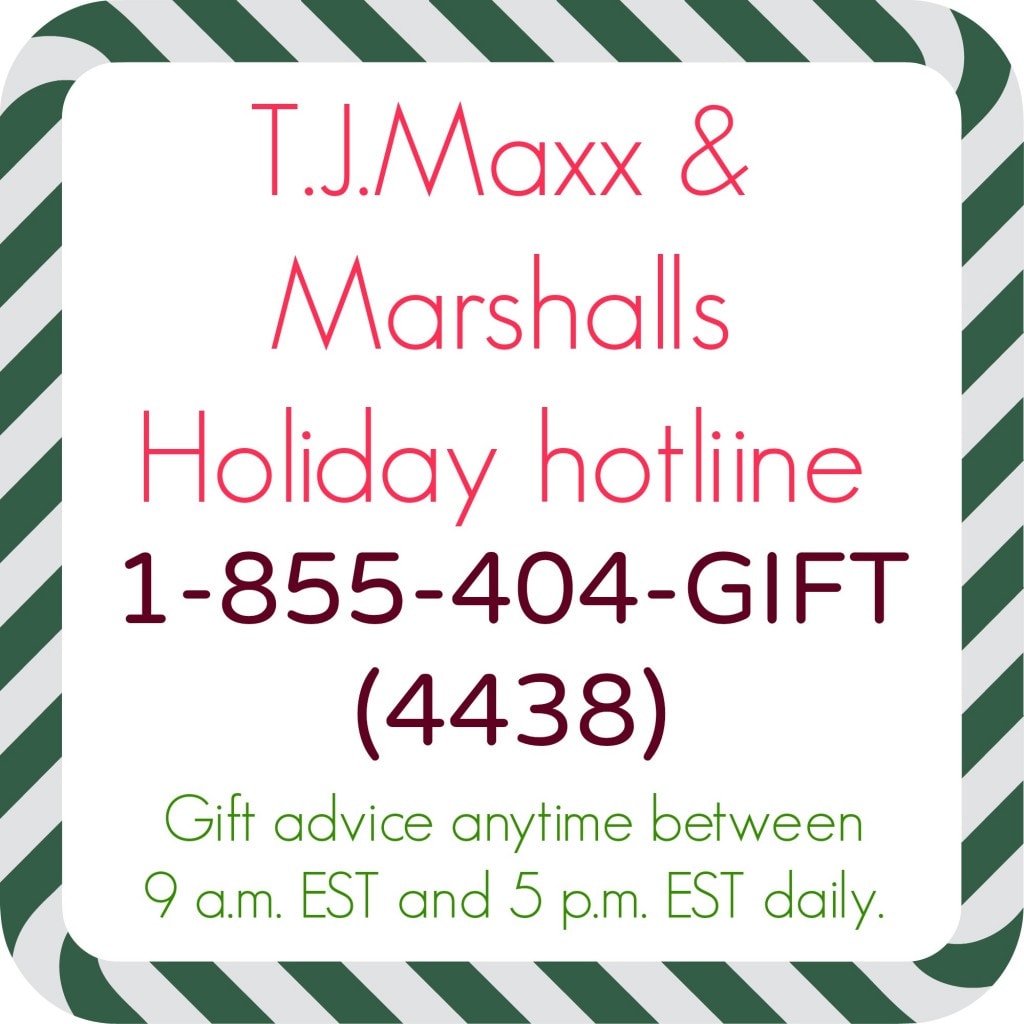 This is going to be so MUCH FUN! I will joining a handful of social media shopping mavens and manning the TJ Maxx / Marshalls Holiday Hotline to help shoppers find standout gifts for their special someones.
WHAT DOES THIS MEAN?????????????????????
This means that you can call 1-855-404-GIFT  and one of the below experts will pick up the phone.
(from this week's training session with Nicole and Audrey)
TJMAXX / Marshalls Holiday Gift Hotline Operators
@NicoleYoungStyle – Nicole Young
@DaisyLewellyn – Daisy Lewellyn
@MomTrends – Nicole Feliciano
@AudreyMcClellan – Audrey McClelland
@JeneLuciani – Jene Luciani
@RamshackleGlam – Jordan Reid
@FashionPulse – Julia DiNardo
@VeraSweeney – Vera Sweeney
@JennFalik – Jenn Falik
@StyleandPepper – Jessie Artigue
@CheapChicas – Lilliana Vazquez
@BeChicMag – Mercedes Sanchez
@MichelleMadhok – Michelle Madhok
@PamelaPekerman – Pamela Pekerman
MY SPECIFIC HOURS:
Wednesday (12/4) 9AM – 1PM
Thursday (12/5)  9AM – 5PM
The hotline is open all week long – so be sure to call whenever you need the help. The women I am working with are all amazing – most of which I've known for many years.
WHO CAN I CALL ABOUT?
Have a mother-in-law that is never satisfied with what your get her? Don't know what the appropriate gift is for a teacher or school bus driver? Call the TJMaxx / Marshalls Holiday Gift Hotline and get some real shopping advice!
Believe me – you can find whatever you need at TJMAXX / Marshalls. It's your one-stop-shop for standout gifts. PERIOD! Hope to speak to you soon!
* this is a sponsored post