It's a fight these days to get our kids out of our bed. I'm telling you – a king size mattress is awesome. BUT a king size mattress with an adjustable base is… life changing. I swear I am SO HAPPY right now. The mattress we chose was the Serta iComfort Wellbeing Refined Plush Top. We spent almost an hour testing out the iComfort series and felt that the Wellbeing fit our needs best. My husband has a bad back and I was sick and tired of getting thrown around every time Bill got into bed. We needed something that provided pressure-relieving comfort PLUS ensured minimum movement when one of us got in and out of the bed.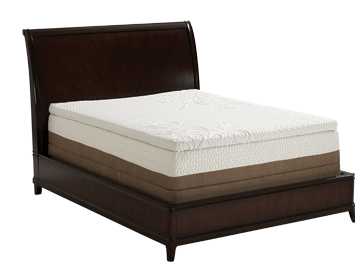 Motion Perfect Adjustable Base
My kids literally can't get enough of the Serta Motion Perfect adjustable base. Ok, who am I fooling? I can't get enough of it. I like to read in bed before going to sleep and this base makes me so comfortable. No more fussing around with pillows! I just hit "head" and raise myself until I am absolutely perfect.
There's a setting called Zero G. Put it this way – my cousin came over the other day and I showed her the mattress. We ended up staying in bed for like 2 hours talking while laying on the Zero G setting. My husband walked in on us and thought we were absolutely insane… but we didn't care. You feel like you are floating.
Video Review
I wanted to show the controls for the adjustable base. Check it out!
* this is a sponsored post – all opinions are my own