Tibi's designer, Amy Smilovic, designs for the downtown girl who wants to look chic without looking overdone. Tibi's Fall 2011 collection was a mix of beiges, grays and tans with shots of bright pink, red and gold in the form of accents and knit hats. The models wore minimal makeup with messy low ponytails. Some wore chunky heels while others were in flats.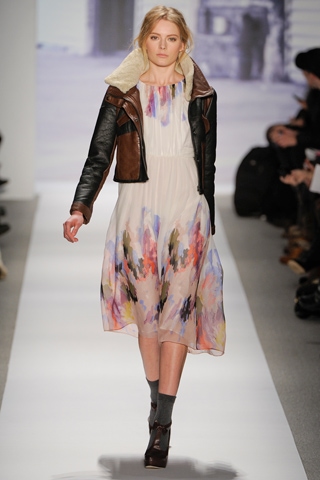 There were many offerings of simple blouses and skirts for liberal mixing and matching. One of my favorite casual looks was a pair of relaxed black trousers that cut above the ankles and a white sleeveless loose blouse. This was paired with strapped flats. This look is so classic in its use of black and white, but manages to be effortlessly modern with exposed arms and ankles. I also loved the mix of girly fabrics with leather. One look was a water-color print on a white fabric done in a below-the-knee dress. This was worn with a black and brown leather bomber jacket. The contrast of light and feminine with no-nonsense leather was delightful. The highlight of the show was definitely the dresses. There was a white strapless dress with a full skirt, adorned with black and white appliques. This look works on everyone. The full skirt can camouflage problem hips and thighs or add volume to a boyish figure. I also loved the gold bustier dress with chiffon-like fabric falling over the front and ending at the waist. A structured red mini was worn with black stockings. Then there was the one-shouldered red and black dress with ruching detail throughout. Though the dress was lovely, the winner was the model, who lost one shoe mere steps into the runway. She bent over and spent a nerve-racking amount of time struggling to undo the strap on her other T-strap heel. When she finally did, she held both shoes in her hands and strutted the runway like it never happened.
To see more of Tibi, go to www.tibi.com.