Ok folks! I attended Time to Play's Holiday preview this week and wanted to tell you about my top 10 FAVORITE picks. I have to be honest with you. I didn't have enough time to do the whole room. FULL DISCLOSURE HERE! I tried my hardest to get through all the booths, but I just couldn't because I had to get home for school pick up. Next year, I will make better arrangements. The items I picked ROCKED and I am so excited to share them with you because I went GAGA over my selections.
I didn't include any of the NERF products because I already did a review and posted about the new Rebelle line last week. You should check out that post and look out for a new Nerf post featuring Liam's current favorite toy on Monday. In the meantime, let's get this party started…
In no particular order —
1. Transformers Age of Extinction Flip and Change Grimlock Figure: It's big. It's awesome. It's also something that can stand alone as decoration in your kid's room on a shelf. I love it!!
2. Kia Soul "DJ" Car by KidTrax: Hear me out on this one. Not only is this a super fab ride, but it comes with blinking lights and a SOUND SYSTEM. WHAT!!!! A microphone hooks in and the kids can actually sing out of the car. Do you understand what kind of party you can have with this bad boy? I almost wanted to test it out, but I didn't.
By the way, check out this dinosaur that was just hanging out at Time to Play. So lifelike, right?
3: Skylanders Trap Team
: Are you kidding me? Not only is there a whole new game coming out for the Skylanders, but you can play the FULL VERSION on the iPad now!!! SUPER COOL! There's SO MUCH I have to say about this toy because I am a TRUE gamer — I play with my kids. I don't buy these games and let them have all the fun. I'm sitting right next to Liam defeating levels and bosses with him! 100% or nothing at all. Besides the iPad addition, I want to tell you that the Trap Team had a fun feature that brings a part of the game right into your living room. Once you defeat a boss, you can capture him in a crystal. You place the crystal in the portal and it sounds like the villain is flying from the game into the crystal. SO, your kids will hear the villain in the living room – not from the TV – but from the crystal itself. AMAZING! Can't wait to hear what that sounds like. It was too noisy at Time to Play to really get a good understanding of it all, but I trust the Skylanders development team!!
(I have a few reviews coming up — stay tuned)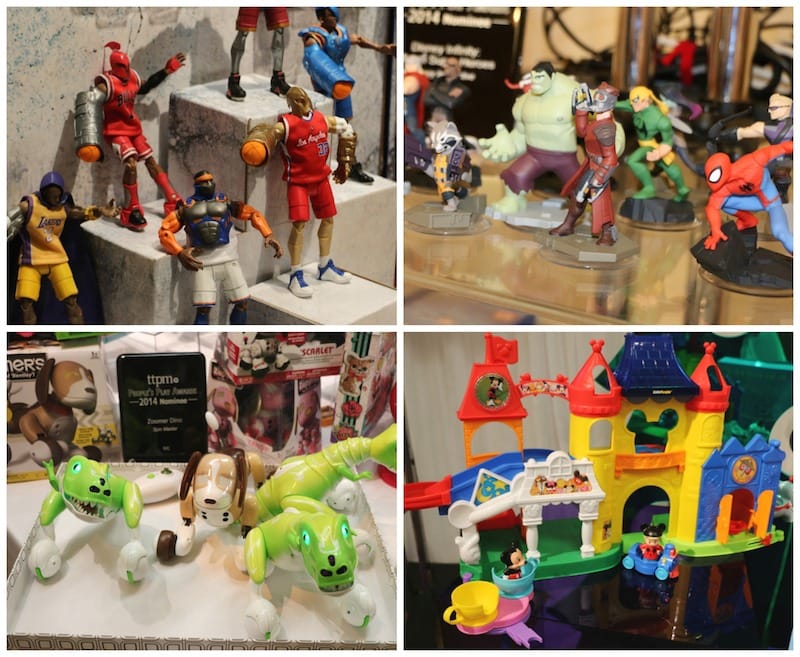 4. Zoomer Dino: He's a little pricey but this is one of those end of year holiday presents that are going to FLY off the shelves. He is SO COOOOOOOOLLLLLLLLL. I spent some time with this little dinosaur and really enjoyed the interaction. A far cry from my days with Petster. Remember him/her?
I totally owned this thing in the 80s.
5. Disney Infinity 2.0
: I have to be honest here. I had NO IDEA Disney Infinity 2.0 was OUT. When I found out that there was a 2.0 IN STORES ALREADY, I hit the floor. The two guys at the booth didn't know what was coming. I asked a billion questions, asked to see all the boards and took video and pictures galore.
I'm only showing one. I think I have a billion. I went overboard.
And then I went to Toys R Us and bought it for me… I mean the kids. I couldn't wait. I know I should have – but it's Disney Infinity. How could I wait for Disney Infinity!!??
6. Fisher-Price Little People Discover Disney: I love this toy for Caleb! Moving parts, elevators, slides, cars — it's everything a kid would want in a Mickey Mouse toy. This is most certainly on my Christmas list.
7. NBA Heroes
: Stars of the game…heroes off the court. Ok, ready for this? Sports meets superheroes! WHAT!! Your son's favorite basketball star turns into an action hero and can still play hoops because his costume lets him shoot the ball in special ways. COME ON! These are fantastic.
8. Olaf Snow Cone Maker: I can't find a link online yet, but if you are a Disney fan, you will wait for it to hit stores! Frozen did it again!! Love this idea and I have a feeling the kids will enjoy it more.
9. Angry Birds Stella
: STELLLLAAAA! Sorry – I had to do it. Angry Birds came out with a new game geared towards girls and I LOVE IT. It comes with play sets as well so you can combine the online experience with some hands-on fun. STELLLLAAA! Woops! Did I do it again?
10: Selfie Booth: Unfortunately, this isn't out yet either. Or at least, I couldn't find a link. Every birthday party in the UNIVERSE is going to have the Selfie Booth! It's really easy to set up. All you have to do is put a tablet inside and let the fun begin.
So, what do you think about my picks?? I want them ALLLLLLLLLLLLLLL. Not kidding! I have some reviews to do from this event as well — be on the look out. There were so many more great toys to see and discuss, but a top 10 is a top 10!!