It's a little sad that I can't find any recent pictures of me and my friend Jen… but I can't! And quite frankly, I don't have the energy to rip my house apart looking for them. I happened to remember where my European Vacation photo album was – so here we all are.
Last night, my friend Jen came in to play tennis with some of my other local friends in town. It was VERY last minute – court time was 9PM (kill me). But through all the exhaustion, I realized something…
In real life – I'm loud, and dramatic, and always making a joke. It works with my local group because they sort of put up with my nonsense and laugh at me if they see fit. But they aren't as rambunctious… which is a good thing. If we were all the same, I can't imagine how that would play out.
Well, after spending 2 hours with my friend Jen last night – I realized that we were two peas from the same pod. Jen was the girl I went clubbing with in High School. She was the girl who I roomed with in college when we went away and she is my son's Godmother. I told you I have three really close girlfriends – and she is one of them. I am an only child – she is the sister I never had.
And last night, I saw how much I missed her in my life.
We were working off one another like we were on stage. It was hilarious. Nothing happened without some sort of commentary from our end. In fact, we joked that we were sportscasters because we had SOMETHING to say about EVERYTHING.
At one point – we were playing 3 against 2 (because we had an odd number of girls playing) and I was by the net. Someone behind me hit the ball and I had to dodge it as it flew by me. Jen commented that it reminded her of the Matrix and then for the next 3 minutes the two of us replayed in slow motion scenes from that darn movie. We were cracking UP and the rest of the girls were laughing too but not making a fool of themselves like us.
Even when we got back to my house – we were still laughing. We had a LOT of fun. And I totally miss that! I never really see her anymore because she lives in the Bronx and I now am on Long Island. It's not THAT far away – but a bridge can really put a wedge in a friendship. That and life! Life keeps getting in the way of life.
Anyway – we blood promised to get together more often. She is going to try to get in to my town on Tuesdays to play tennis with my friends. Hope it happens.
It's important for all of us to stay in touch with our friends. It's so easy to sort of melt into whatever your current day promises. But we have to put the effort in! We just have to. It's good for the soul.
Here are a few pictures from 1999. We just graduated college and took a two week tour of Europe. We had SO MUCH FUN. The above pic is of me and Jen trying escargot. I told you – I try everything once especially if it's really popular with the locals.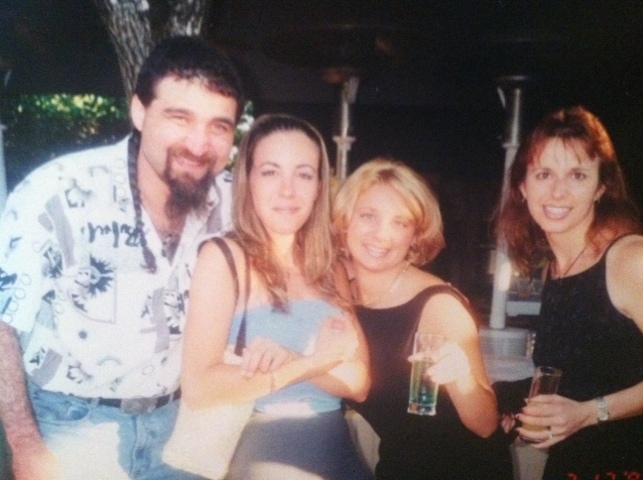 We went everywhere – from Germany, to Austria, to France…
To Italy. Here we are on the Spanish steps. Not sure why I have a suit skirt on?? Sometimes when I look back on my fashion choices… I cringe! LOL
Anyway – change starts with a thought, right? And my thought is to make sure I get back in good with all my friends who I've been neglecting. I woke up so happy this morning. Not only because I played tennis (I freaking love tennis) but because I actually did something for myself.
I hope you will do the same.