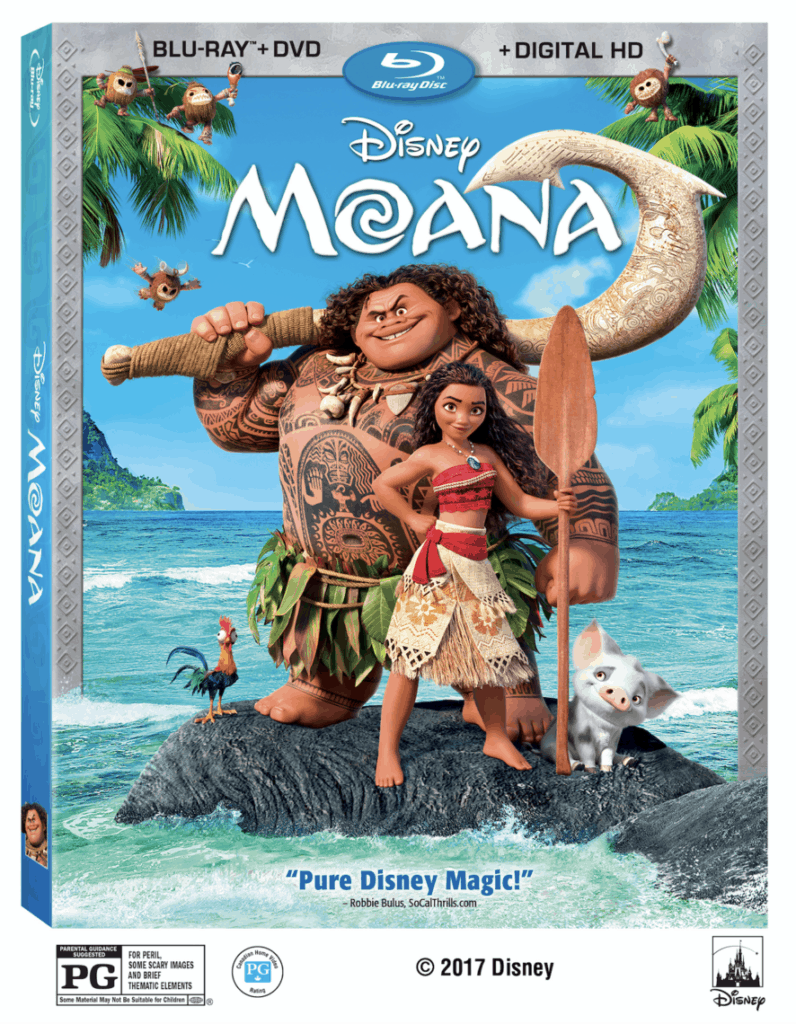 What can I say except you're welcome
For the tides, the sun, the sky
Hey, it's okay, it's okay
You're welcome
I'm just an ordinary demi-guy
There. I just gave you a little glimpse into my entire life – morning, noon, and night.  My children have been OBSESSED with the Moana soundtrack ever since we watched the film while on board the Disney Fantasy Cruise in January. I had no idea what an impact this movie was going to make on our lives when I sat them all down in that theatre. I mean… who knew?! Luckily, the songs are super catchy and I fell head over heels in love with both Moana and Maui! Believe me, you will too!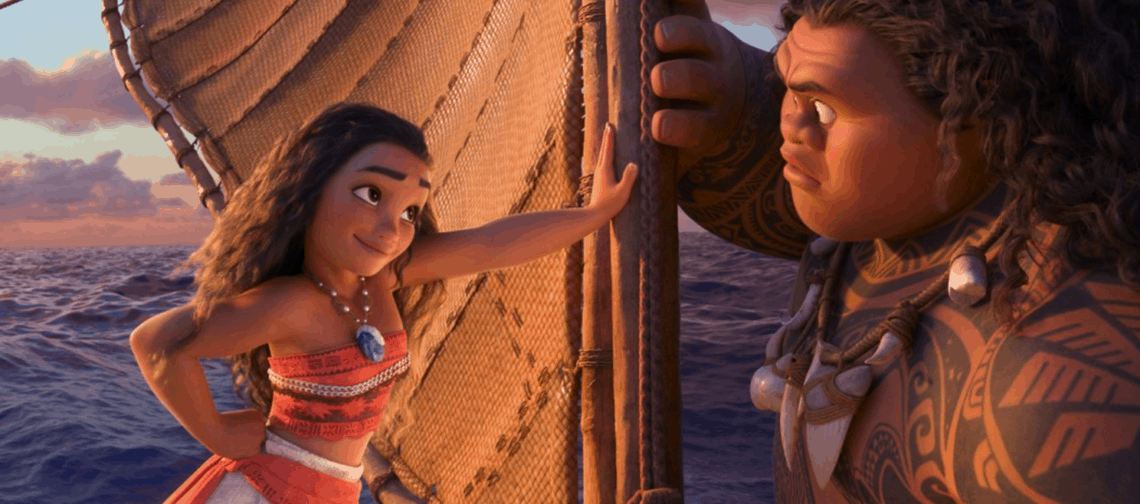 According to directors Ron Clements and John Musker, the story of "Moana" was inspired by the great explorers who masterfully navigated the vast Pacific, discovering the many islands of Oceania. Become part of her journey today! Moana finally released on Blu-ray – woo hoo! Fans who take home the film are always rewarded with a little extra — the bonus features. More on that in a bit.
In case you need to hear the synopsis one more time –>
The epic journey continues for "Moana" fans as Walt Disney Animation Studios introduces an all-new sing-along version of the hit, critically-lauded comedy-adventure "Moana." From Walt Disney Animation Studios comes "Moana," a sweeping, CG-animated adventure about a spirited teenager who sails out on a daring mission to prove herself a master wayfinder and fulfill her ancestors' unfinished quest. During her journey, Moana meets the once-mighty demi-god Maui, and together, they traverse the open ocean on an action-packed voyage, encountering enormous fiery creatures and impossible odds.
Auli'i Cravalho and Dwayne "The Rock" Johnson will steal your hearts and the big screen with their voices and passion. It was such an amazing journey to watch – even the animation. The graphics – I'm talking about her HAIR, PEOPLE! Completely mesmerizing. I don't take these things for granted. Maybe that's because I've been to several behind-the-scenes tours with Disney? Who knows? But these moving images will completely captivate you. Moana's journey over water is like none other. And don't get me started on that sting ray. I will start crying right here and now. This very instant!!!
Onto the bonus features!
Blu-ray 3D, Blu-ray & Digital 3D/HD/SD:
Theatrical Short Film: "Inner Workings"

– With introduction by the filmmakers, is the story of the internal struggle between a man's pragmatic, logical side and his free-spirited, adventurous half. Created by a small team at Walt Disney Animation Studios in a unique, fast-paced style that blends CG and traditional hand-drawn animation, the short explores the importance of finding balance in daily life. 

Maui Mini-Movie: "Gone Fishing"

– When Maui decides it's time to take charge of the ocean and catch his next meal, Moana must show him the error of his ways … with a little help from her friends!

Voice of the Islands

– An in-depth look at how Pacific Island people and cultures inspired the filmmakers to create the story of "Moana."

Things You Didn't Know About …

Meet the stars of "Moana" in this dynamic Q&A featuring Dwayne Johnson, newcomer Auli'i Cravalho, and famed animation directors Ron and John.

Meet the musical team behind "Moana" in this fascinating Q&A featuring Opetaia Foa'i, Mark Mancina and Lin-Manuel Miranda.

Island Fashion

– Find out how costume designer Neysa Bové took on the unique challenge of creating costumes using materials and techniques native to the islands of Oceania.

They Know the Way: Making the Music of "Moana"

– Musicians Opetaia Foa'I, Marc Mancina and Lin-Manuel Miranda take us on a personal journey through their involvement in the movie and how it changed their lives. 

Fishing for Easter Eggs

– Dive deep into the ocean and fish for the Easter Eggs hidden by the animators at Walt Disney Animation Studios.

The Elements of …

– This series of four mini-docs explores the technical achievements behind some of the ground-breaking effects used in the film.

Mini Maui

– Meet "Mini Maui," Maui's tattoo sidekick. Animated by legendary hand-drawn animator Eric Goldberg, we explore how the 2D world collides with CG animation to bring the demigod's tattoos to life.

Water

– In the movie, the ocean is a character. This piece explores how the water is given a personality, along with the technical feats of creating a believable ocean landscape farther than the eye can see.

Lava

– Te Kā is a creature made of lava, smoke and fire. This piece dives into the challenges of making an animated creature of massive scale brought to fiery life by character, technical and effects animators.

Hair

– One of the greatest technical achievements of the film was the animation of the beautiful, curly hair on Moana and Maui. Take a look at the hair-raising detail that goes into animating each strand, adding performance to the movie that has never been seen before.

Deleted Song: "Warrior Face"

– With introduction by songwriter Lin-Manuel Miranda.

Deleted Scenes

– Ron and John introduce the following deleted scenes:

 

Race the Wind/Ties that Bind

;

Discussing Moana's Future

;

Under the Sea

;

Grandmother's Warning/Legend of Maui

;

Education of Moana

;

Father, Daughter, Boat

; and

Canoe Race

.

Music Video: "How Far I'll Go"

– Performed by Alessia Cara.

"How Far I'll Go Around the World"

– Multi-language reel of the song "How Far I'll Go."

Audio Commentary

– With directors Ron and John.
DVD:
Theatrical Short Film: "Inner Workings,"

Music Video: "How Far I'll Go"

and

Audio

Commentary
Helmed by Clements and Musker, the directing team behind "The Little Mermaid," "Aladdin" and "The Princess and the Frog," and co-directed by Chris Williams & Don Hall (Oscar®-winning "Big Hero 6" -Best Animated Feature Film in 2015), "Moana" is produced by Osnat Shurer ("Lifted," "One Man Band"), and executive produced by John Lasseter. Jared Bush ("Zootopia") wrote the screenplay. "Moana" features original songs from a diverse and dynamic team that includes Tony®-, Emmy®- and Grammy®-winning lyricist/composer Lin-Manuel Miranda (Broadway's Pulitzer Prize-winning and multiple Tony-winning "Hamilton," Tony-winning "In the Heights"), Mark Mancina ("Speed," "Tarzan" "The Lion King") and Opetaia Foaʻi (founder and lead singer of the award-winning world music band Te Vaka). Mancina composed the original score.
Lots of great content just waiting to be watched. Dive deeper in the story with the family and even watch some deleted scenes that didn't make the final cut. How fun is that?!
Are you a Moana fan?