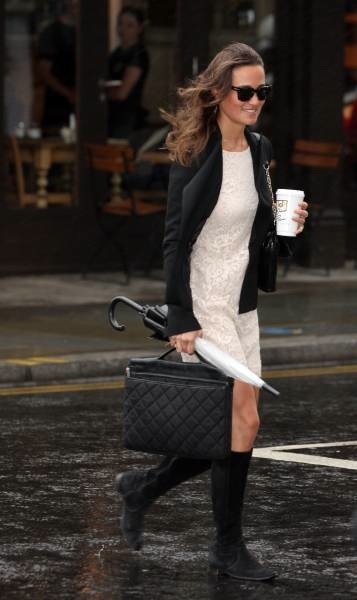 Pippa Middleton has been spotted out and about with the most innovative design in laptop sleeves- the Knomo Slim bag. Made with quilted nylon, Safianno trim exterior, and silver hardware, the Slim is the ultimate accessory in looking professional-chic all the while serving a practical function (your high heels will and should be, jealous).
The Knomo Slim is a laptop sleeve that is easily convertible into a highly fashionable and professional briefcase. The interior lends a protection system encased with 15mm of high-density shock resistant foam to absorb any hard knocks that may threaten your laptop. Between the security and overall attractiveness, this bag has more to offer than most sleeves available. The Slim can be slipped into a bigger bag and work the function of a sleeve, but in my opinion, it is even better when rocked as a bag by itself. I've found that the Knomo Slim looks best when it sees the light of day, so I can fashionably carry my laptop to my appointments, or even tote it as a briefcase, holding important paperwork and everyday essentials. The front pocket is perfect for stashing a metrocard, loose change, and my cell phone. While I prefer to channel my inner Pippa Middleton and hold the bag like a briefcase from the top handle, the Slim comes with detachable and expandable straps for easy transport as well.
The Knomo Slim also has some really cool features. Aside from looking just fabulous, the Slim also offers something called the Knomo Tracker. Each Knomo bag has a permanent "if lost" tag which features a unique ID code and number for the finder to call in the event that you lose it. All you have to do is register your bag online and in the unfortunate event that you misplace your Knomo, it can be traced back to its rightful owner. It's like the Build-A-Bear Find-A-Bear system for magnificent handbags. This is the ultimate accessory for the professional woman!
The Knomo Slim is available in a variety of colors for the extremely reasonable price of $79.95. Check out the full Knomo collection over at www.knomobags.com.
Product provided for review.