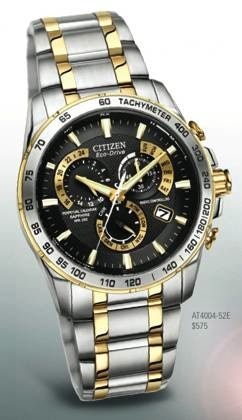 It feels as though I've blinked my eyes and it's Valentine's Day again. I personally love Valentine's Day and everything about it, but I never know what to get my significant other. I try to think about what I would want- roses, cupcakes, an empty kitchen sink… but that's not what my Valentine wants. I imagine a dialogue that would go like this:
Me: How do you like your Valentine's Day gift?
Him: (awkward pause as he tries to figure out what I'm talking about) Uh…
Me: The dishes! I did the dishes!
Him: …But you always do dishes.
See what I did there? I started a recipe for disaster. So instead, I've come up with a great gift idea for my guy. What does he love (besides me)? The answer can be found on his left wrist. The man in my life loves watches. So I recently discovered a watch that serves as so much more. It's like the James Bond gadget of watches. The Men's Eco-Drive Perpetual Chrono A-T puts other watches to shame, as it looks masculine and timeless (while keeping time, of course!). One of the coolest features that your man is sure to get a kick out of is that it is radio-controlled in 5 time zones, so he never has to worry if he has the right time. It is also powered by light, so there is never any need to replace batteries. The watch also boasts atomic timekeeping, perpetual calendar, water resistance up to 200 meters, and a 1-second chronograph measuring up to 60 minutes. It is the ultimate luxury. If your Valentine is anything like mine, you'll catch him posing for pictures in such a way that you can't miss a timepiece like this.
The Men's Eco-Drive Perpetual Chrono A-T is available for $431.25 (down from $575) at Zales.com.
Product provided for review, picky partner approved. Happy Valentine's Day all!