I LOVE holiday weekends! It gives me the chance to get a little creative in the kitchen. I am the QUEEN of the trifle. I make it a number of ways (including Oreos) – but today it was all about the berry. Red, White and Blue!!
Here are two variations of dessert using the same ingredients. Choose whichever you like.
Lemon Berry Trifle (ala Paula Deen)
2 (24.2 ounce) tubs of ready to eat cheesecake filling – *Editor's note: Couldn't find that so I used the Jello boxed version. You have to mix with milk and let stand for a while. The top layer looks watery because I got impatient. Let it sit before you pour into trifle.
1/4 cup lemon curd
2 boxes of vanilla wafers – crushed
6 cups of fresh berries (have more on hand just to be safe and don't use blackberries – what a mess!)
In a large bowl, combine cheesecake filling and lemon curd. Since I had to make the cheesecake filling with the Jello mix, I followed those instructions first and then remixed with curd at the end. Please let it sit for a few minutes before you attempt to place in trifle bowl. While you are waiting, crush the vanilla wafers. Instead of taking them out of the bag and making a huge mess, I just crush while in the bag.
Wash berries and cut up strawberries. I also added blackberries – DO NOT add blackberries. Holy MESSY!
Start to assemble. Cheesecake, wafers and then berries. Unfortunately, I only had one box of wafers – so my final product is missing a layer. You get the point though. Refrigerate at least an hour and serve! YUM!
I had some cheesecake filling left over so I decided to make a flag with mini phyllo pastry cups (found in freezer section of market). I saw something in a recent Food Network Magazine that gave me this great idea. Just in case someone wasn't into lemon, I decided to make some with a different filling. For the second filling, I mixed a container of marscarpone cheese and 4 tablespoons of confectioners' sugar until smooth.
Then I folded in a few tablespoons of CoolWhip. The color was noticeably different – so you should stick to one or the other. Doing both is great to please the crowd, but it really messes up the look of the flag!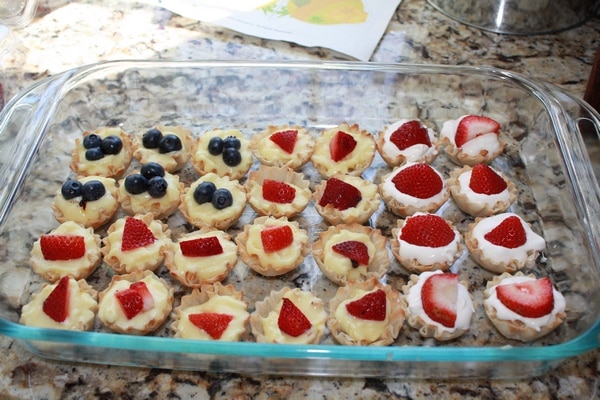 Either way – these are SUPER easy 4th of July recipes to share with your friends!
Do you have a recipe you'd like to share? Email me! I'd love an invite inside your kitchen.