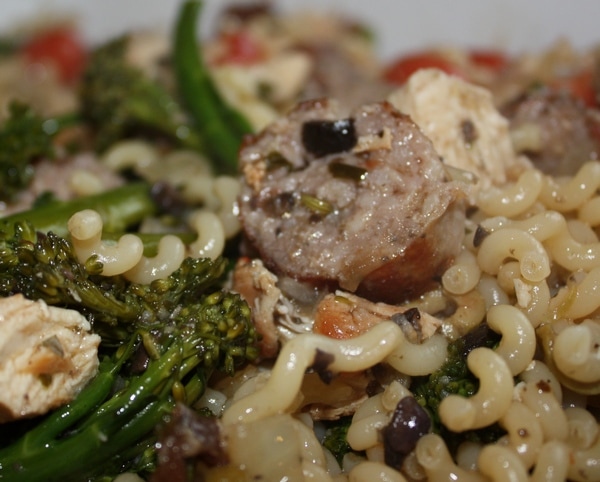 The way that this dish came about is hilarious. Well, maybe just to me. 🙂
I made a quick run to the supermarket this afternoon and picked up a few of my favorite things because I had planned out my weekend meals. Instead of making the 3 or 4 dishes I was hoping to make over the next couple of days, I ended up using all the ingredients in just one number and BOY was it YUMMY!
The pictures aren't so hot, but trust me the flavor is there.
Ingredients:
Sausage (6 links or so)
Chicken breasts (3 to 4) — whatever you have
1 package of tapenade – flavor is your choice
2 bunches of brocollini
7 cloves of garlic whole
1 medium onion chopped
1 cup of oil – distributed throughout the meal
salt and pepper to taste
2 tablespoons of dry basil
1 container of cherry tomatoes
1 pound of pasta
Boil water to make pasta. Meanwhile, sprinkle chicken with dried basil and then brown the meat in a little oil. I had a cast iron pan that I've been dying to use and I am in LOVE. Check out that color. I also threw in 4 cloves of garlic whole just to flavor up the pan and the oil.
Two spins around another pan with oil. Zest 3 cloves of garlic and chop up the onion. Cook 4 minutes or so. Then add the brocollini. Salt and Pepper. I chose to leave the brocollini fairly long, but you can chop them more if you'd like. Don't have brocollini? Use chopped frozen broccoli. Whatever you have will do.
Add the tomatoes. Cover and cook until vegetable turns a rich green. Then turn off heat and let sit.
By this point, your water should be boiling. Add you pasta. I chose long fusilli for the dish. Choose a tapenade that you like. I am a HUGE fan of olives – so today I went with olives and red pepper. I've made this with an artichoke pesto as well. Again – whatever is on hand. That's the beauty about cooking at home. There are no rules.
Add the tapenade to the brocollini and toss with a 1/3 cup of olive oil. Let sit.
As your pasta cooks, chop up the sausage and chicken.
Drain the pasta and then mix everything together in that pot. Salt and pepper to taste. If you had pine nuts on hand, I would consider adding them as well. I had walnuts and was THIS CLOSE to adding a handful, but then I changed my mind. If I had pine nuts, they would be in the dish for sure.
For more recipes from Inside my Kitchen, click here.