As you know, I spent the last few days down in Miami with P&G and attended their media event for the new 'Have You Tried It Yet?' campaign. I was able to test out about a dozen of their products first hand and LOVED what I learned.
Cascade, Swiffer and Dawn really stood out… but I also loved my makeover from CoverGirl. Seriously – where to begin!
Watch the video to check out some of the tests we did for each product.
We compared Swiffer's ability to soak up dust to a competitor and there WAS NO competition.
We saw how Dawn repels oil significantly better than another leading brand.
We tasted Scope DualBlast and was able to see how long our mouths stayed minty fresh
It goes on and on!
I have to admit – the Dawn Power Clean gave me an ah-ha moment. I used to buy whatever was on sale, but this puppy REALLY works. A 5 minute soak with Dawn Power Clean will take off any baked on grease or crust. Can't wait to buy a bottle and bring it home to my kitchen.
Another product that I already use but now love more is Downy Unstoppables. They washed fabric 12 weeks ago and kept them in a warehouse. This week, they were brought out for us to smell and they smelt like they just came out of the dryer! It was insane. Makes you want to wash all those sheets and blankets and put them away in your linen closet, right? No matter how long you wait – they will still smell freshly washed.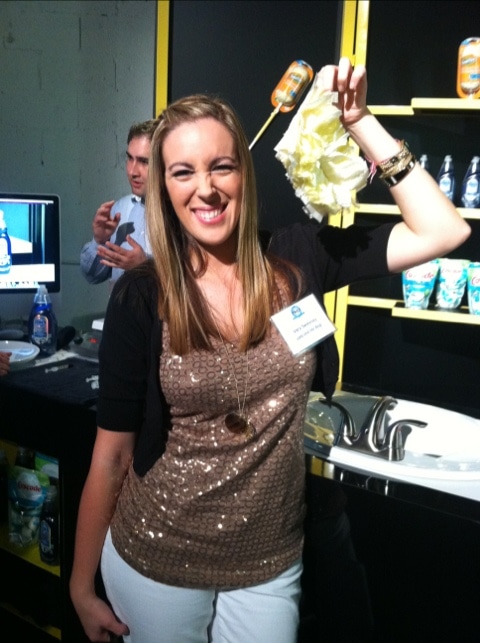 While Charmin wasn't part of the video, I will say that this test was also surprising. They wet some toilet paper from Charmin and a competitor and showed you how much stronger Charmin was. The coin fell right through the other brand. You never think about these things – you just buy what you buy. Now I've seen the evidence to change my way of thinking.
Overall, I had an amazing time at the P&G 'Have You Tried This Yet?' event. It was so nice to see old friends and have one on one experiences with products we all know and love.