Last weekend I had the pleasure of joining Mommy Poppins, a website dedicated to helping NY parents find fun things to do with their kids, on a Halloween-themed boat sail on board Manhattan by Sail's Clipper City ship, a replica of a 100-year-old schooner, around lower Manhattan with my better half and his nieces and nephew. We had an absolute blast and went in without any expectations. I have to say – the day was better than we ever hoped and everyone walked away with memories that will last a lifetime. All thanks to Mommy Poppins.
Happy Halloween From LATB And Mommy Poppins
Even though we are all lifelong New Yorkers, we got to see the Statue of Liberty up close for the first time in years; the kids got some pretty sweet face paint to dress their costumes up even further (face paint courtesy of Face Painting by Shelly and Mommy Poppins); we even got a show from another NY staple, Silly Billy, aka "Dr. Bloooooood:" he "chopped" off his hand and then sprayed the crowd with his "blood." Scary! The topper was all kids modeling their costumes at the end: one was cuter than the next.
What is Mommy Poppins?
Have you heard of the Mommy Poppins website before? They are a great resource for NYC parents or people who are planning to visit New York City in the near future. As a parent who is a local, I find myself tending to reference their URL over and over again. Find information on events, limited releases, book readings, upcoming shows, parades – you name it! Even if you don't know what you want to do, there is a top ten list that will put you right on track.
We aren't biased because we are friends with the founder. This is truly a fantastic resource. Bookmark Mommy Poppins and thank us later.
Ok, back to our pirate day at sea! ARGH!
Here are a few more pictures from our adventures on board Manhattan by Sail's Clipper City ship.
I loved that there were activities on board for the kids to enjoy while the parents took in the sites. You can see that all the adults were really into the view!
I mean – how cute is this little pink pirate???
The artists were absolute creative! I can't get over all of the final results.
Check out more amazing pictures from the sail below!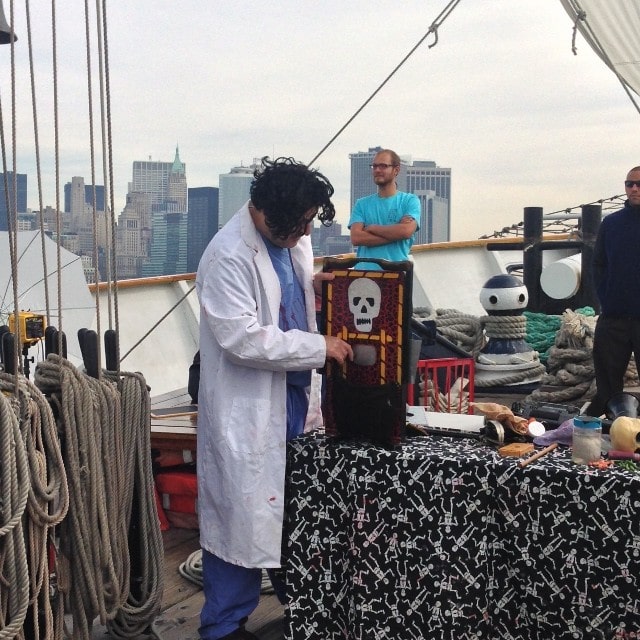 And then of course, we got to take in the Statue of Liberty. What a beautiful site. I could just stare at her all day. This was such a magical sail.
I loved watching all the boys and girls have fun on the boat. What a wonderful way to celebrate Halloween – all thanks to Mommy Poppins!
Allison