Unless you're under a rock, you've heard that the Duke and Duchess of Cambridge, William and Kate, are expecting their first child. It's all very exciting in England since they haven't had a new baby arrive in the Royal Family for quite some time.
Yesterday, the British Consulate New York brought the excitement to New York by hosting the GREAT British Baby Shower with St. George's Society of New York.
Unfortunately, no Royal couple sighting, but I did meet Rosie Pope and all the lovely ladies who joined in the fun. Thoroughly enjoyed the English tea and yummy treats. Everything was nicely presented and delicious.
Plus, the event had a charity focus – from a diaper drive to Mamas and Papas' wonderful $25k donation to Baby Buggy and a silent auction hosted by St. George's Society of New York which raised over $3k. Any event that has triple the focus on charity contributions is a great one in my book.
All things British in the silent auction. Portable crib from JourneyBee and Wedgewood Butterfly Bloom Tea Set to yummy tea sets.
Leave some advice for the Duke and Duchess of Cambridge in the guest book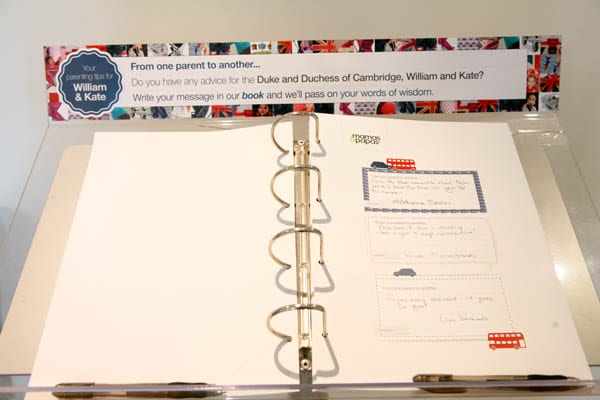 Lovely Rosie Pope (who looks fabulous is turquoise), Jessica Seinfeld (Founder of Baby Buggy), Susan Lopez (wife of Danny Lopez, British Consulate-General to New York) and Olivia Robinson (Creative Director of Mamas and Papas and also the youngest daughter of David and Luisa Scacchetti, Founders of Mamas and Papas)
Rosie Pope is definitely a sweetie. I had a quick chance to chat with her briefly. She was very down to earth and all smiles. Being a mom of two myself who struggled to find a great double stroller, I asked Rosie what she looks for in a stroller and she was very practical in her answer:
The car seat needs to be able to click into the stroller
Easy to use
Inexpensive – because we use these strollers so much and they get banged up a lot
She's my kind of gal. 😉
And of course, last, but not least – the  yummies! Chocolate from City Delights, delish fruit tarts and no event can be without cake!
Delicious and fun.