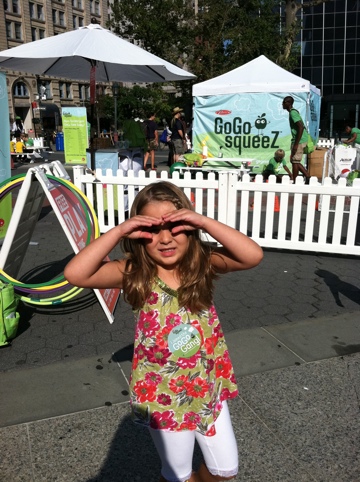 Over the weekend, I was invited to check out the Go Go squeez area of the 4th Annual Summer Streets Fair. So much FUN!!! There was PLENTY to do for the kids and believe you me – we did it all.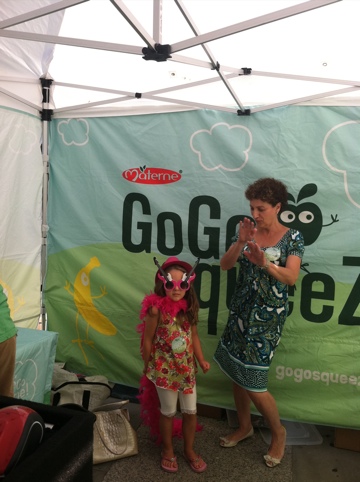 This HAS to be my favorite part of the day – it was a booth where you could make a flip book!!! You danced for 10 seconds or so and then it prints out your actions and you flip through to see the movement. Check out my corny little video:
LOL! Gotta love it!
So, what else was there you ask? Arts and Crafts using the Go Go Squeez containers. The kids made (a few) bows and they are lined up on my fireplace as we speak.
Then there was this jump rope. I actually felt sorry for the girls who were responsible for it. My daughter is a jump rope FREAK. She was trying to do double dutch (and so was I to be honest) – but couldn't manage it.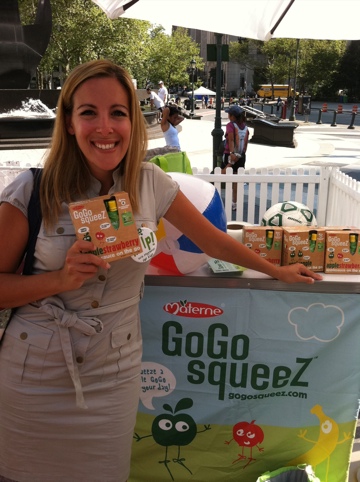 They even had recyclable bins all over to make sure that people didn't use the regular garbage for their drinks.
For several hours that day, bikers and joggers enjoyed a pre-planned route during the 4th Annual Summer Streets Fair. Go Go Squeez were handing out free samples to replenish their lost nutrients.
And anyone who showed up and checked in with Four Square helped the brand donate money to City Harvest!! LOVE IT!