If I'm being honest with you, I probably would have had another kid if I didn't have such difficult pregnancies. 15 months of bed rest is enough for one woman's lifetime, though. Am I right?
I couldn't even think of signing up for another high-risk adventure – especially since my second one had me hospitalized for several months. I am so very lucky to have the family that I do. I acknowledge that with all of my heart and soul.
Still, there is a small whisper inside of me that acknowledges that I would be a family of 6 if I had a different body. Painful to think about. Humbling to acknowledge. Grounding all other times.
Still, I tell myself …
I am blessed. I am blessed. I am blessed.
Because it is so very true.
Walking this path for the absolute last time brought some sort of knowledge and power that the other two pregnancies did not possess. Since I know that I cannot have any other children, I am mothering differently. I am caring differently. I am reacting differently. And since I am a different mother, my third child is not like my first two.
He is wilder. He is softer. He is happier. He is cuddlier. He is more stubborn. He is more spoiled. He is just… MORE of everything. I have allowed my third child to just BE. My boundaries have dropped. My patience has expanded. The rules have been revised.
Caleb rules this roost. He eats ice cream for snack after breakfast. He whines about who he wants to sit with during dinner and we let him. He stays up SUPER late – later than my older children in fact! He sometimes sleeps with us even though we never let our older two do the same.
He climbs to the top of every obstacle course. He races into mud piles. He jumps off the deep end while we are at the pool. He rides rollercoasters and takes chances that I limited for the last 11 years. Regretfully limited.
Caleb watches horror movies and occasionally drinks soda even though he isn't even 4 yet. If you'd ask me about these two things 10 years ago, I'd tell you that you were crazy! Soda and my children? WHAT?! NEVER! Now, I look at all these rules and I just bend them on occasion because rules are meant to be broken.
When Caleb was an infant he was very colicky – the same for all three of my children. With Natalie, my first, I just about lost my mind. All that crying. It was so hard to handle. I tried just about everything.  
The transition from being an only child to being someone who had to care for a child who couldn't be consoled – it was unbearable. I'm not sure who cried more – me or her? We got through it, but it was rough. It was a true shock to the system. I was a young mom with NO friends that had children of their own and it was hard to handle. I'm just being honest.
But with Caleb, I just held him and loved him and smiled as he cried because I knew those sounds would soon end. I'm even tearing up right now writing about it because I am so far removed from those newborn cries. I knew – during the first few months of his life – that those baby wails would be the last cries I would hear from one of my own. So, I soaked them in.
Maybe this has something to do with age. There are 9 years between my first and my last. Who knows?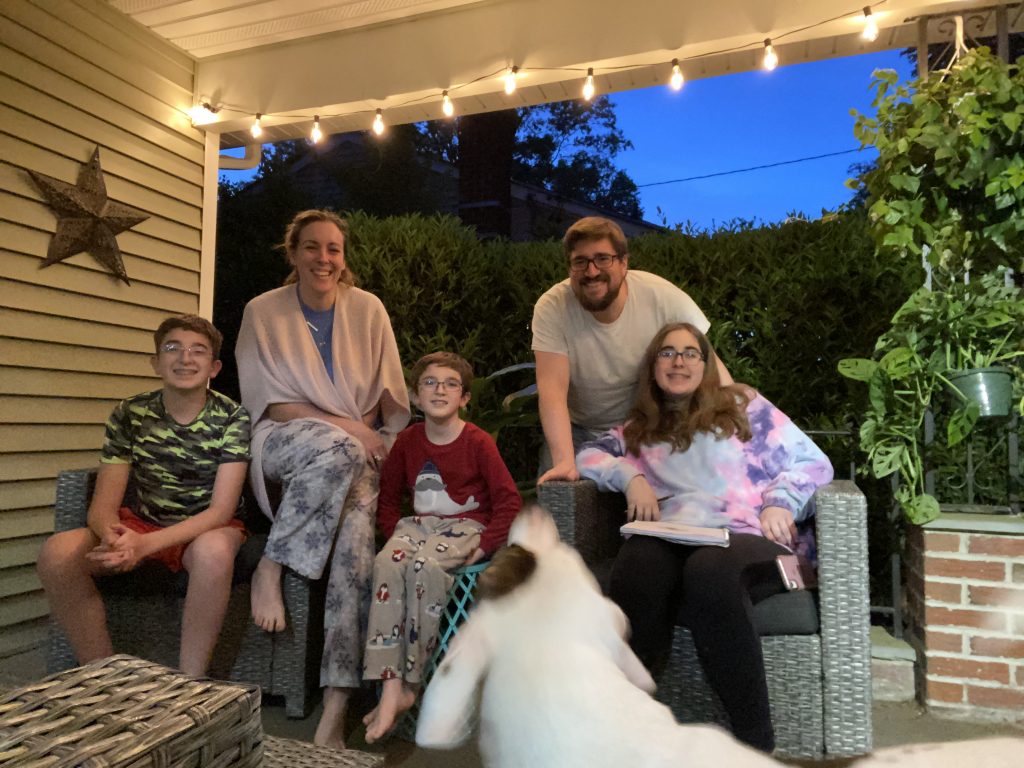 Whatever the reason- I am so thankful that I had a baby that I could fully appreciate every step of the way. That's what having a last baby feels like. Nothing is taken for granted. Nothing goes unnoticed. Everything matters. My only regret is that I didn't have this state of mind with all three of my babies.
Have you had your last baby yet? How were you different while mothering your first and your last?